News Around the Republic of Mexico | April 2007
Red Bull X-Fighters - Mexico 2007

Mike Werner - Red Bull Press

Plaza de Toros, Mexico City, Mexico (flohagena.com/Red Bull Photo)




Ten of the world's most renowned and respected freestyle motocross riders of eight different nationalities had followed the call of the Red Bull X-Fighters and traveled all the way to Mexico to be part of this year's first of four stops. 42.000 spectators on site and more than 10 million TV and internet viewers witnessed a once-in-a-lifetime freestyle motocross fiesta in the world's biggest bullfighting arena the Monumental Plaza de Toros in Mexico City.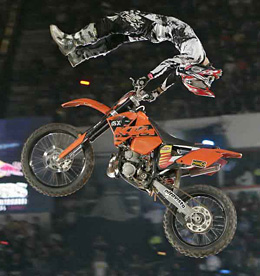 Gabriel Villegas from Chile performing a 'dead body' trick (alexschelbert.de/Red Bull Photo)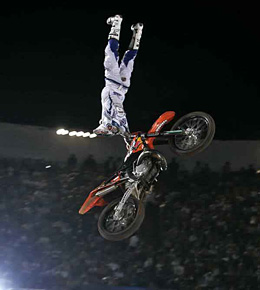 Ronnie Renner (flohagena.com/Red Bull Photo)

Packed with elements of traditional bullfighting, flamenco performances and music acts, the contest format had ten top riders compete in a testosterone-loaded head-to-head battle. 19-year-old young gun Dany "DT" Torres (ESP) pulled the most powerful tricks with ultimate style and creativity, which earned him victory. Nate Adams (USA) came in second, followed by Robbie "Maddo" Maddison (AUS) who finished third.


One day before the world's most prestigious freestyle motocross contest Red Bull X-Fighters, Mexico City and the world of FMX were up in turmoil. The 42.000 available tickets had been sold out for weeks, and the crème de la crème of international freestyle motocross riders was ready to take off and conquer the world's biggest bullfighting arena. Training and qualification already gave an impression of who might be breaking the limits in the contest with all-time technical ruler Nate Adams (USA) as well as Robbie Maddison (AUS), Eigo Sato (JAP), Ronnie Renner (USA) and Mat Rebeaud (SUI) flexing their muscles and showing some breakneck tricks: Super Can to Hart Attack, Lazy Boy Backflip, Cordova Backflip, Cliffhanger, Kiss of Death, Backflip One-Handed Can Can, Dead Body, Heelclicker Backflip and Nothing to Double Seat Grab... – what sounds like some weird alien babble is actually the order of business of these hardy souls.


On the day of the competition the riders area was filled with big hellos, high fives, hey hoes and excitement. The FMX community had gathered to tune their bikes, give interviews and autographs, pose for photos, and prepare for the ultimate challenge to come. For the international elite of FMX riders the Red Bull X-Fighters is the most prestigious FMX contest of the world and the Mexico edition of the 2007 tour (including stops in Slane Castle/Ireland, Moscow and Madrid) is the first big challenge for strength and skills after a winter's training season.


At 9 pm local time the show was about to begin: 42.000 enthusiastic spectators had come to witness the Red Bull X-Fighters in Mexico City with 42.000 waving white bandanas covering the ranks of the Monumental Plaza de Toros. The FMX setup in Mexico City's bullfighting arena was small and narrow, bringing the audience extremely close to their FMX heroes. Kicking off the show was a spectacular display of music, and the thunderous appearance of "Hijo de Santo", son and successor of Mexico's most famous wrestling star "Santo". Also, the audience was enthused by an impressive imitation of Pamplona's (ESP) traditional running of the bulls - except that the San Fermines (runners) were running from the furious FMX riders on their motocross bikes instead of wild bulls. "Viva México!" the speaker shouted out loudly. "Viva!" was the answer of 42.000 spectators.


Shooting up into the night sky above Mexico as high as 20 meters with their 250ccm bikes, the bold motoreros radiated speed, style and power. Among the judging criteria were difficulty and execution of tricks, variety of tricks and usage of course, style and show aspects, and overall impression. At the Red Bull X-Fighters, the crowd also has a big say in the judging of a rider's presentation, so Mexico's most famous TV host Facundo acted as the judge of the spectators' voice.


The first head-to-head round saw Japan's Eigo Sato compete against showman and all-time favorite of the Mexican audience Ronnie Renner (USA). Sato impressed with a super solid run, which sent him off to the next round. Australia's FMX star Robbie "Maddo" Maddison used the whole setup with style and power, leaving no option to his opponent Gabriel Villegas (CHI). Although last year's triumphant Mat Rebeaud (SUI) was a little handicapped due to a recent femur injury, he excelled in the first round and won against Gilmar "Joaninha" Flores from Brazil


Although local hero Johan Nungaray was enthusiastically supported by the cheering crowd, it was unbeatable Nate Adams (USA) who rocked the arena and scored with some extremely difficult tricks and perfect execution. Californian "all or nothing" wild boy Brian Deegan was sort of lost in his own performance while shooting star Dany Torres (ESP) performed with some incredible technique, style and airtime. His passion and skills paved the way for him to enter the next head-to-head round.


While the riders and judges prepared for the next head-to-head challenge, the audience came to witness a one-of-a-kind flamenco performance on one of the stages along the arena – an exquisite expression of grace and elegance. The arena was up in excitement and cheers, ready for the next FMX delicacy.


Spotlight back on FMX: In the second head-to-head round, the winners of the first round plus one so-called "lucky loser" (chosen by the judges) continued to compete in pairs. Quite obviously, the lucky loser in Mexico City was Ronnie Renner. The crowd just would not let go of him without having seen some more of his riding, breakdancing and striptease performances.


When Robbie Maddison (AUS) and Mat Rebeaud (SUI) then pushed their bikes into the arena, the Plaza was literally boiling. Maddo unleashed a powerful Supercan, Superman Seat Grab, Whip and Off-Axis Nac Nac Backflip; he also did a nice wallride and a wild wheelie on the X-shaped funbox. His level of tricks, execution and usage of the whole setup earned him supremacy over Mat Rebeaud who showed some solid tricks but repeated one, which lead to a lower ranking of his performance. Then Nate Adams practically exploded as he pulled one perfect technical trick after another. Faced with such a run, style master Eigo Sato failed to withstand. Riding against Dany Torres, Ronnie Renner then threw some massive Superwhips but no Flips, which is one of the reasons why Dany Torres won the battle. A ride on the funbox, a massive Superwhip, perfect Heelclicker Backflip and Kiss of Death were among Torres' statements to the judges and the crowd.


Just before the super final - a battle of the three winners of the second head-to-head round - Mexico's famous rock band Fobia performed on stage with electric guitars, drums and some loud rock 'n' roll. This was to give an impression of what the spectators could expect from the FMX fireworks to come.


The final: First entering the final was Robbie Maddison with a strong and versatile run. Smooth and progressive with Flips and Whips, he hit all the ramps and obstacles on course riding faster than anyone else. A class of his own when it comes to a large trick repertoire, technique and confidence, Nate Adams (USA) splashed out and pulled some super clean Catwalks, Cordova Backflips and Lazy Boys.


However, neither Maddison nor Adams could stop 19-year-old Latino young gun Dany "DT" Torres (ESP). When Torres pushed into the super final, the crowd jumped off their seats waving their bandanas and screaming and cheering like crazy. After all, Torres was one of them, a passionate Latino, representing pride, power and charm. Fiercely attacking his former heroes, Torres threw some super high Cliffhangers, Turndowns, Superflips and Heelclicker Backflips with a breathtaking Turndown Whip as the winning jump. A combination of sophisticated riding, variety of tricks and interaction with the crowd earned him victory.


"I watched Maddo and Nate ride really well so I knew I had to push it to the very limit to beat them. It worked out and I am super happy!", said Torres completely out of breath. No doubt, the Red Bull X-Fighters in Mexico City will be something to remember for young Torres. At the huge aftershow party in downtown Mexico City, the riders partied until daylight. No competition this time - just fun!


The Red Bull X-Fighters are going on tour for the first time in 2007, hosted by three more venues after Mexico City. On May 26th, world-class motocross freestyle will conquer famous Slane Castle, Ireland. On June 30th, the Red Bull X-Fighters will take place in Moscow, followed by the final tour event on July 27th in Madrid.


RESULTS:


Final:
1. Dany Torres (ESP) – 100 points
2. Nate Adamy(USA) – 93,9 points
3. Robbie Maddison (AUS) - 84 points
4. Mat Rebeaud (SUI) - 40 points
5. Eigo Sato (JPN) - 30 points


Head-to-Head / First Round:
Eigo Sato (JPN) beat Ronnie Renner (USA)
Robbie Maddison (AUS) beat Gabriel Villegas (CHI)
Mat Rebeaud (SUI) beat Gilmar Flores (BRA)
Nate Adamy (USA) beat Johan Nungaray (MEX)
Dany Torres (ESP) beat Brian Deegan (USA)


Head-to-Head / Second Round:
All 5 winners of the first round plus one "lucky loser" (Ronnie Renner)


Robbie Maddison beat Mat Rebeaud
Nate Adams beat Eigo Sato
Dany Torres beat Ronnie Renner


Winners of previous Red Bull X-Fighters:
2001 Valencia (ESP): Mike Jones (USA)
2002 Madrid (ESP): Edgar Torronteras (ESP)
2003 Madrid (ESP): Kenny Bartram (USA)
2003 Valencia (ESP): Kenny Bartram (USA)
2004 Madrid (ESP): Travis Pastrana (USA)
2005 Mexico City (MEX): Ronnie Renner (USA)
2005 Madrid (ESP): Nate Adams (USA)
2006 Mexico City (MEX): Mat Rebeaud (SUI)
2006 Madrid (ESP): Travis Pastrana (USA)
2007 Mexico City (MEX): Dany Torres (ESP)
Tell a Friend
•
Site Map
•
Print this Page
•
Email Us
•
Top