Entertainment | May 2007
Chavez Backs Danny Glover's Directing Debut

france24.com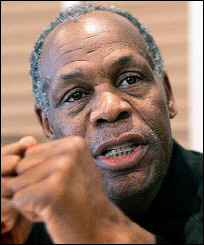 Venezuela will back the directing debut of Hollywood actor Danny Glover, seen here in April 2007, providing 18 of the 30 million dollars needed to produce his film on an Haitian independence hero. (AFP - Tim Sloan)

Venezuela will back Hollywood actor Danny Glover's directing debut, providing 18 of the 30 million dollars needed to produce his film on an Haitian independence hero, industry sources said Tuesday.


"Lethal Weapon" co-star Glover, 60, currently on a speaking tour of Caracas, has supported Venezuelan President Hugo Chavez' political revolution since he was first elected in 1998, as well as the creation last year of Venezuela's Villa del Cine (Film Town), Variety magazine said Tuesday.


On launching Villa del Cine, the anti-US Chavez administration said it intended to do battle with "the Hollywood film dictatorship."


Glover's first project as film director is described as an epic film about Francois-Dominique Toussaint Loverture (1743-1803), one of the forefathers of Haiti's independence from France in 1804.


Glover's production company is aptly named Loverture Films, after the Haitian hero.


The film, the cast and title of which are as yet undecided, is also one of the first projects undertaken by Villa del Cine, which has drawn fire from some Venezuelan film critics for linking up with Hollywood stars.


"With 18 million dollars you could finance five years of local movie production in Venezuela. And (Glover's) film is not even about Venezuela," Venezuelan film director Jonathan Jakubowicz ("Secuestro Express," 2005) told Variety.
---
Mack Assails Glover's Movie Deal with Hugo Chavez
Kara Oppenheim - The Hill


Rep. Connie Mack (R-Fla.) Tuesday blasted a "sweetheart" deal that American actor Danny Glover had cut with Venezuelan President Hugo Chavez.


According to press reports, Glover recently accepted a two-picture movie deal that includes $18 million to direct a film on an 18th century slave revolt in Haiti.


"I am shocked and saddened that a prominent American like Danny Glover would cut a sweetheart movie deal with the likes of Hugo Chavez," Mack said. "To turn to an avowed enemy of the United States, and someone who in his own right has snuffed out dissent and free speech, for movie financing smacks of radicalism and opportunism run amok."


Glover has been a longtime supporter of Chavez. He has visited Venezuela several times and has also appeared on Chavez's television and radio talk show, "Hello, President." He serves on the board of Venezuela's "TeleSUR" news network, which the Venezuelan leader created two years ago to counter established networks like CNN.


Mack, a member of the House Foreign Affairs Committee, is a strong critic of Chavez and has expressed concerns that Chavez is seeking to use the media at his disposal to promote anti-American ideas in the Western Hemisphere.


"Danny Glover should refuse to accept Hugo Chavez's tainted movie deal and instead work with legitimate enterprises, investors and financiers who value freedom, treasure our nation and who won't climb into bed with renegade communist dictators," Mack said.
Tell a Friend
•
Site Map
•
Print this Page
•
Email Us
•
Top