News from Around Banderas Bay | May 2007
Finding Inner Peace in Puerto Vallarta

Joy! - PVNN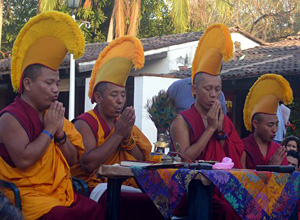 The Vallartan Inkarri Multicultural Association is sponsoring a group of Tibetan monks who are currently in Puerto Vallarta promoting inner peace, while raising money to rebuild monasteries destroyed by the Chinese and to help support the monks.

A group of Tibetan monks from the Gashar Tawon Khangston Monastery sat down with the people of Puerto Vallarta to pray for our environment on Tuesday May 15th. We gathered just in front of the Cultural Center on the Rio Cuale where more essential trees are waiting to be slaughtered and replaced with concrete, and for an hour we meditated with these extraordinary priests.


They pleaded with us to help save the environment and spoke of how too many trees are being cut down, and that this results in less rain and more illness.


The monks invited us to invoke our own personal Gods and Goddesses as we joined with them in prayer to purify the earth and remove obstacles and negativity. They ended the ritual chanting with blessings for each person's health and luck and happiness, asking that our wishes be granted also.


This is the ninth year the Vallartan Inkarri Multicultural Association www.inkarri.org has sponsored a group of Tibetan monks to go on tour promoting inner peace. The goal of the tours is to raise money to rebuild the monasteries destroyed by the Chinese, and help support the monks, half of which are children.


They will be in Vallarta until the 24th of May providing a variety of services including Tibetan Astrology, Tibetan Medicine, Pujas for both home and business, Tantric purification and a five hour fire ceremony which also includes the famous sand mandala.


Initiation ceremonies will be held every day at Inkarri until they leave; Oceano Pacifico 597–3 Col. Palmar de Aramara. The cost of each Initiation is $250 pesos and helps you to connect with the Deity being invoked.


Wednesday 16th 8pm: Iniciacion de Avalokiteshvara - Buddha of Compassion


Thursday 17th 8pm: Inner Peace, this is FREE and at La Petit France - not Inkarri


Friday 18th 8pm: Iniciacion de Shambhala – Abundance in all things


Saturday 19th 10am: Iniciacion del Buda Metla – Buddha of Medicine


Saturday 19th 8pm: Iniciacion de Tara Verde – Green Tara


Sunday 20th 10am: Iniciacion del Buda Maitreya – Buddha of Universal Love


Sunday 20th 7pm: Iniciacion de Hayagrihwa – Clearing entities and negativity


Tuesday 22th 8pm: Iniciacion Buda Manjushri – Buddha of Wisdom


Wednesday 23rd 8pm: Iniciacion de Tara Blanca – White Tara


Thursday 24th 8pm: Iniciacion de Vajrasatwa – Clear Bad Karma


For more information (in Spanish) contact Manuel at 044-322-131-1762, Eva at 044-322-120-8612. For information in English, call Aline at 044-322-135-8356.
---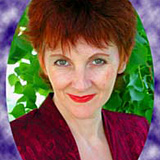 JOY! Is an internationally acclaimed life transformation coach, famous for her unreasonable success in helping people move through their challenges with her unorthodox approach and emPOWERment tools. For more information, visit her website ExperienceJoy.com or call 044-322-129-1128.
Click HERE for more articles by Joy!
Tell a Friend
•
Site Map
•
Print this Page
•
Email Us
•
Top