News from Around Banderas Bay | May 2007
Vallarta Yacht Club Sailors at the Mexican Junior Olympics

Kathy Taylor - PVNN
photos by D. Colangelo and K. Taylor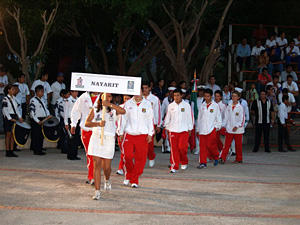 Nayarit sailors and weightlifters march into the Opening Ceremonies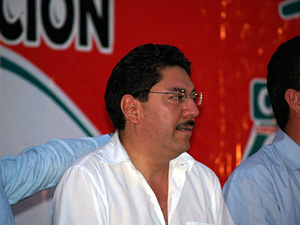 Oaxaca Governor Lic. Ulises Ruiz Ortiz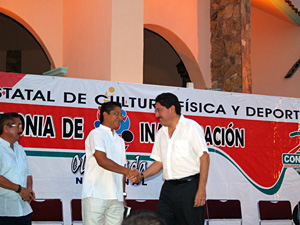 A smiling Governor Ortiz opens the Olympiada Nacional 2007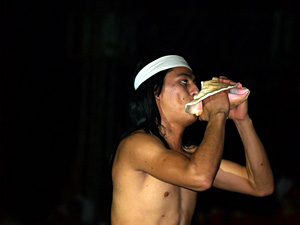 The conch is blown north, south, east and west to call all who hear to Bahias to Huatulco.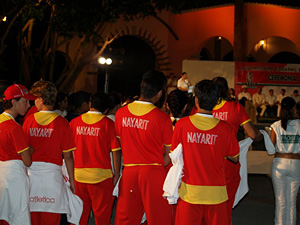 Nayarit! The sailing team is from Vallarta Yacht Club, Nuevo Vallarta, Nayarit.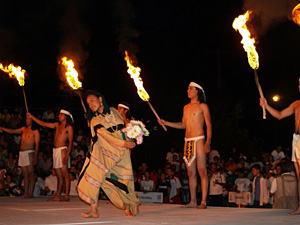 Ancient ritual dances.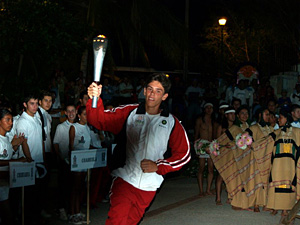 Antonio Portilla, a laser sailor from Huatulco, lights the Olympic flame.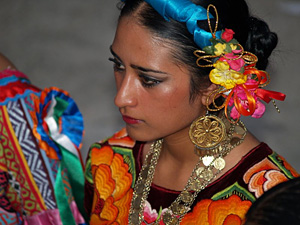 The beautiful faces of Oaxaca.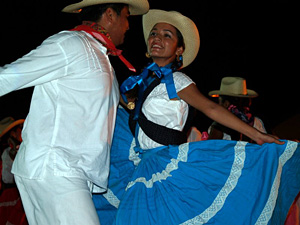 The diversity of Oaxacan culture.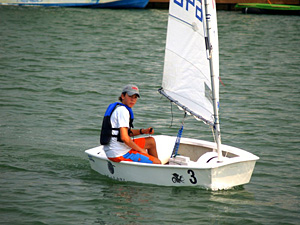 Juan Carlos Mestre Camarena, VYC

Huatulco, Oaxaca - Marching behind the banner of their home state of Nayarit, 4 Vallarta Yacht Club junior sailors joined the parade of competitors from Mexico's 32 states at the opening of the Mexican Junior Olympics on May 11th in Huatulco, in the state of Oaxaca.


Vallarta's team consisted of sailors Manuel Gomez Dussault, Juan Carlos Camarena Mestre, Paul Alexandro Moreno McCarthy, and Nora Elizabeth Urbina Anzures. They are all Optimist sailors; the sailing competition included Optimists, Lasers, and Windsurfers. The Vallarta Yacht Club juniors were accompanied by Coaches Shelley Ward and Martha Gomez.


The state of Oaxaca is one of 8 Mexican states that are hosting the 54 events of the Olympiada Nacional 2007 from May 11th till May 23rd. Twenty five hundred competitors, coaches, and trainers will compete in Huatulco, where the Sailing, Karate, Tennis and Weight Lifting competitions are taking place. One hundred and seventy five Mexican youth competed in the Sailing competitions.


In a pleasant departure from his often difficult public responsibilities, Oaxaca Governor Ulises Ruiz Ortiz greeted competitors from every region of Mexico, and welcomed them to the beautiful community of Huatulco. He encouraged all of the participants and their families to "spread the word" about Oaxaca's facilities and hospitality when they returned to their home state. He guaranteed that they would always have a warm welcome on their return to Oaxaca.


The rich culture of Oaxaca, one of Mexico's most diverse states, was celebrated with a demonstration of dancing and singing and pre-Hispanic ritual. A colorful swirl of skirts, flowers, fruits, and blazing torches, and the haunting blow of the conch to the four points of the compass, beckoned all to come to the Olympiada Nacional.


The link between the not-forgotten past and the exciting present was symbolized by the lighting of the modern Olympic torch with a touch of an ancient rustic torch. Antonio Portilla, a laser sailor from Huatulco, holding the torch high, sprinted around the plaza to thunderous cheers before lighting the Olympic cauldron which will burn throughout the games.


Marina Chahue, a modern full service marina in Bahia Chahue, was the operations venue for the sailing competition. Competitors and coaches all had glowing reviews for the facility, which provided a complete medical team and ambulance on standby, on-site refreshments, and most importantly - shade!


Three days of sailing, and not too many surprises. The Vallarta team was consistent, with results that kept them in the top half of each of their divisions, and improved results from their last major competition, the February 2007 Wesmex, which was hosted by Vallarta Yacht Club.


Day One Conditions:


Not living up to its windy reputation, the Tehuanetepec did not deliver ideal conditions on Saturday, the first day of competition. Light, light winds of 3 to 5 knots and a 3 foot swell met the sailors as they worked their way out of the shelter of Chahue Marina.


Day One Results:


In Female Optimists, Valle Bravo sisters Andrea and Cristina Ortiz Vivas held one and two spots, and Vallarta's Nora Urbina Anzures finished 18th overall in a field of 32, and 9th in her age group.


In Male Optimists, Santiago Solarzano Yanes, representing Hidalgo, finished first overall, and the brother of the top female sailors, Federico Ortiz Vivas, was second overall. Top Vallarta sailor was Manuel Gomez Dussault, who finished 16th overall and 8th in his age group, V15. Finishing 21st overall was Paul Moreno McCarthy, 10th in V15. Juan Carlos Camarene Mestre finished a solid 12th in V15, and 26th overall.


Day Two Conditions:


What happened to the mighty Tehuantepec? Light, light conditions prevailed once more - conditions that favored the lighter weight Optimist competitors, and severely challenged the windsurfers, who pumped their way across the course, working for every bit of speed. The Race Committee hoped to get 3 races off on Sunday - they started the third, and had to call it for lack of wind.


Day Two Results:


The Valle Bravo sisters continued to dominate the Female Optimists, and VYC's Nora Anzures moved up in the overall standings to 17th, and 7th in the V13 group.


Consistency seems to be the name of the game here in Optimists, with Saturday's leaders holding their positions. Some shifts in the Vallarta team's standings, however, as Manuel Dussault dropped a few points to 19th overall and 9th in class; Paul McCarthy maintained his 21st place overall and 10th in class; Juan Carlos Mestre sailed well to post a 23rd overall spot and 11th in class.


Day Three (Final) Conditions:


Enrique Laclette, Chahue Marina Manager, looked up and pointed to a bank of cumulus clouds in the northern sky. "When those get here, we'll have wind," he said. And it came, not a big blow, but 6-10 knots, which made for a spirited last day of competition.


Day Three (Final) Results:


The excitement on Day Three was not in the final results, but in Race Two when Nora Anzures won the line. Coach Shelley Ward said that she could see Norah beaming from her position in the support boat outside the course. She posted her best finish of the competition with a 12th out of 39 competitors, and her final results were 16th overall and 8th in her class. Christina Ortiz Vivas and sister Andrea from Valle Bravo (Mex) finished first and second, and each won first in their age group.


Although Diego Ortiz Vivas kept the pressure up throughout the three days of competition, Santiago Solarzano Yanes representing Hidalgo won the Male Optimist championship, with an amazing 8 points (one discard) from 7 races, and Diego posting 10.


The Vallarta team finished with solid results in the top half of the field, holding 9th, 10th and 11th in V15. Top honors went to Paul McCarthy, 20th overall, with Juan Carlos Mestre in 21st place, and Manuel Dussault in 23rd out of 55 competitors.


The Junior Sailing Program was begun only 3 years ago - these are impressive results for such a young club. The Vallarta Yacht Club has hosted two WesMex Optimist competitions, and this July will be hosting Optimist sailors from over 20 countries during Optinam 2007, the North American OPTI championship.


For more information about Olympiada Nacional 2007, visit CONADE.gob.mx. For more information about the Vallarta Junior Sailing Program, visit VallartaYachtClub.com

| | |
| --- | --- |
| Manuel Dussault Gomez, VYC | Nora Elizabeth Urbina Anzures, VYC |
| Paul Alexandro Moreno McCarthy, VYC | Vallarta Team and coaches at Awards Ceremony |
| Coach Shelley Ward and Paul McCarthy | Manuel Gomez |
| Optis ready for launch. | The Mix! Lasers, Optis and Windsurfers head out of Marina Chahue to the course. |
Tell a Friend
•
Site Map
•
Print this Page
•
Email Us
•
Top