IGFA Offshore World Championship Underway

Pete Johnson - igfa.org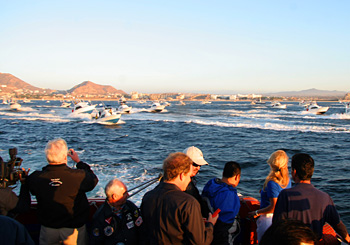 With teams from 30 countries, the fleet of 63 boats head for the fishing grounds off Cabo San Lucas, Mexico, for the start of the eighth annual IGFA Offshore World Championship, which continues through May 25th.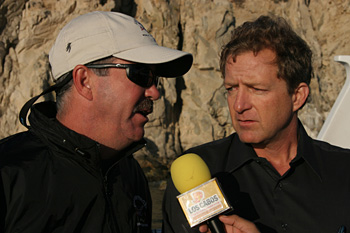 Mike Myatt, (left) the tournament director for the IGFA Offshore World Championship, speaks to Marco Ehrenberg (right), Director of International Relations, BCS.
For more information on the total daily scoring of the 63 teams please go to the IGFA web site at IGFA.org

Cabo San Lucas, Mexico - With a flare gun signal from the mayor of Cabo San Lucas, sixty-three boats blasted away from the mouth of the Cabo San Lucas harbor early Monday, signifying the start of the four-day IGFA Offshore World Championship.


Now in its eighth year, the International Game Fish Association event has been called the most prestigious catch-and-release billfish tournament in the world as anglers on 63 teams, from more than 30 countries on six continents, gather in Cabo San Lucas, Mexico, throughout the week of May 20th-25th, to compete.


Sunday, the teams heard the rules briefing and held a drawing for their four different boats - ones they hope will guide them to multiple bill fish releases. All of the boats are captained by local Cabo guides. The boat drawing was followed by a kickoff party at the Hotel Finisterra, sponsored by Momoi fishing line.


The tournament hosts the single largest contingent of international teams ever to compete in a fishing competition converging in one of the world's most prolific billfish regions. The teams previously qualified by winning one of 132 IGFA sanctioned tournaments held in 40 countries worldwide during 2006.


A total of 16 teams are registered from the United States. Three more teams are past champions including defending back-to-back 2005 and 2006 winners Tom Schramm of Roselle, Ill., fellow Chicago-land teammate Scott Segal, Libertyville, Ill., and Ray Rosher of Miami, Fla.


There's over 40 teams representing tournaments in the countries and territories of Angola (3), Australia (3), the Bahamas, Barbados, Bermuda (2), Brazil (2), Canada (2), Costa Rica (2), England, Italy (4), Jamaica (2), Kenya (2), Kingdom of Tonga, Mexico (5), New Zealand, Panama, Portugal, St. Lucia, Senegal, Spain (3), Sultanate of Oman, Trinidad & Tobago, Turks and Caicos, Vanuatu and Venezuela.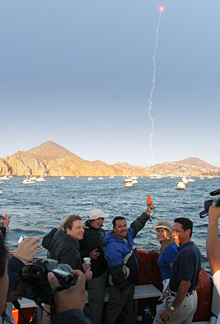 Armando Diaz (center) the Mayor of Cabo San Lucas, fires a flare gun to begin the eighth annual IGFA World Championship in Mexico on Monday.

Additionally the countries of Holland, Singapore, the Canary Islands and Ireland are represented by anglers on several of the teams.


They'll fish for marlin, sailfish and other billfish species with the top team winning engraved watches along with trophies and merchandise. Awards are presented through to the third place finishing team.


Sponsors and partners for the IGFA Offshore World Championship are Secretaria de Turismo de Baja California Sur, Costa Del Mar, Hotel Finisterra, Momoi, Guy Harvey, Inc., Mold Craft Products, Picante Sport Fishing and Yacht Sales, Cabo Yachts, Outdoor Channel, K D & G Sea Life Masterpieces, Shimano, Hook & Tackle, Murray Products, AFTCO Bluewater, Bodo Muche, IWS Scales, King Sailfish Mounts, Stidd Systems, Corona and Modelo S.A. de C.V. Mexico, Trans Cabo Group, API Dock, Daiichi, Minerva's Baja Tackle, Pisces Fleet Sportfishing and UltraJewels.


Each morning the daily results along with photos of the previous day's round will be posted on the IGFA's home page at IFGA.org.

Founded in 1939, the IGFA is a not-for-profit organization committed to the conservation of game fish and promotion of responsible, ethical angling practices through science, education, rule making and record keeping. IGFA members are located in over 125 countries and territories. The IGFA welcomes visitors to its 60,000-square-foot interactive Fishing Hall of Fame and Museum in Dania Beach, Florida.