News Around the Republic of Mexico | May 2007
Local Team Takes Impressive Day One Lead in IGFA Offshore World Championship in Mexico

Pete Johnson - igfa.org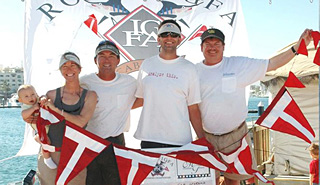 Can they win it three years in a row?
The defending champions are back in Mexico for the eighth annual IGFA Offshore World Championship with hopes of once again setting records and capturing the title among 64 teams from 30 countries on six continents. Left-to-right holding their baby are Charmaine and Ray Rosher of Miami, along with Scott Segal, Libertyville, Ill., and fellow Chicago-land teammate Tom Schramm of Roselle, Ill. The three men return this year with hopes of duplicating this photo taken last year when they ran out of release flags signifying their 10 marlin releases on the final day while setting a single day record and a four day total of 24 releases to win the tournament. (Pete Johnson/IGFA)
For more information on the total daily scoring of the 63 teams please go to the IGFA web site at IGFA.org

Cabo San Lucas, Mexico – With a record eight marlin releases the Copa del Gobernador San Jose del Cabo team took the opening round lead over 62 other world class teams at the eighth annual International Game Fish Association (IGFA) Offshore Championship Tournament in Cabo San Lucas, Mexico.


The local team made up of Jaime Pino, Modesto Mirando, Antonio Castro and Oscar Daccarett were "in the bite" early scoring 2400 points, the highest first day total ever in the event.


A near record 92 billfish were released in the competition among teams from 30 countries off the southern tip of Mexico's Baja peninsula. Over 100 billfish were released in the same waters on the opening day in 2005.


In second place with 1845.6 points is an east coast Florida, U.S.A. team that qualified by winning the Master Angler Billfish Tournament in Balboa, California last year. Burt Moss and Tim Hamilton of Pompano Beach, along with George and Stuart Disbury, Deerfield Beach released six marlin and caught a 45.6 lb yellowfin tuna as a weight fish.


New Zealand's Bayleys Gamefish Tournament and the Brazilian team from the Cabo Frio Marlin Invitational are tied at 1500 points for third place.


The back-to-back 2005 and 2006 defending champions made up of Chicago-land teammates Scott Segal, Libertyville, Ill.,and Tom Schramm of Roselle, along with Ray Rosher and Jon Cooper of Miami, Fla. scored only one marlin release for 300 points and are tied with 16 other teams in 28th place.


Each catch-and-release of a marlin (blue, black and striped) or a swordfish equals 300 points. The catches are scored and released alive at the boat in accordance with the IGFA tournament rules.


The teams also receive "weight" points (per pound) over 25 lbs. for tuna, wahoo and dorado. Local charities receive the donations of all fish weighed at the Cabo docks. All anglers use 30 lb. Momoi fishing line. The prestigious four-day tournament is believed to host the single largest contingent of international teams ever to compete in a fishing competition.


"It was windy and cold at the docks but the teams said the weather was sunny and beautiful on the water with the bite starting in the morning till the early afternoon," said IGFA Tournament Director Mike Myatt.


There's over 40 teams representing tournaments in the countries and territories of Angola, Australia, the Bahamas, Barbados, Bermuda, Brazil, Canada, Costa Rica, England, Italy, Jamaica, Kenya, Kingdom of Tonga, Mexico, New Zealand, Panama, Portugal, St. Lucia, Senegal, Spain, Sultanate of Oman, Trinidad & Tobago, Turks and Caicos, Vanuatu and Venezuela. Additionally the countries of Holland, Singapore, the Canary Islands and Ireland are represented by anglers on several of the teams. The United States has 19 teams competing.


The tournament has attracted many of the world's best angling teams who won at least one of 132 IGFA sanctioned qualifying offshore events held in 40 countries across the globe during 2006.


The team with the most points at the end of the four days of competition will receive engraved watches and trophies. Eighteen other prizes will be presented including ones to the three top male and female anglers, top three captains and top three places for the heaviest tuna, wahoo and dorado.


Sponsors and partners for the IGFA Offshore World Championship are Secretaria de Turismo de Baja California Sur, Costa Del Mar, Hotel Finisterra, Momoi, Guy Harvey, Inc., Mold Craft Products, Picante Sport Fishing and Yacht Sales, Cabo Yachts, Outdoor Channel, K D & G Sea Life Masterpieces, Shimano, Hook & Tackle, Murray Products, AFTCO Bluewater, Bodo Muche, IWS Scales, King Sailfish Mounts, Stidd Systems, Corona and Modelo S.A. de C.V. Mexico, Trans Cabo Group, API Dock, Daiichi, Minerva's Baja Tackle, Pisces Fleet Sportfishing and UltraJewels.

Founded in 1939 the IGFA is a not-for-profit organization committed to the conservation of game fish and promotion of responsible, ethical angling practices through science, education, rule making and record keeping. IGFA members are located in over 125 countries and territories. The IGFA welcomes visitors to its 60,000-square-foot interactive Fishing Hall of Fame and Museum in Dania Beach, Florida.
Tell a Friend
•
Site Map
•
Print this Page
•
Email Us
•
Top