News from Around Banderas Bay | June 2007
One Enchanted Evening in Puerto Vallarta

Gary R. Beck - PVNN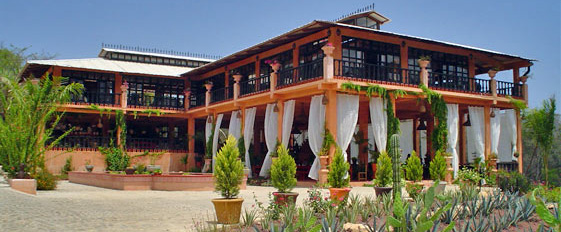 A fine meal, great entertainment and a lot of chattering and laughing made the Full Moon Feast, hosted by PV Botanical Gardens owner Bob Price on June 1st, one of those enchanted evenings that will not soon, if ever, be forgotten.




Anna and I were thrilled to attend the Full Moon Feast hosted by PV Botanical Gardens owner Bob Price on June 1st. It was one of those special evenings that will not soon, if ever, be forgotten. Orchids seemed to be growing everywhere you looked!


In the open-air second floor area, musicians Latcho and Andrea of La Cruz entertained the crowd with lively but mellow Flamenco music and vocals. Some fearless guests, including Bob, Judy and Pat, were even brave enough to dance!


Paradise Bakery and Catering Company owner, Liana Turner, prepared the 4 course menu, which consisted of a variety of delicious appetizers, a lovely Tomato Salad with beet curls, and the choice of Beef Medallions in a Cabernet reduction or slightly smokey, yet moist, Fire Roasted Salmon Spirals accompanied by a light spinach mousse and scalloped white and sweet potatoes, followed by a divine chocolate torte with creamy light mousse filling.


Tasty El Tuito coffee finished the meal for me. We were courteously served at a large square table decorated with bright tablecloths and flowers from Bob's own garden. Luminarias were glowing all around the two-story home and garden center.


And though we only knew a few attendees, we had a great time visiting with Bob's sweet Mom, Betty, former world sailor and local Tango class teacher, Pat Henry, and Archie's Wok owner, Cyndi Alpenia. After enjoying a fine meal, great entertainment and much chattering and laughing, we finally headed home. Muchas Gracias to Bob and everyone involved.
---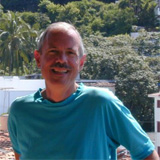 After 20 years in the San Francisco restaurant business, Gary R. Beck turned his attentions to cooking, dining out, creating recipes and exploring Puerto Vallarta's rich array of eateries. Famous for his restaurant guide, available online at CafePress.com or Lulu.com, Gary also writes restaurant reviews for Puerto Vallarta newspapers, Bay Area magazines, and now, a feature column for BanderasNews.com. Contact Gary at garyrbeck1@yahoo.com.
Click HERE for more articles by Gary R. Beck.
Tell a Friend
•
Site Map
•
Print this Page
•
Email Us
•
Top