News Around the Republic of Mexico | June 2007
Breeders Promoting Hairless Mexican 'Xolo' Dogs

Traci Carl - Associated Press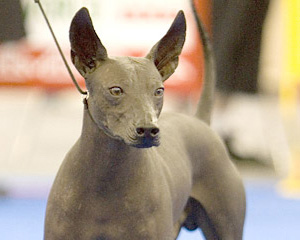 A Mexican Xoloitzcuintle Intermedio, is seen prior to compete in the Mexico World Dog Show 2007 in Mexico City. (AP)

Mexico City - Sleek with batlike ears, the hairless Xoloitzcuintles (show-low-ee-SQUINT-lees) look more like cartoon characters than canines. This rare breed's history dates back to the Aztecs, and it has a special allure for asthmatics or those who just don't like cleaning up after a shedding dog.


Nicknamed "Xolos" by breeders and known in Mexico as "Itzcuintles," the breed has yet to come into its own. But the dogs are becoming more popular around the world. They can sell for up to $2,500 for a show dog, and past owners have included the Mexican artists Diego Rivera and Frida Kahlo.


Breeders say Xolos were on their way to extinction in the 1940s when a group of Mexicans began searching for the dogs in remote mountain villages and forgotten desert outposts, building a breed that numbers about 5,000 worldwide today.


Patty Hoover, a breeder from Selah, Wash., said she began breeding Xolos almost 20 years ago because she "married a man who didn't like dog hair on the floor." There weren't many other Xolo owners around when she started, but that is changing.


"They are getting a lot more recognition. The breeders are working really hard to promote them."


Stephanie Mazzarella, an asthmatic 44-year-old from Loxahatchee, Fla., began breeding them after her doctor told her she could have a pet only if it had no hair. Now, she spends her free time trying to get others interested in her dogs.


"I put them in a puppy stroller and take them to the mall to try to get the public interested," she said as her 9-month-old puppy, Chabella, watched his competitors.


Xolos were common throughout Mexico at the time of the Spanish Conquest. They were considered sacred by the Aztecs, who sometimes ate their meat as a cure-all for illness or buried the dogs with their owners to help guide the human spirit to the afterlife.


Today, they enjoy vastly different lives, but may still function as more than mere pets. For instance, Brenda Armstrong, who has four Xolos at home in Vancouver, British Columbia, said one friend's Xolo was trained to wake her up if her diabetic husband's blood sugar fell in the night.


Some 70 Xolos were among the 5,000-plus dogs (and 300 breeds) that competed Memorial Day weekend at the World Dog Show in Mexico City. (A male minature poodle won best in show.)


The dogs have long been popular in rare-breed dog shows, and can be found as pets around the world. Russians dress them in special down coats, while Mexicans slather light-skinned Xolos in sunscreen.


The soft dogs keep their coats oiled with glands found between their toes.


Some have a wiry shock of hair at the top of their head, and about 25 percent are actually born with a thick coat of fur, a genetic quirk.


Xolos range in weight from 10 to 50 pounds and come in three sizes: mini, a little larger than a Chihuahau; intermediate, about the size of a beagle; and standard, roughly the size of a Labrador.


Armstrong says the breed is hearty, having survived thousands of years in Mexico. Once, her dog ate two barrel cactuses.


"I thought, 'Oh, this is going to be expensive,'" she said. "But somehow she didn't have one spine in her mouth, and an hour later she coughed up all the spines and she had no trouble digesting the cactus."
Tell a Friend
•
Site Map
•
Print this Page
•
Email Us
•
Top