News from Around Banderas Bay | July 2007
Rain or Shine Vallarta R.I.S.E.s to the Occasion

JOY! - PVNN
Thursday night's Lazy Lizard Charity Bingo was a little wet, but it didn't dampen anyone's spirit. All in all $9487 pesos were raised, which just goes to show that rain or shine, Vallartenses always R.I.S.E. to the occasion!

Puerto Vallarta - Rain divided this week's Lazy Lizard Bingo, but in no way dampened anyone's spirits. The place was still packed, and 'Bingo Bob' held court in the center of the restaurant, with half the people under cover while the other, hardier half, balanced umbrellas between the tables and enjoyed the rain.


The first bingo was won by a Father daughter team, Joe and Zoe. It was a good night for that family, they won a further bingo, and an art auction for one of Steve Fischer's art pieces getting a $700 USD painting for $150.


Anna from the Tribune won the second bingo, but I didn't get a photo of that because she threatened me with all kinds of horrors if I took one of her. I'm sure it was coincidence that later that night my brand new $400, just bought after all my stuff was stolen, Panasonic Lumix camera, was knocked off the table and on to the ground. Now the lens won't open and I can't take any more photos. I am SO sad. If anyone knows where I can get it fixed, or wants to give me a new one so I can continue to keep you all photographically updated, please call me!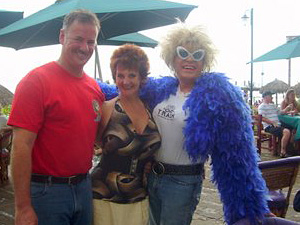 Host Bingo Bob, event organizer JOY! and Cousin Lolita were among those who braved the weather to raise money for the kids at R.I.S.E.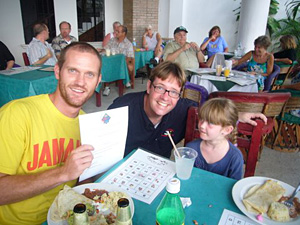 Parry presents first bingo winners, Father daughter team Joe and Zoe, with their prizes.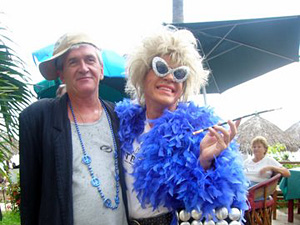 Lolita and her husband, whose name was lost in a swirl of blue feathers as Lolita swanned about.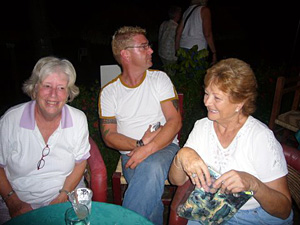 Kai, (L) who won two Dolphin Encounters from Vallarta Adventures and Dottie, (R) who won two Canopy Los Veranos Tours, with Carl, who was too busy watching Wayne to participate in the auction.

The third bingo was a quadruple, then the rowdier than normal crowd went wild over two of the yummiest things ever seen at the Lazy Lizard, being touted by two of the most... alarming: XocoDiva chocolates and Male Model Wayne in the Blue Suit; presented by Xtreme Texas Trailer Trash.


Mama Dolores couldn't make it because her bunions were playing up – or at least that's what she said. So she sent her self-proclaimed trailer trash cousin, Lolita, to take her place selling the fabulous XocoDiva chocolates that Charlotte and Carol had donated.


Lolita arrived with her husband, whose name was lost in a swirl of blue feathers as Lolita swanned about. They are from Texas, and weren't at all shy about making themselves comfortable at Lazy Lizard. The crowd was just recovering from meeting Lolita when Lola, Mama's illegitimate daughter showed up!


The two ladies had a fascinating family reunion before joining forces to sell chocolates at $10 pesos a piece, raising $980 pesos for R.I.S.E.


Charlotte and Carol did their 50/50 game raising $770 pesos. Lolita won the game, and donated it back - hugely generous hearts beat under all that hair and feathers.


The highlight of the night was the Blu Suit auction. Clay had arranged for the unreasonably gorgeous Wayne to model it for the crowd, and he did a truly spectacular job of collecting funds.


When it came time for its auction, the crowd wanted more mileage out of the suit. Kai offered $500 pesos if Roberto – otherwise known as Bingo Bob – would model the suit, which he did, on his head. But the real show came when Lolita was offered $1000 pesos if she would put the suit on 'properly.' So she did. Oh my. Words fail me, fortunately I caught it on video, suffice to say she earned that $1000 pesos for the kids!


All in all $9487 pesos were raised this week, in low season, in the rain! WooHoo!


You only have two more chances to come play bingo for the kids on Thursday nights. I am going to San Diego to do a workshop tour at the beginning of August, and Lazy Lizard is closing for the summer months. So don't miss out on the best show in town.


Next week, Vallarta's favourite Thespian and Encore Boutique owner, Mikki Prost, in conjunction with magnificent makeup artist Alejandro, will be presenting a fashion show with a difference. What's the difference? Come see for yourself! Join us on Thursday, July 19th from 7-9 pm at Lazy Lizard on the beach next to La Palapa.

---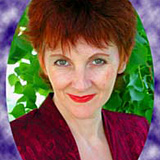 JOY! Is an internationally acclaimed life transformation coach, famous for her unreasonable success in helping people move through their challenges with her unorthodox approach and emPOWERment tools. For more information, visit her website ExperienceJoy.com or call 044-322-129-1128.
Click HERE for more articles by JOY!
Tell a Friend
•
Site Map
•
Print this Page
•
Email Us
•
Top