News from Around Banderas Bay | July 2007
A Taste of Mexican Life in a Rural Village

Laura Gelezunas - PVNN

The Bay of Banderas offers so much more than beautiful beaches, shopping and excellent dining. If you want to get off the beaten path, take a seat on the Jeep Safari through the Sierra Madre with Vallarta Adventures Tour Company in Puerto Vallarta, Mexico.


This semi-off-road excursion over bumpy terrain guarantees to awaken your senses in more ways than one. Ride up into the mountains, away from the noise of the city, and discover traditional Mexican life in a rural village, where knowledgeable guides encourage you to discover and explore the region's extraordinary flora and fauna.


"So if you see a flower on your plate in a local restaurant, eat it," exclaims James Bradley Smith, a Vallarta Adventures Jeep Safari Tour Guide. He is referring to the hibiscus bush and its flowers, which come in a wide variety of colors.


This is just one of many anecdotes shared on the Jeep Safari. In the small mountain village, Nuevo Ixtlan, one of the stops on the tour, you get a glimpse of what it is like to live here day after day.


"It was just great to see the countryside," says Linda Hower, an explorer, "I witnessed the local population doing what they do everyday and saw how they live and then our tour guide just had so much information about everything... he was amazing."


The guide holds a small green fruit in his hand. "Citronella candles, do you know where the citronella comes from? Watch when I squeeze this little lime, now smell," Brad continues his narration, "Limes have lots of uses, bug repellent, a flavor enhancer and even a deodorant." He continues his description, while walking through the garden, about many of the plants found on the property, along with their many uses.


All Jeep Safari adventurers get to explore the flora and fauna plus collect tips on how to survive without a grocery store nearby. Everyone picks a sample or two from many food items offered. Papaya, plantain, mango and tamarindo are just some of the tasty treats.


During the seven-hour journey, which also includes a jungle walk, listen to a detailed history lesson plus a thorough explanation of the country's traditions and folklore, including Aztec myths and legends. Not many tourists visiting Puerto Vallarta get a chance to see this side of the Mexico.


"This country has a unique culture and a colorful history," says James, "The people living here are the warmest, friendliest people I have ever met and to let visitors have a memory of that after they leave their vacation is a nice testimony, not just from our company's point of view, but from life's point of view."


This stopover in Nuevo Ixtalan would not be complete without a spoonful of Mexican hospitality and a kitchen staple beyond tradition, the taco. This village is just part of this excursion.


So if you are planning to visit Puerto Vallarta, and want to see the Real Mexico, you can learn and experience it all -and then some - on Vallarta Adventures Jeep Safari. It's entertaining and informative and you will come away with so much more than a vacation memory, you will have a knowledge and understanding of Mexico itself.


For more information about the Sierra Madre Jeep Safari, check with Vallarta Adventures to see how they can acquaint you with the "real" Mexico. Visit Vallarta-Adventures.com or give them a call, toll free from the U.S. or Canada, at (888) 303-2653.
---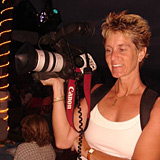 After having spent 10 years in the world of US broadcast news, Laura Gelezunas decided to unleash her skills on Puerto Vallarta by opening Video Diva Productions, a full-service, professional digital video company. Whether you're interested in a sales video, WEBmercial, music video, feature story, documentary, or corporate event video coverage, she has the experience, equipment and talent to coordinate a professional production. For more information, visit her website at VideodDivaProductions.com
Tell a Friend
•
Site Map
•
Print this Page
•
Email Us
•
Top