News Around the Republic of Mexico | July 2007
Mexico Exorcist Slams Harry Potter

Paul Kiernan - Associated Press
go to original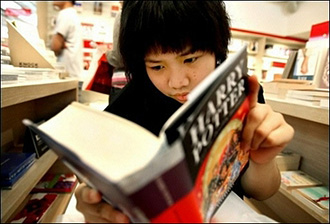 An Indonesian girl reads a copy of the latest Harry Potter novel in Jakarta. The protracted suspense finally lifted for Harry Potter fans who flooded bookshops worldwide to grab the series finale and find out whether author J.K. Rowling slays or spares the boy wizard. (AFP/Jewel Samad)

The leading exorcist of Mexico's main archdiocese said the popular Harry Potter book and film series could allow the devil to enter children's minds, and does "a lot of damage."


Father Pedro Mendoza, a Roman Catholic priest and exorcist coordinator of the Archdiocese of Mexico City, made the comments at the end of a five-day exorcism conference in the capital.


"If you put all these ideas in a child's head, that he can become a wizard, the child believes that, and that is opening an avenue through which the devil can get in," Mendoza said as the series' final book went on sale.


He said that Harry Potter "doesn't interest us", but "unfortunately, it does a lot of damage".


Mendoza said the meeting aimed to unite priests who practice exorcisms, a ritual that began increasing in the 1960s, when family ties began weakening and the mass media started proliferating "new ideas" and "abusing sensationalism".


Without strong, faith-bound families, which he said allow individuals to see God's work in everyday life, people lose touch with God and seek "magical solutions" to modern problems.


"There are many demonic influences, infestations, curses, witchcraft," he said. "And it's in that field that the devil is working."


Cases of demonic possession such as the one portrayed in the film The Exorcist, are extreme and rare, Mendoza said.


About 280 priests and lay people attended the conference, which included an $US230 exorcism course.
Tell a Friend
•
Site Map
•
Print this Page
•
Email Us
•
Top