News from Around the Americas | July 2007
Jumping Fish Plague Florida Region

UPI
go to original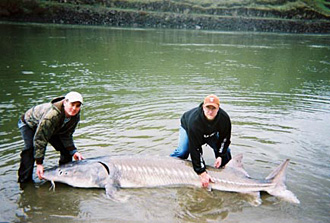 Ranging from 1 foot to over 13 feet, the Sturgeon is one of the largest fresh water fish on the planet. Because of their magnificent size and sheer brut strength, they were voted by In-Fisherman magazine as one of the top ten fish to catch in the world! (blaydese)

Orlando, Fla - Wildlife officials are struggling with a record pace of incidents involving jumping huge sturgeons hitting people in Florida.


During the past 24 months alone, more than 12 incidents involving the leaping fish and humans have occurred between the Suwannee River and Manatee Springs with some resulting in injuries, WKMG-TV of Orlando, Fla., said Saturday.


Sturgeons, which have been around for about 195 million years, are known jumpers that can grow eight feet long and weigh as much as 200 pounds. But why they are smacking into humans recently has regional wildlife experts and boaters puzzled.


One sturgeon's tough skin even caused one local personal watercraft rider to get stitches on her knee after the fish suddenly leaped in front of her.


The TV station reported that wildlife experts have said the fish typically spawn in the Suwannee River and then migrate to the Gulf of Mexico late in the year.
Tell a Friend
•
Site Map
•
Print this Page
•
Email Us
•
Top