Business News | July 2007
Mexican Farmers Switching to Corn Could Create Tequila Shortage

Angela Kocherga - San Antonio Express-News
go to original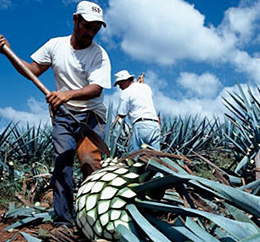 In the highlands of Jalisco, workers known as jimadores harvest blue agave plants.

Tequila is key to a great margarita, but many farmers in Mexico are now ditching the blue agave plant used to make the liquor to cash in on corn and the demand for alternative fuel — and some say that could lead to the great tequila shortage.


In the highlands of Jalisco, workers known as jimadores harvest blue agave plants. They slash off the sharp leaves to get to the heart, which is used to make tequila.


The plants take at least six years to ripen, and patience can pay off when agave prices are high.


However, now some growers are bulldozing their fields to make way for corn. It's worth more, says one worker, thanks to the growing demand for ethanol.


At same time, agave prices have plummeted, as there's an overabundance of the plant.


One grower is so eager to clear his agave field that some of the workers are harvesting plants that are not quite mature. He and others in the region are eager to cash in on corn before the crop's prices peak.


People are hopeful it means more jobs in area known for heavy migration.


"I think this shift to corn is just a sign of desperation," said David Suro, who created his own premium tequila two years ago to appeal to increasing U.S. demand.


Suro timed the launch to ensure there was enough agave available.


"It's a casino business. It really is like, you walk into a casino, and you don't know if you're going to win or lose. Here, we're seeing the consequences," Suro said.


Now desperate farmers bet by turning their backs on blue agave and hope they'll hit the jackpot with corn.


Some farmers are even burning their agave fields to make way for corn.


Experts predict the shift will cause an agave shortage in a few years that will drive up the price of tequila.
Tell a Friend
•
Site Map
•
Print this Page
•
Email Us
•
Top