Health & Beauty | August 2007
Discover the Benefits of Healing Mud

JOY! - PVNN

The benefits of healing mud have been acknowledged throughout the centuries. All the best spas offer mud packs because the right kind of mud not only makes your skin look and feel wonderful, it draws the toxins from your body creating enhanced health in all areas.


Let's face it; we live in a toxic world and everyday those toxins get under our skin in one way or another. Not everyone can afford fancy spa prices, but everyone could benefit from a mud treatment.


I discovered David's 'magic mud' on my first visit to Vallarta. He was doing mud massage out at a hot springs near here, and I was so impressed by the treatment he gave me that I arranged for him to come into Vallarta and offer his work here. (I wanted those treatments easily accessible!) That was a couple of years ago, now its rainy season and he's back in town. YEAH!


I had a mud massage the other day. It was so wonderful I wanted to tell y'all it was available so you could get one too... if you so desired.


David has been devoted to healing through mud since he was a child making bricks and pots, observing how smooth his skin became as he worked with the mud, and how dramatically it helped heal cuts and skin problems. As he watched his father receive profound relief from rheumatism and arthritis, he became fascinated with the healing properties of mud.


He started studying it, and discovered that mud has long been touted for its remarkable healing properties. "Socrates prescribed it to heal everything from ulcers and fevers to broken bones and migraines" David enthuses. "I have mined many different kinds of mud; pink, red, grey, but green mud was Socrates favourite so that's the one I seek out as well. It's filled with essential minerals, and unlike antibiotics which kill good and bad bacteria indiscriminately, when you apply green mud to a health problem, internal or external, it draws out and kills ONLY the bad bacteria."


You've gotta like that!


David lives out by the springs, and mines the precious green mud from deep in the Seirra Madres; then he works it for days until its creamy and just right for massage. THEN, oh bliss and joy, he applies it, exceptionally well, to whoever needs it.


The mud in itself is healing, but when you combine it with excellent massage you have all kinds of benefit.


He offers face pack for $100 pesos. Back or injury mud massage for $200 pesos and a full body mud massage for $500 – I heartily recommend the latter.


I left the table looking like the jolly green giant, then baked, literally in the sand letting the mud draw the toxins from my body as I dried, then rinsed off in the warm Pacific ocean, ahhhhhhh.


I'm STILL feeling soft and yummy three days later. Do yourself a favour and give him a call at 044-322-110-4327.
---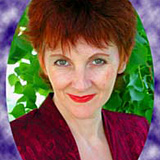 JOY! Is an internationally acclaimed life transformation coach, famous for her unreasonable success in helping people move through their challenges with her unorthodox approach and emPOWERment tools. For more information, visit her website ExperienceJoy.com or call 044-322-129-1128.
Click HERE for more articles by JOY!
Tell a Friend
•
Site Map
•
Print this Page
•
Email Us
•
Top