News from Around Banderas Bay | August 2007
Snip and Clip Clinic 2

Laura Gelezunas - PVNN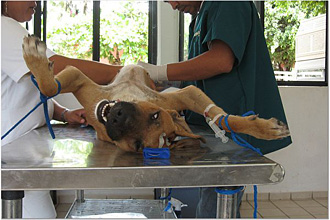 Dr. Enrique Castanon and Dr. Veronica Villaseñor volunteered to perform spay and neuters.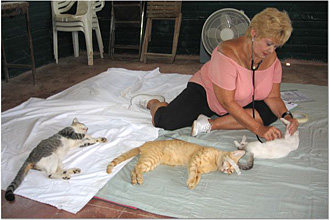 Volunteer Marilyn Grande monitoring the patients' post-op vital signs.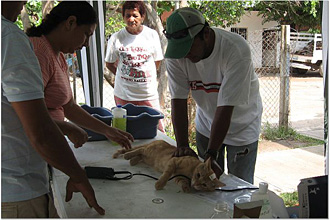 Volunteers man the pre-surgery area.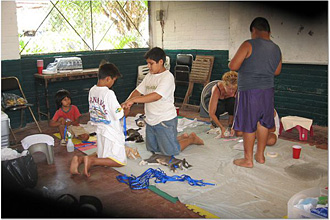 Local kids helping out in the recovery room.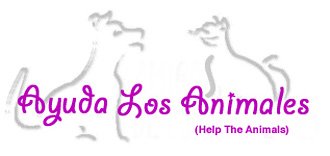 For more information about PEACE, visit their website at PeaceMexico.org.

Consider these facts: In just six years, one female dog and her offspring can be the source of 67,000 puppies. In seven years one cat and her young can produce 420,000 kittens, WOW! Do the math. This uncontrolled breeding produces more animals than loving homes to accommodate them.


"Preventing an unwanted birth is preventing the future suffering, sickness and inhumane death of an animal." A quote from Molly Fisher, director of the non-profit coalition PEACE, which is the umbrella organization over Ayuda Los Animales (Help The Animals) and other community-based projects in the Bay of Banderas.


The Jalisco Department of Health (Salud de Jalisco) recently joined hands with PEACE to hold a high-volume spay and neuter clinic in Colonia Mojoneras. From July 9th- 13th, sixty-five animals were either spayed or neutered at no cost to the pet owner. These clinics were totally free to pet owners and included antibiotics and parasite medicine plus flea and tick treatments for the animals.


Originally, two of the clinic days were to be held in Colonia Las Cañadas, but due to ankle-deep mud they were canceled and the clinics remained in Mojoneras. These high-volume spay/neuter programs clip the overpopulation issue by getting to the root of the problem, eliminating unwanted births and improving the quality of life for the animals.


The plethora of details making up a clinic is mind-boggling. There is a desperate need for supplies and volunteers in Puerto Vallarta, Jalisco. Think of it as a M*A*S*H* unit, mobile ANIMAL surgical hospital. Someone has to inventory medicines, instruments, crates, linens, etc. Flyers and posters must be copied, passed out and hung up. Radio announcements have to be broadcast. And of course, the running of the clinic itself.


The morning of the clinic all supplies require transportation from a bodega to the clinic site. Vallarta Adventures donated personnel and one of their trucks to assist with the Mojoneras clinic. The mobile hospital is then assembled into different areas, registration, pre-surgery, operating room, recovery and release. Volunteers man these positions.


PEACE cordially invites everyone to check out a clinic in Nayarit or Jalisco. Stop by and see the action. It is truly amazing. You might be moved to volunteer, which would be greatly appreciated.


Dr. Enrique Castanon from Fundación Antonio Haghenbeck y de la Lama I.A.P. in Mexico City was flown here by PEACE to assist with the operations and to provide new surgery techniques and advice. Dr. Veronica Villaseñor, a former Secretaria de Salud Jalisco state employee, volunteered to perform spay and neuters, along with publicity. She is awesome.


The first step for the pet and its owner is paperwork. Once completed the animal is placed in a crate. Pre-op is performed and then the surgery itself. Once a patient's operation is complete, he or she is transferred to the recovery room. Here their vital signs are continually monitored. After the animals awaken from the anesthesia, they are placed in a crate to await their owners.


Pet parents are given a certificate of surgery, which lists instructions for post-surgery care. The people who bring in their pets for the operation truly appreciate this service. These free clinics are designed for animal lovers who cannot afford to go to a vet for basic care and a spay or neuter procedure.


PEACE has already received several phone calls from presidents of other colonias in Jalisco asking when clinics can be held in their neck of the woods. No future clinics are scheduled for Jalisco, but PEACE hopes to have a calendar shortly IF funding and support are given.


This is the second high-volume clinic held in Jalisco with the assistance of PEACE. The first Snip and Clip Clinic took place in March 2007.


Many say, people should come first, but remember, a healthy population of domestic animals improves public health and means fewer diseases being spread to wildlife and humans, an aspect of conservation that is often neglected.


Look for future articles on volunteering, supplies needed and how you can help PEACE in their continuing efforts to improve life in paradise. The clinics are truly community efforts and the more everyone can work together the better off people and animals will be.
---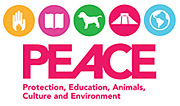 A Banderas Bay non-profit organization, PEACE acts as an umbrella organization for four charitable programs, Casa Comunidad, Ayuda Los Animales (Help The Animals), a Women's Co-Op (Manos de Mujeres Unidas) and Community Pride. It is a U.S. non-profit 501(c)(3) organization, which accepts tax-deductible donations and a Mexican Civil Association that issues facturas for donations. For more information, please visit PeaceMexico.org or click HERE to read more about PEACE
Tell a Friend
•
Site Map
•
Print this Page
•
Email Us
•
Top