News from Around Banderas Bay | August 2007
Vallarta Zoo Celebrates Another Victory over Extinction

PVNN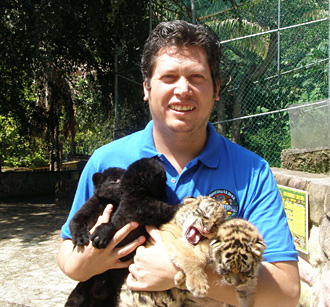 Zoologico de Vallarta owner, Martin Castañeda, with the newborn cubs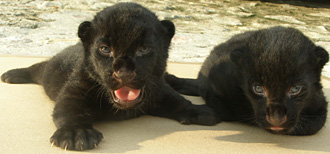 A black jaguar named Marisol gave birth to two gorgeous kittens on Aug. 2nd.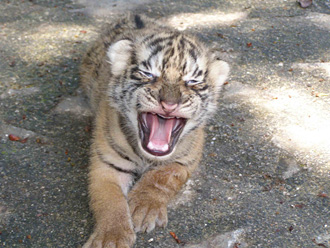 On Aug. 6th, Toña the tigress gave birth to two beautiful and playful Bengal cubs.

Puerto Vallarta - On Aug. 2nd, the zoo's personnel rejoiced when a black jaguar named Marisol gave birth to two gorgeous kittens, a majestic male and a beautiful female. Black like their parents, both of them immediately won over the hearts of zoo employees.


Three days later, Julieta, a lively monkey, delivered a healthy and curious Capuchin monkey.


And to keep up with them, on Aug. 6th, another happy mother, the tigress Toña, also gave birth to two beautiful and playful Bengals, which wasted no time to snuggle up to their mother and feed.


Three weeks ago, visitors were excited to see a female white-tailed deer (also an endangered species,) deliver two adorable fawns at the zoo.


In addition, several Vietnamese potbellied pigs become first-time mothers around the same time, a joyful and moving event for zoo-goers.


Zoologico de Vallarta is owned by the Castañeda family, who have deep ecological concerns and devote themselves entirely to the preservation of all animal species. They believe that providing the animals with excellent care and a safe environment encourages them to reproduce in captivity.


All in all, fourteen felines have been born at the zoo this year, including albino and striped Bengal tigers, African lions and jaguars, plus eight Caribbean flamingos, which brings the total number of births to sixty-four - so far.


Located just south of Vallarta in the jungles of Mismaloya, Zoologico de Vallarta is open daily from 10 am to 6 pm. For more information, call (322) 228-0501, click HERE or visit ZoologicoDeVallarta.com.

---
Otra Batalla Ganada a la Extinción
Hispanic PR Wire
go to original


Puerto Vallarta - Zoológico de Vallarta de nueva cuenta se encuentra de gala por su reciente ola de nacimientos, entre los que destacan 2 jaguares negros, animal que esta en peligro de extinción.


El pasado 2 de agosto, para jubilo de el personal de el Zoológico, Marisol dio a luz a un majestuoso cachorrito y una hermosa hembrita; ambos de color negro como sus padres y de inmediato se ganaron el corazón de todos los que ahí laboran.


Tres días después Julieta—una picara monita—le abría las puertas a este mundo a un saludable y curioso monito capuchino.


Adicionalmente, para no quedarse atrás el día 6 de agosto otra feliz madre, toña una joven tigresa, también daba a luz a 2 hermosos y juguetones tigritos de bengala, los cuales al nacer ni tardos ni perezosos se le pegaron a mamar a la madre.


Tres semanas atrás muchos de los visitantes se emocionaron al presenciar el parto de una venadita cola blanca (especie también en peligro de extinción) la cual brindo al Zoológico 2 preciosos venaditos.


También cabe mencionar que varias puerquitas vietnamitas se estrenaron como madres en esos mismos días trayendo así para beneplácito de quienes visitan este parque zoológico alegría y emoción.


Haciendo una reseña sobre este zoológico en lo que va de este año han nacido ya 14 felinos entre ellos tigres de bengala blancos, tamizados, comunes, leones africanos, jaguares y 8 flamencos caribeños entre otros mas, haciendo así un total de 64 nacimientos.


Para más información así como fotografías, favor de visitar ZoologicoDeVallarta.com o comunicarse a los teléfonos (322) 228-0501 y 228-0955.
Tell a Friend
•
Site Map
•
Print this Page
•
Email Us
•
Top