News from Around the Americas | August 2007
Argentina: Former Agent of Chilean Dictatorship Released on Parole

Marcela Valente - IPS
go to original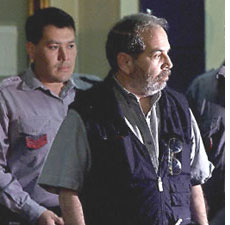 Arancibia Clavel Enrique (R) with police escort.

Buenos Aires - Shocked by the release on parole of former Chilean secret police agent Enrique Arancibia, who was sentenced to life in prison for the 1974 murders of Chilean General Carlos Prats and his wife, the attorney representing the Chilean state in that trial told IPS he was considering legal action to get the measure overturned.


Arancibia was recently released from prison in Argentina, where he was serving time for the Prats murders and for the kidnapping of two Chilean women, all of which were committed in Buenos Aires.


"Since I found out, I have been in contact with the Chilean embassy to see how we can get this incredible measure revoked, through a plea that it be annulled," said Argentine lawyer Alejandro Carrió, author of the book "The Condor's Crimes", about the network of Southern Cone secret police agencies that coordinated repression of leftists and other opponents to the dictatorships in the region in the 1970s and 1980s.


According to Arancibia's defence attorneys, the Argentine courts granted him parole a month ago. But the measure was not made public until this week.


Under the terms of parole, Arancibia, a former agent of late dictator Augusto Pinochet's (1973-1990) notorious secret police agency DINA, must make regular visits to his parole officer and maintain good conduct, and cannot leave the country without legal permission, although he is free to move about within Argentine territory.


The Prats family also announced, in Chile, that it is studying the possibility of filing a plea against Arancibia's release.


One of General Prats' daughters, Angélica Prats, said she was "disconcerted" by the former agent's release on parole. "Such a huge effort was made to obtain justice in the human rights cases, and then the Argentine courts allow this to happen," she said indignantly.


Arancibia was handed a life sentence in 2000 for the September 1974 car-bomb murder of Prats and his wife Sofía. Prats had served as army chief and defence minister under Chilean president Salvador Allende (1971-1973) before the socialist president was overthrown by Pinochet.


But the former DINA agent was given parole by another federal court, the one that sentenced him to 12 years in prison in 2004 for the abduction and torture of two Chilean women, Laura Elgueta and Sonia Díaz, who had been seized by DINA in Argentina.


The judges based the decision to release Arancibia on a statute that was repealed three years ago. Under the statute, after the first two years of preventive detention, every year of pretrial detention counts as two.


Arancibia spent over 11 years in jail, much of it in pretrial detention. But the court based its calculation on the double kidnapping case, rather than on the more serious case involving the murders of Prats and his wife.


"It's absurd, it completely goes against common sense," Elgueta, who testified against Arancibia in Argentina, told IPS. She said she felt "shocked" by the decision to free the former secret agent and demanded "an explanation" from the court.


In addition, the Elgueta family is worried that Arancibia could flee the country, since he is also accused of the 1976 forced disappearance in Buenos Aires of Laura's brother, Luis Elgueta.


The paradox, said Carrió, is that Arancibia would still be in prison if he had not been found guilty in the kidnapping case.


But "even in the most generous interpretation of the statute, with a calculation of two for one, Arancibia should only have been eligible for release in two years," said the lawyer.


Arancibia was a DINA agent from 1974 to 1978 in Argentina, where he coordinated a team of 10 people dedicated to tracking down Chileans who sought refuge in Argentina after the 1973 coup d'etat in which Pinochet overthrew Allende.


Chilean human rights organisations blame Arancibia for a number of human rights violations committed during that period in Argentina.


Prats and his wife were living in exile in the Buenos Aires neighbourhood of Palermo. The investigation of their murders found that it was former CIA agent Michael Townley, a DINA collaborator, who installed the bomb under their car. After the couple died in the explosion, Townley fled the country.


In 1989, an Argentine court issued an arrest warrant for Arancibia for his role in planning and ordering the killings of Prats and his wife. But although he was living in Argentina, he was not arrested until 1996, after which he was tried and sentenced to life in prison for the two murders.


Under the Argentine penal code, a life sentence is equivalent to 20 years in prison. After a series of appeals, the sentence was definitively upheld in 2005 by the Supreme Court, which ruled that no statute of limitations applied to Arancibia's crimes, because they were crimes against humanity.


But just two years after that sentence, he is once again free.

Additional reporting by Daniela Estrada in Chile.
Tell a Friend
•
Site Map
•
Print this Page
•
Email Us
•
Top