Entertainment | Books | September 2007
Women of the World, Unite!

Jann Huizenga - The New Mexican
go to original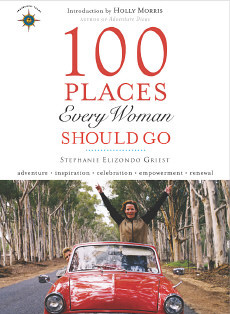 100 Places Every Woman Should Go by Stephanie Elizondo Griest, Travelers' Tales, 2007, $16.95

Move over all you Marco Polos, Ernest Shackletons, Bruce Chatwins — you armies of men who long ago defined wanderlust as an all-male preserve.


We itchy-footed women are laying our own claim to the big wide world. And now, to cheer us on and offer us direction, we've got Stephanie Elizondo Griest's 100 Places Every Woman Should Go — a pulse-quickening primer for vagabonding feministas. So ladies, grab a copy, apply lipstick and sally forth.


The beginning of the book is devoted to sites where travelers can soak up the feminine energy of iconic women of yore — places like Rouen, France, where Joan of Arc burned; Danvers, Mass., where Salem witches haunt the Witchcraft Victims Memorial; Lesbos, Greece, where Sappho wrote her poetry; and St. Petersburg, Russia, where Catherine the Great stuffed her city with art, the way you'd stuff piroshki with jam.


Also included is one of my all-time favorite shrines: the vibrant home of Frida Kahlo in Coyoacán, Mexico, a part of Mexico City. "Touring through La Casa Azul, or Blue House," Elizondo Griest writes, "is like stepping inside one of Kahlo's fantastical paintings. The walls are awash with color and mosaics; a Day of the Dead altar yields pastries, flowers, candles, and papier-mâché skeletons; the inner courtyard blooms with tropical flowers and cactus."


But what of Georgia O'Keeffe's stunning Abiquiú home? Missing. When I mentioned it to the author in a recent phone interview, she promised to consider it for the next edition. Which is good, because the homes of both artists — while at opposite poles in style — exude the same soul-nourishing vibe, showcasing a feminine seamlessness between life and art.


A native of Corpus Christi, Texas, Elizondo Griest hit the road at 21 and has rarely stopped moving. She calls herself "happily homeless" at the moment — living at writers' retreats when not traveling or teaching. She was in town in June to teach a weeklong travel-writing course at the Santa Fe Writers Conference.


100 Places Every Woman Should Go is her second book. The first, Around the Bloc: My Life in Moscow, Beijing, and Havana, won Best Travel Book of 2004 from the National Association of Travel Journalists of America and is the 2007 pick for the Mayor's Book Club in Austin, Texas. Elizondo Griest's nomadism continues with Mexican Enough, her third book, due out in the fall of 2008. The memoir chronicles her travels through Mexico searching for her roots, interviewing undocumented workers and rallying with striking teachers in Oaxaca as well as the Zapatistas in Chiapas.


100 Places, unlike most travel guides, has a social conscience — and a particularly feminine one at that. An entry for Zanzibar, for instance, suggests visiting not only gardens and spice plantations, but the Zanzibar Orphanage, where you can donate books and toys or volunteer your time. Entries for Cambodia recommend a visit to the Traditional Music School in Kampot, "where orphans and disabled children give music and dance performances" and a meal at the Lotus Blanc in Phnom Penh because the restaurant "hires its employees from the nearby garbage dump, where thousands of families make their living sifting though trash." You won't find that in your standard Fodor's.


100 Places also turns readers on to the Tsunami Volunteer Center in Khao Lak, Thailand, where scores of hotels "got sucked into the sea" and urges Thailand-bound travelers to "cram extra clothes, toys, medicine, and tools" into their suitcases.


I wish more travel guides offered suggestions for real ways to engage with real people. (Lonely Planet's just-published guide, Volunteer, is another rare exception.) Elizondo Griest seems aware that we travel deeper when we visit places of hardship and pain, and when we leave something of ourselves behind.


But 100 Places doesn't recoil from lotus-eating. In a section called "Places of Indulgence," we learn where to go on a chocolate or lingerie spree. The author puts in a good word for Champagne, France, where "connoisseurs can ... pay homage to the monk Dom Pérignon"; Dubai, where the chaotic Gold Souks "have surely broken records for the most bling per cubic inch"; and Amy's Ice Cream in Texas (10 shops in Austin, two in Houston and one in San Antonio) where the servers "wear zany hats and sing as they serve their 300-plus flavors, which include pumpkin cheesecake, bourbon chocolate walnut, honeyed brandy, and — for the truly Texan — Shiner Bock beer."


"Places of Inspiration and Enlightenment" include the sacred American Indian spaces of Chaco Canyon and Canyon de Chelly, and the Buddhist retreat center of Tara Mandala in Colorado's San Juan Mountains. What puts Tara Mandala on the map for Elizondo Griest is the fact that its founder was an American Tibetan Buddhist nun, Tsultrim Allione, and that it offers "exploration of the sacred feminine" along with Buddhist training. Bring your own tent.


The author's enthusiasm is contagious. I now realize I must someday make a pilgrimage around Japan's Shikoku Island to explore its 88 sacred temples. The 870-mile trail, which should be trekked in a white robe and straw hat and takes a month or more, offers "a rare opportunity to reflect on the beauty of the world, as (it) passes through forests, mountains, and valleys along the sea." Now, that motivates me! Sounds like a welcome palliative to our oft-apocalyptic world.


A section of the book called "Just-Go-There Places" lists several locales that perch near the top of my personal list — Dubrovnik, Croatia; Samarkand, Uzbekistan; Kraków, Poland, and my hands-down best pick: Essaouira, Morocco. Two hours from Marrakesh on the Atlantic coast, foggy Essaouira is a place where pieces of bark are still sold as toothbrushes, boys hawk giant trays of macaroons in the main square and women waft through souks in sorbet-colored djellabas. It's a place, according to the author, "where surprises await behind every azure door. Boats unload their cargo and fishermen auction their catches along the harbor, and you can have a fish prepared any way you like on a sizzling grill in the nearby street stalls." Not hard to fall sway to its charms.


Elizondo Griest relied not only on her own first-hand knowledge while writing the book, but on interviews with 100 fellow wanderers. "I was surprised," she said, "how intense and emotional these women got when talking about their beloved places." In the process, she discovered spots she'd never even heard of.


The 100th destination in the book is the one the author considers most meaningful: Motherlands. "At some point in life," she writes, "return to your ancestral home, be it a specific neighborhood or an entire continent, to learn from the roots within you." Good advice for us all, no matter what our gender.
Tell a Friend
•
Site Map
•
Print this Page
•
Email Us
•
Top