News from Around Banderas Bay | September 2007
It's A Girl!

Laura Gelezunas - PVNN

Vallarta Adventures is celebrating the arrival of the newest member of their dolphin family, Naui. Weighing in at 20 kilos and measuring 1.2 meters long, she was born at the Dolphin Adventure Center in Nuevo Vallarta on September 3rd at 11:20 pm.


Over the past few years there have been more than 10 dolphins born at the center, so the staff knows exactly what to look for before labor begins.


"We noticed that Shani was not eating very good, she was in a little pain, she was swimming around, so we were waiting for the birth that night," says Paola Smolensky, DVM, Dolphin Vet, "It is just amazing to watch the birth of a dolphin and I still get very excited."


The tail comes out first and about an hour later, Naui made her grand entrance. About two hours later the baby is already nursing. The staff gives credit to Shani for being a very good mother, and they keep a close watch on the pair as they continue to bond while swimming around side by side.


"We monitor the breathing, lactations, and swimming patterns," says Paola, "Those are very important things to check after a baby dolphin is born."


Dolphins are pregnant for 12 months, and Naui's mother, Shani, is an old pro - the Dolphin Adventure Center welcomed her first baby, a male named Linco, in June of 2004.


Today, there are two other expectant mothers at the Dolphin Adventure Center; Jashui is due in October and Dali is due in July 2008. To learn more about their Maternity Ward, click HERE.


You can check out Shani and Naui from a special observation area free of charge at the Vallarta Adventures Center in Nuevo Vallarta every day from 8 am to 6 pm.


Vallarta Adventures offers a full range of educational and interactive dolphin programs designed for dolphin lovers of all ages and abilities. For more information, visit Vallarta-adventures.com or call 1-888-303-2653 toll-free from the U.S. and Canada.
---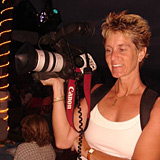 After having spent 10 years in the world of US broadcast news, Laura Gelezunas decided to unleash her skills on Puerto Vallarta by opening Video Diva Productions, a full-service, professional digital video company. Whether you're interested in a sales video, WEBmercial, music video, feature story, documentary, or corporate event video coverage, she has the experience, equipment and talent to coordinate a professional production. For more information, visit her website at VideoDivaProductions.com.
Tell a Friend
•
Site Map
•
Print this Page
•
Email Us
•
Top