News Around the Republic of Mexico | September 2007
Vicente Fox: Fences on Border Won't Work

Eduardo Stanley - Visalia Times-Delta
go to original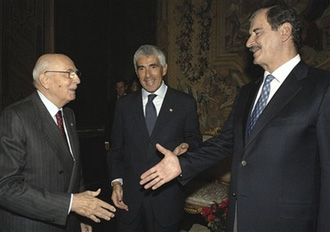 In this photo provided by the Italian Presidency, Italian President Giorgio Napolitano, left, meets with former Mexican President Vicente Fox, right, at the Quirinale presidential palace, in Rome, Thursday, Sept. 20, 2007. At center, Italian centrist leader Pierferdinando Casini. (AP/Italian Presidency Press)

The United States would be better off contributing to the development of Mexico's economy than building a fence between the two countries, former Mexican President Vicente Fox said Friday.


Fox, who will speak in Visalia next Friday, said border fences don't work, anyway


"The Great Wall of China didn't prevent invaders from getting through," he said in a telephone interview with the Times-Delta. "The Berlin Wall didn't prevent the arrival of liberty and democracy."


A "joint development plan" could be modeled on those required whenever a country joins the European Union, he said. Such plans — accompanied by loans and productive projects — have allowed Spain and Portugal to achieve historic levels of economic development over the last 20 years, he said.


Fox acknowledged that Mexico has a responsibility to create more jobs of its own.


No subject is more important than immigration when it comes to the relationship between the United States and Mexico, Fox said. Decrying what he called the "current anti-immigrant sentiment" in the United States, Fox said the U.S. needs an immigrant labor force.


"It's the only way it can compete with China," he said.


A plan for temporary workers must be put into effect, he said.


"The United States requires at least 400,000 [immigrant] workers per year," Fox said. "It's important that this flow is legal and organized."


Fox said he's also concerned about the status of the millions of undocumented immigrants now in the United States. Legalizing those residents will benefit both countries and improve "the security of the United States," he said.


The importance of family reunification must be addressed in any plan, he said.


Fox held the presidency of Mexico from 2000 to 2006. His election ended a monopoly by the Institutional Revolutionary Party, which had governed the country since 1929. Fox promised a "government of change" and a more democratic regime.


He said his administration did its part to prevent the massive exodus of Mexicans to the United States. Among its economic accomplishments, Fox said:


• His term saw the lowest unemployment rates for any presidential term.


• One million scholarships allowed students to complete their university studies instead of migrating to the United States.


• A system of microcredits helped about 10 million people with productive projects to establish their own businesses.


According to a Sept. 26 report from the Pew Hispanic Center, immigration from Mexico increased by 57 percent between 1991 and 2000, then diminished by about 30 percent between 2000 and 2003.


Fox, now involved in the cultivation, packing and exportation of vegetables, currently is confronting accusations that he acquired illicit wealth during his time in office. He denied that Friday, saying he was the country's first public official to present a declaration of assets and that the attacks are politically motivated.


"I have nothing to hide," he said.


He recently created the "Fox Center" — similar to presidential libraries in the U.S. — in his native Guanajuato. Earlier this month he was named president of the International Christian Democracy in Rome, a position that will allow him to "drive democracy within and outside of Mexico."


That's what Fox and his wife, Marta Sahagún de Fox, will focus on in the future, he said.

The reporter can be reached at estanley@visalia.gannett.com.
Tell a Friend
•
Site Map
•
Print this Page
•
Email Us
•
Top