News from Around the Americas | September 2007
Pelosi Criticizes Border Fence

Associated Press
go to original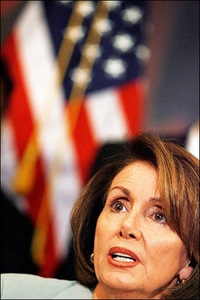 Speaker of the House Nancy Pelosi, D-CA, makes an address, September, 2007. (AFP/Chip Somodevilla)

Edinburg, Texas - House Speaker Nancy Pelosi called a plan to build fencing along parts of the Mexico border a "terrible idea" that overlooks local communities.


Pelosi made the comments during her trip to the Rio Grande Valley for the annual Hispanic Engineering, Science & Technology Week conference at the University of Texas-Pan American.


"I have been against the fence, I thought it's a bad idea even when it was just a matter of discussion," said Pelosi, D-Calif. "These are communities where you have a border going through them, they are not communities where you have a fence splitting them."


Last year, President Bush signed the Secure Fence Act requiring the construction of fencing along the 2,000-mile border. The plans call for about 370 miles of fence and 200 miles of vehicle barriers, including concrete barriers, by the end of 2008.


Pelosi also touted legislation known as the DREAM Act that would make it easier for some illegal immigrants to receive higher education benefits. She spoke at a conference that drew more than 5,000 students for activities designed to inspire careers in science and technology.


The DREAM Act would eliminate a federal provision that discourages states from providing illegal immigrants with lower in-state tuition rates. It also would allow permanent residency for illegal immigrants who entered the country as children and have been admitted to an institution of higher education.


"It just isn't fair," Pelosi said. "Those young people who came to America one way or another ... their opportunities are curtailed because of the situation. And it's not only harmful to them — it's harmful to the country."
Tell a Friend
•
Site Map
•
Print this Page
•
Email Us
•
Top