News from Around Banderas Bay | October 2007
Becas Vallarta Starts Season with a Bang!

Polly G. Vicars - PVNN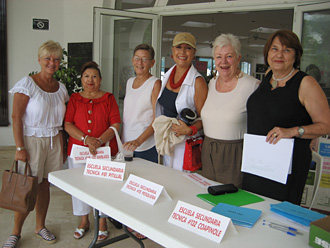 Becas President Mariel de Fregoso with many of her volunteers.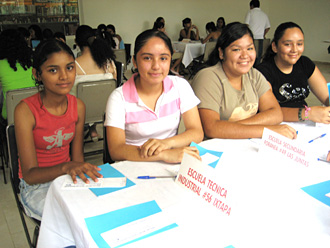 Check out these Secundaria beauties with brains!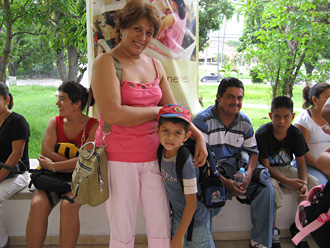 Families wait for the scholarship kids to get their school supplies.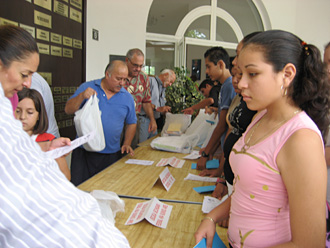 Former Becado Hector Ulloa and helpers give out the supplies.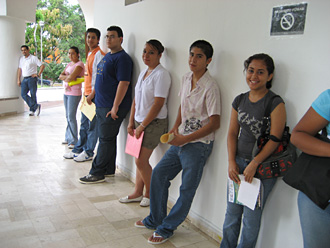 Prepa & Universidad students waiting patiently for their turns.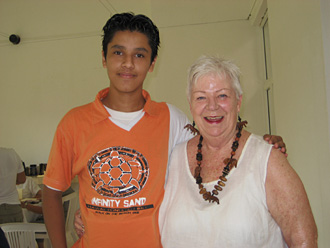 Pat Bendix with Carlos Gomez as he moves from secundaria to prepa.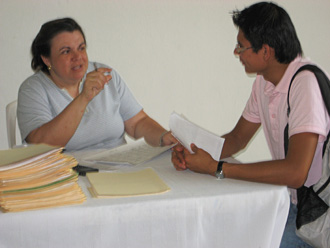 Señora Mercedes counsels Lupe Carrillo Soto, last year dental student.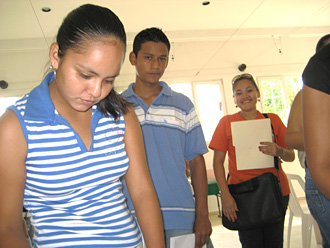 Universidad students checking in.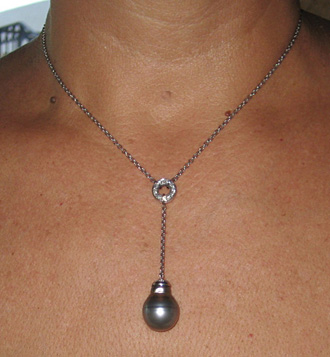 Raffle tickets are ready to buy for a chance to win a gorgeous 18 carat white gold necklace adorned with tiny diamonds and crowned with a large black pearl.

In late August, more than 200 scholarship students met at Los Mangos Library (designed pro-bono by former scholarship student Salvador "Cachi" Perez) with the all volunteer members of Becas Vallarta, A.C. (The America-Mexico Foundation, Inc.)


Señora Mariel de Fregoso, the President of Becas Vallarta, talked with each group, secundaria (junior high) preparatoria (high school) and universidad (university), praising them for their past good work and reminding them of the obligations they accepted when they won their coveted Becas Vallarta Scholarships.


In order to qualify a student has to show real financial need which is verified in the schools they are attending. Once a student has a scholarship, the foundation pledges to continue this financial aid until the educational goal is met as long as the student maintains a grade point average of 8.5 (of a possible 10), attends required meetings with the foundation members, is a good citizen in the school and community and helps with foundation functions when asked.


At the August meeting secundaria students received certificates (in lieu of cash) to buy their school shoes, their uniforms, their gym clothes and their tennis shoes. They were also given all of the school supplies needed for the year - paper, pencils, pens, dictionaries, calculators, notebooks and more.


Another former scholarship student, Maestro Hector Ulloa, a long time teacher in Vallarta's public schools and the owner of two book stores, Papelería Los Profes #1 in Palos Secos and #2 in Bobadilla, gets the school's required lists of needed supplies and with the help of his son, packages everything and bring a truck load to the library each year, giving the foundation a price far below what we would pay elsewhere.


A foundation member works year-round with the directors, the social workers and the students of each of the 12 secundarias. Pat Bendix, Linda Azcarate and Blanca Ortiz are the members who, during the school year, make many trips to the schools and pay close attention to the student's grades and events in their lives that might affect their performance in school.


Students in all of the local preparatorías are supervised by President Mariel de Fregosa and all in Universidad by Señora Mercedes de Martínez. They work with individual students, advising, listening and giving the monthly stipend which the students may use for whatever cost is most pressing - books, clothing, transportation, food, etc.


In addition to working with the students, foundation members are always working to raise money to pay for those scholarships. The need is great as we not only want to sustain the girls and boys we now have in the program, but hope to bring in even more.


At the December 1 annual party for the students, two lucky ticket holders will win the $5000 and $3000 pesos prizes in our annual raffle. All of the students in preparatoría and universidad as well as the foundation members are selling the 20 pesos chances to everyone we meet. So if you see a young person or one of us oldies with raffle tickets to sell, fork over that $20 pesos, or more, and join in helping us keep the scholarships going.


That is not the only raffle Becas has going on. Nino Foppiani, a well known Mexico City designer of fine jewelry and friend of Buri Gray, has donated a gorgeous 18 carat white gold necklace adorned with tiny diamonds and crowned with a large black pearl! It is a beauty and we are selling raffle tickets for this unique necklace. Tickets are $200 pesos and the winner will be decided by the National Lottery of November 20, 2007. If you want tickets, just call Buri at 221-5285 or me at 223-1371.


Raffles are just the small stuff. We are launching a series of breakfasts in some of Vallarta's finest restaurants. VITEA, the beachfront bistro owned by the Chef/Owners, Bernhard Güth and Ulf Henriksson, has just inaugurated breakfast service and we are so lucky that they are hosting our first breakfast on Tuesday, October 23, 2007 at 9:30 am.


It is exciting to begin our year at such a prestigious location and we expect to fill the restaurant for this event. Tickets at $150 pesos each should be purchased in advance as they are sure to go fast. Contact Buri Gray at 221-5285 (Conchas Chinas Area) or Mariel de Fregoso at 221-0789 (Marina) or Polly Vicars at 223-1371 (Romantic Zone) to get your tickets.


This quote from VITEA's website is sure to whet all of your appetites, "VITEA is located at the new Malecon between the Arcos and the pedestrian bridge. The place has a mix of modern eclectic elements in the decor and ancient symbolism. The ambiance reflects the local hospitality with an European Riviera atmosphere. The cuisine is fresh, energetic and healthy with a combination of classic provenzale dishes and traditional food of the region, cooked with detail and love." And parking is available in the public parking garage just 150 mts. from the restaurant.


The breakfast at VITEA still isn't enough to start this exciting year. For the fourth consecutive year, CasaMagna Marriott Puerto Vallarta Resort will open its doors to the altruism of the Palomazo Culinario on Monday, October 29, 2007 at 6 pm. This is "un evento de amigos para los amigos" (an event of friends for friends) sponsored by the Marriott CasaMagna, Restaurants Café Des Artistes, Xitomates, La Palapa, Vista Grill, and Azul.


The chefs will prepare a six course dinner, with wine, and there will be great live entertainment, raffles of outstanding gifts and maybe some surprises for the guests. One of the best things about this annual event is that 100% of the $700 peso ticket price goes directly to four of Vallarta's most important charities, Agape, Arturo and the Children of God, Asilo de Ancianos San Juan Diego and Becas Vallarta, all institutions dedicated to providing aid to people who need it most. Tickets are on sale in the sponsoring restaurants Azul, Café des Artistes, La Palapa, Vista Grill, Xitomates and from members of any of the charities.


Husband and I have been to the three previous Palomazo Culinario dinners and they have all been incredible evenings. Beautiful surroundings, food to die for, great entertainment and extraordinary fellowship. To see the renowned chefs toiling with no recompense and know that the Marriott and those restaurant owners put on this magnificent event solely to help the lame, the old, the neglected and the students who need it most will bring lumps to your throats and perhaps a tear to your eyes. Truly, you should not miss this event as it is unique in concept and in execution. Call me at 223-1371 if you want tickets!
---

Polly G. Vicars and her husband of 55 years, Hubert (a.k.a. "Husband") retired to Puerto Vallarta in 1988 and soon became active members of several charitable organizations. Polly is the author of "Tales of Retirement in Paradise: Life in Puerto Vallarta, Mexico" [a sell-out!] and "More Tales of Retirement in Puerto Vallarta and Around the World." Proceeds from the sale of her books go to the America-Mexico Foundation, a scholarship foundation that is their passion.

Click HERE for more articles by Polly Vicars.
Tell a Friend
•
Site Map
•
Print this Page
•
Email Us
•
Top