Entertainment | November 2007
Los Bambinos ARE Metamorsa!

Polly G. Vicars - PVNN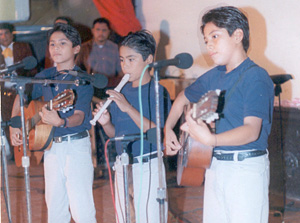 Yesterday: Los Bambinos Immer, Giorgio and Lazzaro, when they were bambinos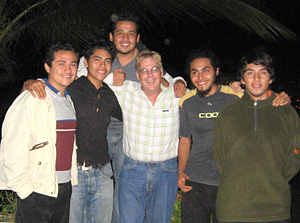 Today: Metamorsa band members Carlos, Lazzaro, Immer, Giorgio and Luis with manager, Blaine Selkirk.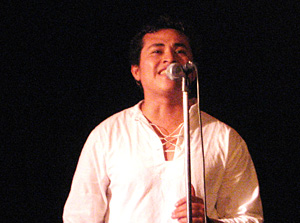 Eldest brother Carlos sings his heart out - in English and in Spanish.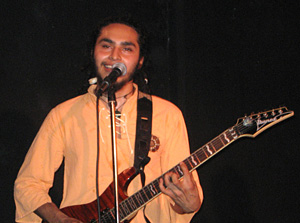 Lazzaro delights audiences with his prowess on the guitar.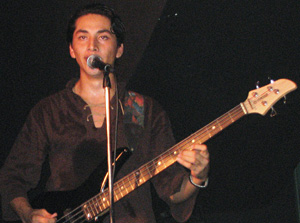 The band's new name, Metamorsa, came from Immer's suggestion to use an acronym of their father and mother's last names, Morales and Salinas (Morsa)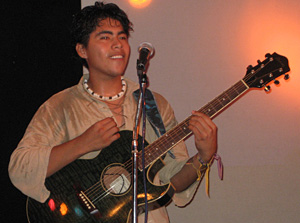 The youngest brother, Giorgio Morales Salinas, singing and playing his bass guitar at Santa Barbara Theater.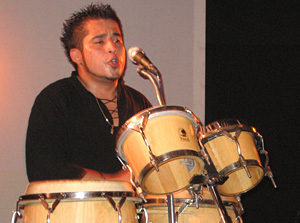 Cousin Luis, who is always in the center of the action with his bongos and his inimical style.

Friday, November 16, 2007 is a memorable date. That is the night that Los Bambinos truly morphed into Metamorsa! The Santa Barbara Theater was packed with long-time fans as well as many first timers who were surprised when the evening began with an innovative slide presentation put together by Blaine Selkirk.


The first series of slides, billed as "Los Bambinos when they were Bambinos," showed the four brothers as handsome toddlers with guitars standing behind microphones singing and playing in their elementary and junior high schools - a pretty clear indication of the impressive career to follow.


Next were still photos of the inauguration of their first CD, "Fiesta Music from Puerto Vallarta," at the beautiful Gallería Dante where the guys still looked a little awed that so many had turned out to hear them and to buy their first CD. It is still selling briskly as they make their nightly rounds to the Romantic Zone's most popular restaurants.


Then a major event changed their lives, their styles and their music. Cousin Luis came down from Morelos to visit and was invited to go along on the nightly musical forays that were allowing these young men to support themselves and pay for their educations in high school and university, and save pesos for their dream - a CD of their original music. Cousin Luis loved being a part of the action and like the "man who came to dinner," he never went home!


The presentation ended showing Los Bambinos in Concert at the Santa Barbara for two seasons of standing room only shows, produced and directed by their new friend and mentor, Blaine Selkirk. Tribute was given to Santa Barbara owner and virtuoso Ed Hutmacher for his constant support and to their number one and two fans and promoters, yours truly and Husband.


By the end of the slide presentation which was accompanied by a recording of a medley of those original songs of their dreams, the theater was vibrating with anticipation.


Then from the back of the house came the sounds of one of their trademark songs,"Tacka, Tacka, Tacka," and the five handsome young men trooped in and took the stage to a roar of approval. Eldest brother Carlos introduced his siblings in order of their ages, Lazzaro, Immer and Giorgio and then, cousin Luis, who is always in the center with his bongos and his inimical style.


And then they began to sing as the audience had never heard before. The blending of their voices, the energy of their movements, the smiles on their handsome faces, the clapping from the audience combined to make this a real happening!


You know I always think they are great, as does Husband. But last night even Husband was blown away by this first appearance of METAMORSA!


Even though they started with Spanish standards and moved into Beach Boys and Beatles that many of us had heard at their concerts last year, it was evident we were seeing and hearing them as never before.


The transition had been fully realized and we were privileged to hear and see a professional band of highly motivated and exceptionally talented musicians giving us their all.


I believe that Blaine, who is rarely satisfied with a performance, had to agree that these guys whom he has guided, prodded, taught, inspired and at times, cursed, had hit the mark.


Our host Ed Hutmacher took the stage to give the audience some insights into these singing guys and called me up to relate how it had all started. Many of you know that Margaret Tolton (No. 3 fan) and I went to talk to Ed about having the boys do a show at the Santa Barbara. He admitted he was already thinking along those lines and asked me to see if they were interested. I called Carlos to ask if they would like to do a show. His affirmative answer was loud and clear.


But not more than 15 minutes passed before he was at my door with these plaintive words, "Polly, we don't know how to put on a show!" That is when fate, luck or whatever you wish to call it, took over. I went back to Ed, who suggested that musician Blaine Selkirk, who came to Vallarta from Canada after a pretty impressive musical career of his own, might be able to help them.


An audition was arranged, Blaine listened and liked what he heard. A partnership evolved that produced the last two years' amazing series of concerts and the prestigious Virtual Vallarta Readers Choice Awards as "Best Musical Group in Puerto Vallarta" in both 2006 and 2007. But that is not all this collaboration produced.


Those dreams of a CD of their original music (they write both words and music) has come to fruition. Blaine and the guys worked for a year on this still unnamed CD in Blaine's Ancient Sun Studios and when you hear it, I believe you will agree that the finished product is awesome.


The songs themselves, a few in English but most in Spanish, are incredibly good. But the arrangements by Blaine and the voices of Metamorsa are, in Blaine's favorite word, FANTASTIC! Though Blaine, who is now officially their Manager, is in talks with record companies in Mexico and the States, at my urging he burned some CDs to sell at the concert so others can hear those songs from the hearts of these talented young men.


The modest production of the CDs sold out quickly that night. If you want one of these advance copies with a video of the slide presentation, go to the Santa Barbara and put in your order. Then hold on to your hats, as you ain't seen anything yet!
---

Polly G. Vicars and her husband of 55 years, Hubert (a.k.a. "Husband") retired to Puerto Vallarta in 1988 and soon became active members of several charitable organizations. Polly is the author of "Tales of Retirement in Paradise: Life in Puerto Vallarta, Mexico" [a sell-out!] and "More Tales of Retirement in Puerto Vallarta and Around the World." Proceeds from the sale of her books go to the America-Mexico Foundation, a scholarship foundation that is their passion.

Click HERE for more articles by Polly Vicars.
Tell a Friend
•
Site Map
•
Print this Page
•
Email Us
•
Top