News from Around Banderas Bay | November 2007
Copa Pacifico Vallarta at Canto Del Sol

Bob Cohen - PVNN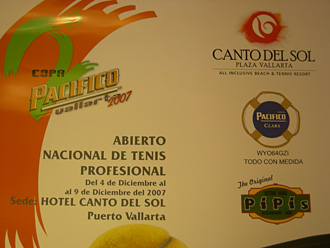 Don't miss the 2nd Annual Copa Pacifico Vallarta Tennis Tournament at the Canto Del Sol Tennis Club in Puerto Vallarta, Mexico from December 3-8, 2007.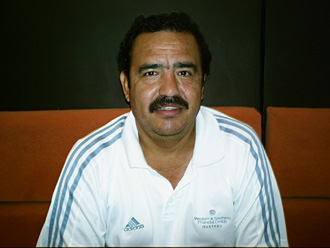 Martin Parra, Director at the Canto Del Sol Tennis Club in Puerto Vallarta.

The Canto Del Sol Resort and Tennis Club will host the 2nd Annual Copa Pacifico Vallarta, which will begin on Monday, December 3rd and conclude on December 8th. The tournament, which will feature some of Mexico's top professional players, will also have an amateur event as a separate part of the tournament. The total prize monies for professionals is $50,000 pesos; a large purse for Mexican tournaments.


The main draw will have 24 players; 12 will be direct entries, 4 will be wild card entries, and 8 will go through the qualification process to win their way into the main draw. Expected in the qualification are from 16 - 32 players. The winner will take home $16,000 pesos and the finalist will earn $8,000.


Also very important is that players will receive AMTP (Association of Mexican Tennis Professionals) points, which improve their rankings and give players opportunities to enter better tournaments. The winner will earn 100 points, the finalist 75 and semifinalists 50. Everyone that makes the main draw will earn at least one point.


Confirmed thus far as direct entries are Victor Romero, the second ranked player in Mexico, as well as #6 Mexican player Juan Elizondo, #9 Mexican player Carlos Sanchez and Davis Cup player Marcelo Amador. To date, one wild card has been announced; Puerto Vallarta player Luis Carlos Rodriguez.


To enter the professional tournament, contact the Guadalajara offices of the AMTP at (01) 333-823-0031 and ask for Astrid Hurtado. Entries close on November 30th at 4 pm and the cost for entry is $300 pesos.


Qualifying matches will be played on Monday and Tuesday, December 3rd and 4th and the main draw play begins on Wednesday, December 5th.


Amateur tournaments will be held at A, B, C and D levels and will be played mostly on the clay courts. The professional matches are played on the hard court surface. The largest draws in recent amateur tournaments have been in the B and C divisions. All finals matches are expected to be played on the hard courts. The cost to enter the tournaments for amateurs is $200 pesos.


To enter the amateur tournament, either stop by the Canto Del Sol Tennis Club or call locally at 226-0123 extension 4187. The deadline to enter is Saturday, December 1st.
Tell a Friend
•
Site Map
•
Print this Page
•
Email Us
•
Top