News from Around Banderas Bay | November 2007
Lorena Ochoa Sighting at Paradise Village El Tigre Golf Course

Bob Cohen - PVNN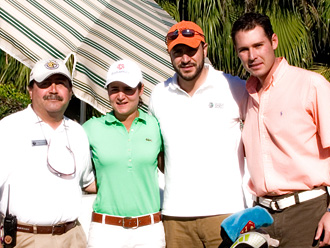 El Tigre director Jesus Carmona, Lorena Ochoa, Ocho Sports' Director Rodrigo Suarez Gilly and Lorena's brother, Alejandro Ochoa.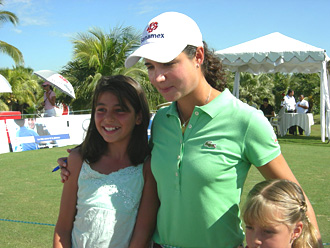 Lorena always has time to spend with the kids.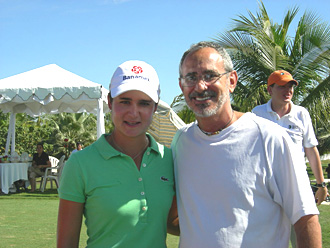 Lorena Ochoa with one of her biggest fans, local sportswriter Bob Cohen.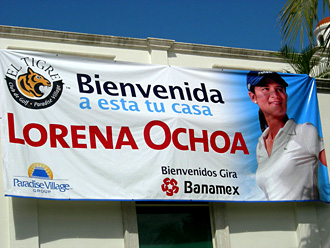 Banner welcoming Lorena Ochoa to El Tigre.

The best female golfer in the world for the second consecutive year made a quick one day stop in Nuevo Vallarta to help promote her sponsor's tournament. With most players wearing Nike, Adidas or Reebok caps, Mexico's Lorena Ochoa is always seen in competition wearing a Banamex cap.


Banamex holds golf tournaments for their clients in all states in Mexico and the final event is played at the El Tigre Golf Course and Country Club at Paradise Village at the same time the professional golf season ends. Just a week after winning the final women's event of the year and collecting $1 million for her effort, one would hardly think that such a celebrity would slip into town virtually unnoticed and unannounced. But that is the type of person Lorena Ochoa is.


I received a phone call from my good friend Jesus Carmona, the Director of the El Tigre complex and he said, "There is someone right beside me that I'm sure you would like to meet tomorrow morning." Knowing better, I still asked him who and he said, "Lorena Ochoa, and I will see you at the course tomorrow morning at 9:00 am."


Off I went on my travel to another state to see Mexico's best and most famous athlete. Lorena was just voted the LPGA Player of the Year for the second consecutive year and will probably be voted the best female athlete of the year for all sports. In 25 tournaments, she's won an amazing 8 of them, totaling over $4 million in prize money.


Things that I learned about Lorena and Ochoa Sports Management were quite impressive. She just donated $100,000 USD to victims in the flood in Tabasco. In 2008, she will be hosting an inaugural $1 million tournament at her home course, the Guadalajara Country Club, to benefit underprivileged Mexican youngsters.


When I arrived at El Tigre, Jesus and I jumped into a golf cart and went to the 6th tee, a tough 171 yard Par 3 that is surrounded by water. If one misses the green, their ball gets wet and lost, and a two stroke penalty is incurred. She stayed at the 6th to tee off with each of the foursomes. As we watched each group of men drive from the tee we witnessed splash after splash. But when it was Lorena's turn, ball would land gently on the green.


This was by no means an interview, but I did get an opportunity to congratulate her on her fantastic year while Jesus took a photo of us. A small gathering of people who heard she was there were taking photos and getting autographs from the most accommodating host. Mexico has always adored Lorena Ochoa; now the world is beginning to also.
Tell a Friend
•
Site Map
•
Print this Page
•
Email Us
•
Top