News Around the Republic of Mexico | November 2007
Theft Resistant Assault Rifle

James Dunnigan - StrategyWorld.com
go to original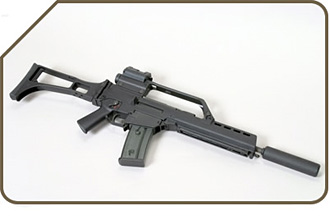 FX-05 "Xiuhcoatl"

The Mexican armed forces are introducing a new infantry weapon, the FX-05 "Xiuhcoatl" (or "Fire Serpent" in one of the Indian languages). The FX-05 was designed and developed in 16 months by two army generals. The weapon is a 5.56mm assault rifle similar to the U.S. M-16. It is manufactured in Mexico, using no imported parts. It has a Picatinny Rail for scopes and other devices. It uses either 30 round box magazine, or a hundred round drum magazine. There are standard and short barreled (for urban operations and police) versions.


The eight pound FX-05 replaces the larger ten pound G3, a 7.62mm rifle, manufactured in Mexico under license from Heckler & Koch. The similarity of the FX-05 to the German Heckler & Koch G36 brought accusations that the Mexican rifle was an illegal copy. Heckler & Koch representatives came to Mexico earlier this year and carefully examined the FC-05, and concluded that there was no copying. Still, the two rifles are amazingly similar.


One big advantage if the FX-05 is that it is only for military use. This provides the Mexican government much better control over the weapon issued to its soldiers. The distinctive features of the FX-05 will better control unauthorized use as well. Moreover, shell casings and bullets, have the distinct mark of this rifle, making it easy to detect illegal use. Any stolen rifles will be easier to track, since only the military can possess them. Mexico began issuing the FX-05 last year. About 10,000 have been manufactured so far.
Tell a Friend
•
Site Map
•
Print this Page
•
Email Us
•
Top