News from Around the Americas | November 2007
Fear for Welfare of Animals in Mexican Floods

Kent News
go to original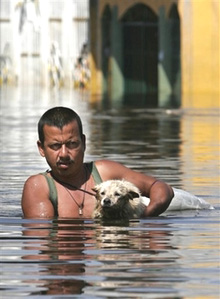 A man, carrying a dog, wades through a flooded street in Villahermosa, Mexico, Tuesday, Nov. 6, 2007. At least 20,000 people were still trapped on the rooftops of homes swallowed by water in one of the worst floods in local history. Government officials worked furiously to distribute aid and vowed to crack down on looting by desperate residents. (AP/Marco Ugarte)

Concerns have been raised about animals caught up in Mexico's flood disaster.


Roger Gale, MP for North Thanet – and president of the Conservative Animal Welfare group - is calling for immediate action to be taken.


The patron of the Kent-based charity, Animals Worldwide, said he has already urged overseas development and Foreign Office ministers to do something.


"From the film footage shown on television it is already clear that hundreds, if not thousands, of animals will have been caught up in these floods," he said.


"In addition to farm livestock many of these will be working mules and donkeys upon which people's livelihoods depend."


Mr Gale said UK government ministers had been asked to request that an animal charity should be represented on the Disasters Emergency Committee.


"But so far the members of the DEC have been resistant to any animal charity involvement," he said.


Mr Gale added: "Of course the priority is always to save human life first but when the immediate crisis is over people will need jobs to return to and we have seen in the past that scant attention is paid to working animals.


"This is not a 'bunny-hugging' issue - it is a hard-headed reality upon which long-term recovery and life depend."


The MP pointed out that animal charities saved thousands of working and farm animals in Darfur and East Kenya.


More than a million people have been left stranded by flooding caused by storms in Mexico's southern Tabasco state.


Mexico's president Felipe Calderon has declared the situation an emergency.
Tell a Friend
•
Site Map
•
Print this Page
•
Email Us
•
Top