Entertainment | December 2007
Siempre Sol - a Wild and Funny Musical

Twila Crawford - PVNN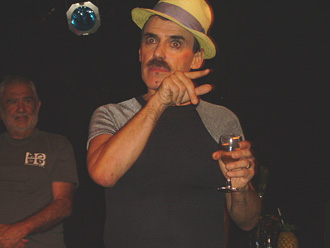 Sol Rose giving instructions in the "Penis Story." You´d have to hear it!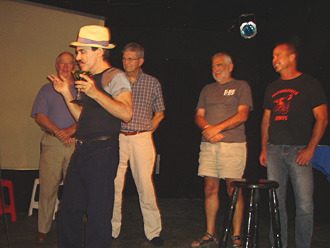 Sol Rose getting out x-rated chocolates for the audience "volunteers" in the "Penis Story." We can't even talk about it, but pandemonium was in existence.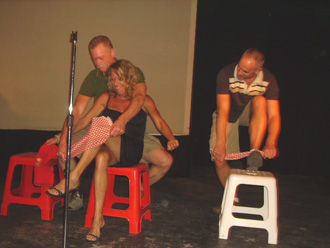 ol Rose's Palm Springs, CA, friends, Rich Conway and Brad Irwin along with Treehouse Restaurant (Miguelito's) Lori Lorenzen, attempt to put a "Shine on Your Shoes," but seemed to have other things on their minds.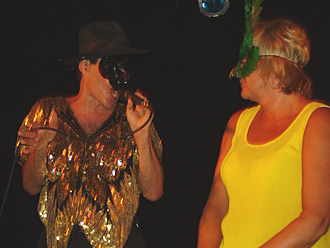 Sol Rose and an audience participant don their masks and sing to each other.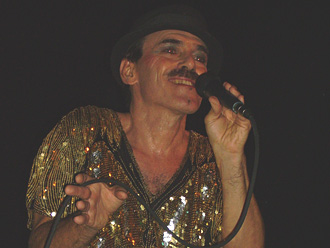 Sol Rose's voice was in beautiful form with songs originally sung by Frank Sinatra and Sammy Davis, Jr.

Vallarta´s and Broadway´s Sol Rose in Siempre Sol, a Las Vegas-style revue of some of his musical career, is funny and wild, with his voice in beautiful form. Audience participation is extensive, fun and filled with laughter. Sol has a charming way with persons... and what they do end up doing on stage!


Sol opens the show with an audition number of Romeo and Juliet he used as a graduate of the well-known High School of Performing Arts in New York City, and in attending the Julliard School of Music. Along with a bachelor of arts in theater, he obtained a masters degree in administration. Sol had numerous shows on Broadway and in touring companies. Today he is co-owner of the popular Cafe Bohemio in Puerto Vallarta.


A number of songs in the show were made famous by The Rat Pack, including Frank Sinatra and Sammy Davis, Jr. Songs such as Old Black Magic, Gonna Build a Mountain, Gotta Be Me, Something´s Gotta Give.


Adding a personal touch, Sol asked a couple to come up and dance while he sang "I´m in the Mood for Love." Another couple, newlyweds from Palm Springs, CA, Sol's U.S. home, danced while Sol sang "Second Time Around." Always almost obsessed with Barbra Streisand, Sol sang "Wild Is The Wind" with a film of her singing behind him.


"Too Close for Comfort" brought Sol's partner, Christopher May on stage impersonating Shirley McLaine... well, sort of, in quite a get-up including bright red high heels.


Marilyn Miller, Seattle, WA, channeled in a cute "out of orbit" outfit and crazy glasses while Sol sang "Can't Take That Away From Me."


The show turned wild and raucous with "Shine On Your Shoes." Two of Sol's Palm Springs friends and Treehouse Restaurant (Miguelito's) owner, Lori Lorenzen, seemed to have other things on their minds than shining shoes while Sol sang!


Pandemonium nearly broke out when the entertainer told the "Penis Story," something about Sammy Davis Jr. being taken with the film, "Deep Throat." With four male "volunteers," more or less, from the audience, Sol got out his x-rated chocolates and proceeded with various instructions. Marilyn Miller ended the story by bringing down the house with her actions!


Well by now, Sol needed to get back decorum by showing the audience the original score of Sammy Davis, Jr. from Broadway's Stop the World, whom Sol followed in the role on Broadway. Sol is bringing the original show here in February.


Sol also talked about the late showman Merv Griffin, who mentored him and others, and sang "If I Love Again."


"Music That Makes Me Dance" closed the well-received show, with Sol dedicating it to the enthusiastic audience.

---

An award-winning journalist, Twila Crawford lives in Puerto Vallarta, where, in addition to contributing articles to the Vallarta Tribune and other local and international publications, she writes Out and About in Puerto Vallarta, a weekly column that offers inside information about who, what, why, where and when it's happening around Banderas Bay.
Click HERE to read more of Twila's "Out and About" articles
Tell a Friend
•
Site Map
•
Print this Page
•
Email Us
•
Top