News from Around Banderas Bay | January 2008
Northern California Family Donates Baseball Equipment to Puerto Vallarta Youth

Bob Cohen - PVNN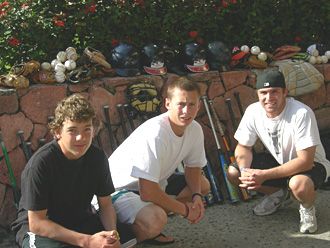 We thank Kevin, his brother Jake, their friend Patrick and Mom and Dad Peters for bringing three extra bags of baseball equipment to donate while on vacation.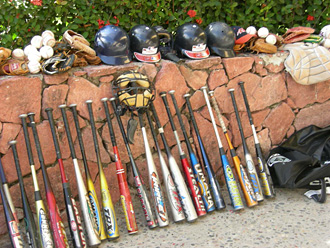 Kevin, his family and the De La Salle High School baseball team donated 20 aluminum bats, 15 baseball gloves, 20 new team hats and 2 full sets of catcher's gear.
Christmas might be a little late for some young Vallarta athletes this year, but thanks to the thoughtfulness and generosity of one California family, two teams or schools in need of baseball equipment will be receiving some very special gifts.

I received an email about ten days ago from a gentleman who was coming to visit Puerto Vallarta with his family for five days around the New Year. In the email he asked if I knew of any schools or baseball teams that were in need of top quality baseball equipment, as they were going to bring the gear with them. Quickly I responded, "yes we need it here and I will help find the most needy teams or schools to donate the equipment to."


With virtually everything closed between Christmas and New Year's, I found myself in the position of meeting these concerned, caring people, picking up and storing the baseball equipment and then finding the appropriate people to donate it to. All of which was nothing but a pleasant task for me.


We met on Sunday morning at their hotel in Nuevo Vallarta and I asked them how the donation idea began. It was initiated by their older son Kevin Peters, who decided to donate equipment that he had, as he had been to Puerto Vallarta before and knows that baseball bats and gloves are quite expensive and public schools would not likely have the money in their budget to spend on bats, balls and mitts. Kevin then started to ask friends to donate their equipment and the response was great.


Coach Max Valencia of Kevin's baseball team at De La Salle High School was a big help as well, urging his players to add to the donations. The school is located in Danville, California, just east of San Francisco and is where the Peters family lives.


Kevin began to assemble three duffle bags that contained 20 aluminum bats, mostly Easton, which sell for $150 - $350 USD per bat when brand new. These bats were used for only one season. Baseball gloves totaled 15 and also were used for only one season and I remember it took me almost half a season to get a new mitt in game condition. New team hats totaled 20, and an additional two full sets of catcher's gear were also included. Add the three duffle bags and the Sunday morning trip out to Nuevo, and I was feeling a bit more optimistic about the human race.


Christmas might be a little late for some Vallarta youth, but when we locate two teams or schools most in need of the equipment, the wait for some very special gifts will be worthwhile. Possibly one of those bats will wind up in the hands of a future major league baseball player.


We again thank Kevin, his brother Jake, their friend Patrick and their Mom and Dad for being so thoughtful and bringing along the three extra bags to donate while on vacation. This type of altruism is of the highest quality, as donating money is so easy for many, but the effort of collecting from a community in the U.S. and bringing the donation here showed integrity, at least to this writer.


We urge all of our readers to follow the Peters' example by bringing down donations for those who are less fortunate. No matter what you bring, we will be sure that it gets to the people who need it most.
Tell a Friend
•
Site Map
•
Print this Page
•
Email Us
•
Top