News from Around Banderas Bay | January 2008
Pedro Rodriguez / Mike Green Win 24th Annual Canto Del Sol Pro Am

Bob Cohen - PVNN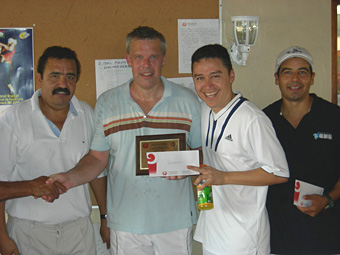 Tennis Director presents the Pro-Am winners trophy and envelope with the winners cash purse to amateur Mike Green and pro Pedro Rodriguez.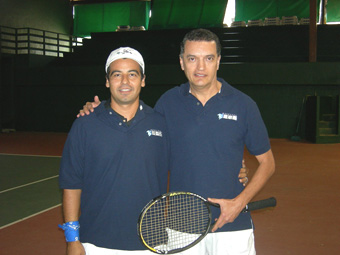 The Pro-Am finalists Polo Torres and Dr. Raul Mesa just prior to the final event.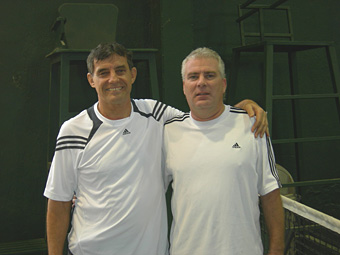 Emile Larrivee with Duncan Forbes before their "A" division final. Forbes won the final, adding to his trophies in the division.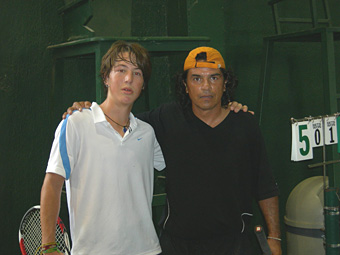 "B" division winner Daniel Comella on the left after a tough match with finalist Armando Siordia.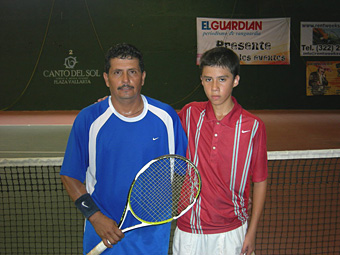 "C" division winner Hugo Herrera on the left with 13 year old finalist Daniel Alarcon.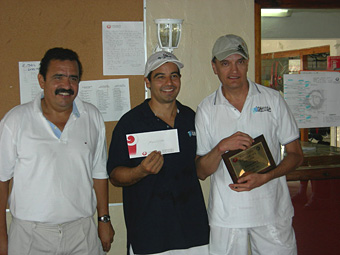 Martin Parra presents the finalist trophy and cash prize to pro Polo Torres and his amateur partner Dr. Raul Mesa. The two finished second last year as well.

Puerto Vallarta - Puerto Vallarta tennis pro Pedro Rodriguez teamed with amateur Mike Green, sponsored by Tropicasa Realty, to defeat Canto Del Sol pro Polo Torres and amateur Dr. Raul Mesa, sponsored by CMQ Hospital. Rodriguez and Green, who have never teamed together, played the first set like longtime teammates, taking the set 6-1. The two jumped out to a 2-0 lead in the second set before Torres and Mesa began to get their court legs.


Polo and Raul have been partners in the Pro-Am before and were the finalists last year. They won the next three games to go ahead 3-2 and the teams traded games while on serve with Torres and Mesa ahead 6-5, but needed to break serve to take the set or go to a tie breaker. Pedro and Mike held serve to make it 6-6 in front of an enthusiastic crowd rooting for their favorite players. The tie break was tight at first tied at 3-3, and then Rodriguez and Green ran the last four points to win the tiebreak and match 6-1, 7-6.


It was not an easy job for any team in this year's Pro-Am as competition was tight from the first round. Most matches went all three sets and a number of match points were not taken advantage of. This year's amateurs were almost all of "A" quality and the best pros in Puerto Vallarta participated.


Rodriguez and Green were installed as the top seed and played that way throughout the tournament and were the only team to win their matches in straight sets, giving them fresher legs for the final. Torres and Mesa had just won a marathon over Raul Lopez and Jorge Joya the night before in three grueling sets and had to come back to play at 2:00 PM for the finals after four consecutive days of play. Joya had also played a singles match the night before.


The singles competition was just as competitive, especially in the "B" and "C" divisions. Many of the players that played in the "A" division also had double duty, as they also played in the Pro-Am. The top seed in "A" was Emile Larrivee and he reached the finals against the 4th seed Duncan Forbes.


Both had straight set wins leading to the finals and Larrivee's semifinal opponent had to default, giving Emile a free walk to the finals. Forbes defeated a tired Jorge Joya 6-4, 6-1, as Joya played three sets in the Pro-Am each day, but the semifinals knocked him out of both. Forbes was playing very strategic tennis, hitting well placed shots against Larrivee who was having troubles with his power game and was soundly beaten in the first set with Duncan taking it 6-0. Emile came out for the second set wearing glasses, as his contact lenses were giving him problems. It helped him as the two traded games and Larrivee was even at 3-3 before Forbes won three consecutive games to win the set and championship 6-0, 6-3.


The "B" finals pitted a younger Daniel Comella, who was the top seed against Armando Siordia. Comella had a quick road to the finals, not dropping a set the whole week and won his quarterfinal match 6-0, 6-0. Daniel then defeated an even younger Rodrigo Martinez who was the 2nd seed 6-1, 6-4. Siordia had to work harder in his semifinal match, defeating Jose Gomez 6-3, 7-6.


Both players had command of their ground strokes and rallies were long with both players showing good instinct and court movement. Comella had a 5-2 lead in the first set, but Siordia won the next 3 games to tie the set at 5-5. Comella settled down and won the set 7-5. The second set was back and forth, with each competitor trading almost every game and the match fittingly went to 6-6 and a tie breaker. Comella took the tiebreak and won the "B" title with a close 7-5, 7-6 victory.


The "C" division was as competitive as it has been in quite a long time. The finalists were 13 year old and top seed Daniel Alarcon and "C" veteran Hugo Herrera, the 2nd seed. To reach the finals both players had extremely difficult semifinal wins the previous evening. Alarcon defeated and older but steadier Arturo Valle in a match of contrasting styles. The youngster was slugging away at every shot and hit many spectacular winners, as the wiser Valle played a smarter match, returning and placing his shots with more consistency. They split close sets to set up a third set which the youngster took a tight 6-4 final set.


In the other semifinal, Herrera played 10 year old potential phenom Pedro Fernandez. Herrera was a bit shocked seeing a small 10 year old on the other side of the net and soon saw he had a battle on his hands. Herrera won the first set 6-4 and young Pedro didn't yield a bit to the pressure, winning the second set 6-4, sending it to a deciding final set. Herrera defeated Fernandez 6-3 to move to the finals. Pedro, who has been under the tutelage of pro Polo Torres will not be playing "C" very long; look for him in higher levels as he grows in size; he proved his ability, even at 10 years old.


The final had Alarcon, the hard hitting, well dressed 13 year old against an older Herrera, whoso style is to return almost everything until his opponent makes a mistake. Playing with the youngster, he was assured to see many mistakes, but also some crushing, amazing shots. Alarcon showed the fans that pressure didn't bother him in the least and never played conservatively the whole tournament. In his quarterfinal match he was down 2-5 in the final set and ran off 5 straight games to advance to his three set final semifinal win.


Alarcon strangely won the first set easily 6-2, as Herrera wasn't prepared for the shots the 13 year old was ripping. Age can be good and can be a detriment as well and in this match age and experience helped Herrera hang in, playing his steady return game as he won the second set 6-4, sending yet another match into a deciding third set. Herrera found a steady rhythm and Alarcon miss hit more shots than usual; Herrera winning the deciding set 6-3.


The 2008 Canto Del Sol Pro-Am ended with its award ceremonies and the traditional taco buffet feast. The competition was superb, players happy to compete and the fans were treated to some exciting tennis. Congratulations to Tennis Director Martin Parra and his staff for giving Puerto Vallarta another quality tournament.
Tell a Friend
•
Site Map
•
Print this Page
•
Email Us
•
Top