News Around the Republic of Mexico | January 2008
Mexican Miners Call Nationwide Strike Over Cananea

Catherine Bremer - Reuters
go to original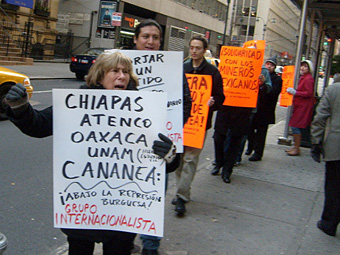 Protesters at the Mexican consulate

Mexico City - Mexico's mining union called on Monday for a nationwide industry walkout on Jan. 16 to back workers striking for more than five months at Grupo Mexico's huge Cananea copper pit.


The one-day action, part of the union's effort to fight a labor board ruling on Friday that declared the Cananea strike is illegal, would affect miners and metalworkers working on morning shifts, the union said in a statement.


The ruling was the latest chapter in months of back-and-forth between courts over the strike, which mining company Grupo Mexico estimates has cost it $2.8 million per day in lost sales since it began at the end of July.


The union is angry that several striking workers were hurt on Friday outside Cananea, in the northwestern state of Sonora, when police firing tear gas briefly clashed with them after the labor board decision.


Earlier on Monday, Grupo Mexico said it was back in control at Cananea and could resume normal copper production levels at the pit in three months or so. Spokesman Juan Rebolledo said scores of workers were inside Cananea and specialist inspectors from two companies were examining idle machinery for damage.


However, the mining union is appealing the return-to-work order and won a court suspension order on Saturday allowing striking workers to stay off the job without being fired while a judge decides.


"The situation is calm," Rebolledo told Reuters. "The judge's order means those workers who want to work can do so and the company can keep operating. (But) they can also not go to work and they will not be fired."


Union spokesman Carlos Pavon disputed Grupo Mexico's assertion that some 400 miners had returned to Cananea, saying many more were outside on picket lines than were inside.


LOST OUTPUT


Pavon said it could take around six weeks for a judge to decide on the appeal. Meanwhile, those who wanted to keep striking would not lose their jobs.


"They have rights that are in the constitution and we are going to exercise them to the very end," Pavon told Reuters.


The strike by some 1,300 Cananea workers has lost Grupo Mexico an estimated 80,000 tonnes of copper output.


Rebolledo said the company hoped to have a detailed report in two weeks' time on the state of the mine and its equipment.


Cananea miners walked off the job in a spat that began with health and safety conditions and was complicated by a power struggle between the company and union leader Napoleon Gomez, who is living in Canada to avoid corruption charges in Mexico.


The labor board declared the strike illegal last year, but a judge backed appeals by the union.


Copper has been mined at Cananea for more than 100 years. The mine has been the stage for frequent worker disputes ever since Mexico's first miners' strike exploded there in 1906 in an anarchist-inspired precursor to the Mexican Revolution.


Shares in Grupo Mexico closed up 1.84 percent at 67.65 pesos, standing out from a weaker overall market.


The labor unrest in Mexico, and at mines elsewhere in Latin America, has kept copper bullish in recent months. Copper prices are up nearly 10 percent this year.


Mexico is a major producer of copper and has the world's largest silver mine. Next week's strike could also affect smaller mines and smelters producing gold, lead and zinc.


(Additional reporting by Adriana Barrera; Editing by Marguerita Choy)
Tell a Friend
•
Site Map
•
Print this Page
•
Email Us
•
Top