News Around the Republic of Mexico | January 2008
Mexico 2007 - The Year in Review

Allan Wall - PVNN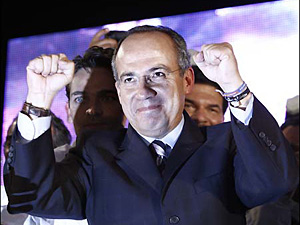 If one Mexican were to be designated "Man of the Year" that would surely be President Felipe Calderon, who just completed his first full calendar year as president.

The year 2007 A.D. is over, making it an opportune time to look back, review what happened in Mexico and speculate as to what might be in store for 2008. If one Mexican were to be designated "Man of the Year" that would surely be President Felipe Calderon, who just completed his first full calendar year as president.


In 2007, Calderon displayed solid leadership capability, prosecuted a difficult war against drug cartels, and negotiated with Congress to enact new legislation. Calderon was able to set the agenda for Mexican politics.


As far as substantive legislative reform, Calderon presided over three reforms: the pension reform, the fiscal reform and the electoral reform.


All of three reforms were products of compromise, which is necessary in today's Mexico since the Congress has no majority party.


The pension reform has the potential of extending the viability of the pension system.


The fiscal reform fell far short of expectations, but, if properly managed, might increase government revenues by 2% of GDP.


The electoral reform (a constitutional amendment) was pushed by the opposition PRD (Party of the Democratic Revolution.) It remains highly controversial. In some ways, the reform restricts freedom of speech and poses some constitutional problems. Nevertheless, it was rapidly passed by every state legislature in Mexico with the exception of Coahuila, proving once again the power of Mexican party bosses to keep the rank and file in line.


Anyway, as easy as the Mexican Constitution is to change, this reform too might be modified within the next few years.


Another prominent Mexican in 2007 was AMLO (Andres Manuel Lopez Obrador), who narrowly lost to Calderon in 2006, and still hasn't conceded. AMLO traveled the country proclaiming himself the legitimate president of Mexico, failing to leave the past behind and move forward, AMLO is digging himself deeper into a hole and making himself irrelevant, even in his own party.


Marcelo Ebrard, on the other hand, the PRD mayor of Mexico City, is laying a strong foundation for a presidential bid in 2012. Ebrard set the agenda in Mexico City throughout 2007, by fighting crime and getting vendors off the streets downtown. Ebrard also provided novel forms of entertainment for Mexico City residents, such as artificial beaches in the summer and an ice rink in the Zocalo plaza in winter.


Vicente Fox, the previous president, continued to make news in 2007, with the construction of his presidential library, and speeches abroad. Fox also has a new book out, Revolution of Hope, which was published in English before Spanish. The former president, his wife and stepchildren have also been accused of various forms of corruption.


The year 2007 also saw Mexican Carlos Slim declared the richest man in the world by Fortune magazine, which estimated his fortune at $68 billion dollars.


The government's war on the drug cartels, and the battles between drug cartels continued through 2007. According to Attorney General Eduardo Medina Mora, this year there were 2500 drug executions, in contrast to 2350 in 2006.


In other Mexican crime news, 2007 saw the gruesome case of the Hannibal Lector-emulating "Cannibal Poet," who was arrested and suspiciously died in prison, highlighting the problems in Mexico's over-crowded correctional institutions.


Tragically, there were 6 journalists and media workers murdered in Mexico in 2007.


The biggest natural disaster of 2007 was the Tabasco flood, which covered 80% of the low-lying territory of that eastern Mexican state.


There were guerrilla attacks on oil installations, and the accidental explosion of a dynamite truck in 2007.


In an embarrassing though comical incident in the Old Continent, Mexican politician Roberto Madrazo was kicked out of a marathon in Germany for cheating.


There was controversy in 2007 over moral values. Homosexual civil unions were legalized in the northern state of Coahuila and Mexico City, where abortion law was also liberalized.


There was controversy over the economic globalization of Mexico, as farmers faced competition with the United States and shoemakers with China.


Also in 2007, the first Mexican fighting bull was cloned, and the flagship university UNAM got a new leader.


What about 2008, what does the new year have in store for Mexico? It will probably be a continuation of current trends, with however, some surprises as always.


What I hope for in Mexico is less crime and more economic growth. Whatever happens, it can't fail to be interesting, so stay tuned to Banderas News in 2008!
---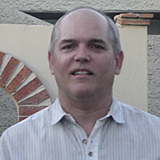 Allan Wall is an American citizen who has been teaching English in Mexico since 1991, and writing articles about various aspects of Mexico and Mexican society for the past decade. Some of these articles are about Mexico's political scene, history and culture, tourism, and Mexican emigration as viewed from south of the border, which you can read on his website at AllanWall.net.

Click HERE for more articles by Allan Wall.
Tell a Friend
•
Site Map
•
Print this Page
•
Email Us
•
Top