Business News | January 2008
Cabo Wabo Ultra-Premium Tequila now Available through Skyy Spirits

Business Wire
go to original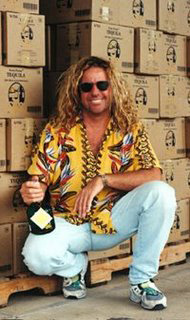 Sammy Hagar and Skyy to take Cabo Wabo Tequila across the globe.

The world's most distinctive ultra-premium tequila, Cabo Wabo(R), has a new casa. Skyy Spirits, a Gruppo Campari company, is now the official marketer and distributor of the 100-percent blue agave Cabo Wabo Tequila line in the United States. The tequila portfolio, originally created by rocker Sammy Hagar, consists of Cabo Wabo Blanco, Reposado, Anejo, and ultra luxury Cabo Uno, and is now available through Skyy Spirits' nationwide network of distributors and wholesalers.


"Cabo Wabo Tequila is a real gem for our prestigious portfolio of vodkas, whiskies, rums, liqueurs and aperitifs," said Gerry Ruvo, president and CEO, Skyy Spirits. "With its strong bartender and consumer following and its exceptional quality, the Cabo Wabo Tequila line has tremendous growth potential as the category's original high-energy ultra-premium brand. We are excited to work with Rock and Roll Hall of Fame star Sammy Hagar to expand Cabo Wabo's reach across the country."


In the coming year, Skyy Spirits will support the growing Cabo Wabo Tequila super-premium brand with sales and distributor incentives; radio advertising and consumer promotions; and a full line of premium merchandising items. The company will also launch a consumer relationship program to develop a meaningful dialogue directly with Cabo Wabo's fan base, in addition to supporting Hagar's nationwide 2008 concert tour.


"When Sammy Hagar created Cabo Wabo, he never dreamed it would develop the following it has today," said Stephen Kauffman, president of Cabo Wabo. "Skyy Spirits' marketing expertise and outstanding network of distributors is the right combination to really raise Cabo Wabo to the next level, giving tequila enthusiasts the opportunity to experience the finest tequila ever created."


About Cabo Wabo Tequila


Cabo Wabo Tequila was originally created by Sammy Hagar to have a superior tequila to serve his friends and in his Cabo Wabo Cantina in Cabo San Lucas, Mexico. A stickler for authenticity and quality, Hagar linked with a small Mexican tequila maker, the Rivera family, who had been creating exceptional, hand-crafted tequilas since 1937. Cabo Wabo is made from 100% Blue Weber Agave and comes in four different types including Blanco, Reposado, Anejo and Cabo Uno. It is acknowledged as one of the finest tequilas made today. Cabo Wabo continues to win top competitive tasting awards, recently receiving a double gold medal at the San Francisco World Spirits Competition.


While Skyy Spirits' parent company, Gruppo Campari, now owns a majority share in Cabo Wabo Tequila, Sammy Hagar continues to own a significant share in the brand and remains intimately involved in Cabo Wabo Tequila's quality guidelines, strategic development, and, of course, as its spokesperson. More information on Cabo Wabo Tequila can be found at www.cabowabo.com. Also, be sure to check out Cabo Wabo Radio at www.cabowaboradio.com.


About Skyy Spirits, LLC


Skyy Spirits, LLC is the US-based wholly owned subsidiary of Gruppo Campari and the definitive marketer and distributor of super-premium and luxury spirits brands in North America. Launched in 1992 with the introduction of its flagship brand, SKYY Vodka, Skyy Spirits has grown exponentially, building a portfolio unrivaled in its quality, innovation and style, making it a top choice among distributors, retailers and consumers. Skyy Spirits manages Gruppo Campari's portfolio in the US of such leading brands as SKYY Vodka, SKYY90, SKYY Flavors, Campari, Cabo Wabo Tequila, Ouzo 12, X-Rated Fusion Liqueur and Jean-Marc XO Vodka. Skyy Spirits is also the exclusive US distributor of Cutty Sark Scotch Whisky, The Glenrothes Single Malt Scotch Whisky, Bowmore Islay Single Malt Scotch Whisky, Auchentoshan Lowland Single Malt Scotch Whisky, Glen Garioch Highland Single Malt Scotch Whisky, Flor de Cana Rum, Carolans Irish Cream, Tullamore Dew Irish Whiskey, Irish Mist Liqueur, Midori Melon Liqueur, ZEN Green Tea Liqueur and The Yamazaki Single Malt Whisky.


Skyy Spirits was founded and is headquartered in San Francisco, California. Please enjoy Skyy Spirits brands responsibly and in moderation.
Tell a Friend
•
Site Map
•
Print this Page
•
Email Us
•
Top