Entertainment | Restaurants & Dining | January 2008
Meet Menudo, a Beef Tripe-Fueled Cure for Post-Holiday 'Cruda'

Erasmo Guerra - NYDailyNews.com
go to original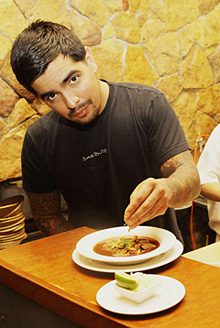 Aarón Sánchez, chef of Tribeca's Centrico, spicing up his menudo. (Keivom/News)

Has the holiday sparkle gone dead in your eyes? Do you feel as flat as all the empty gift boxes in the recycling bin?


You're suffering a post-holiday cruda, a hangover brought on by one too many parties, credit card debt and the cold January weather.


There's hope. Menudo — not the boy band, but the spicy Mexican soup made with beef tripe in a tomato broth, a traditional cure for hangovers — should melt away your miseries.


There are as many ways to prepare menudo as there are Mexicans. In northern Mexico, the recipe calls for the addition of yellow or white hominy, or pozole, while further into the interior the soup focuses on the meat.


Poblanos — those from Puebla — who make up a large percentage of the Mexican community in New York, call menudo "pancita," the Spanish word for tripe — and they keep their soup simple.


The generous servings come in bowls as big as your aching head and average only $7.


Of course, eating intestines is not for the squeamish. But keep in mind that beef tripe is a delicacy also in Spain and the Caribbean — where it's called callos and mondongo, respectively.


Not all Mexican restaurants sell menudo. And most only feature it in the winter or on the weekends.
Tell a Friend
•
Site Map
•
Print this Page
•
Email Us
•
Top