Health & Beauty | February 2008
Help blu Turn Red

Len - PVNN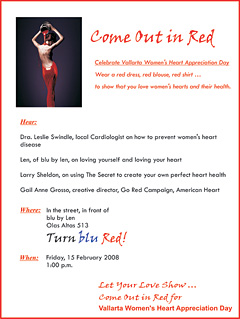 Click image to enlarge

Put on your red dress and stop by blu by Len on February 15th at 1 pm for Vallarta Womenís Heart Appreciation Day.

Do any of you remember that famous scene in Steven Spielbergís classic, Poltergeist, back in the 80's? I feel the need to quote the little one in front of the TV: Iím baaack!


Seriously, I hope that all of you have had a fabulous January, and I know you missed me. Sometimes it is just better to take a break and breathe deeply, relax, cool it ... yeah, thatís the ticket. Oh, really. Me? Relax? Yeah, right.


As I pondered in my last column of 2007, where does the time go? How did it become February already? Itíll be spring before you know it. Time flies in paradise, and sometimes we forget to take care of ourselves.


Instead of resolutions, goals are better. One of my goals for 2008 was to get out more and see some world. Well, travel has quickly raised its hand. Off to New York City am I, for a huge opportunity on the first of February.


Then Iíll be back in NY in April for the International Hair Show. Two trips to NYC in less than three months. Not bad, eh, for seeing the world outside of PV. And, anyway, Len and New York City just kind of go together, donít you think? Donít panic, after each brief visit, Iíll be back here, ready to terrorize the streets and the heads of Vallarta.


I want to call my readersí attention to the point of my first NYC trip in February. The American Heart Association, in conjunction with numerous national sponsors, are getting behind womenís heart health in a big way through their "Go Red" campaign.


Go Red is helping to give womenís heart health the attention it so desperately needs, since heart disease kills so many women each year. Go Red is a simple idea with a simple message: "Love Your Heart."


It does not get much simpler than that, does it? Go Red has already helped millions of women understand that heart disease is the #1 killer among women of all ages. It is also highly preventable with common-sense dietary practices and exercise.


I hope that previous statement has sunk in. Heart disease is the # 1 killer of women all over the planet. I found this statistic alarming and scary. Having worked with women of power all my life, starting with Mumsy, this has taken on a whole new meaning for me and the women around me.


The WISE Women of Vallarta will have already heard this, as I will have been honored once again with the opportunity to speak to them on 23 January 2008. Now Iím telling all of you.


February 1, 2008, is "National Go Red Day" in the United States. I will be in NYC, helping a dear friend, Gail Anne Grosso, and the Go Red Team as they invite women to come and tell their individual heart stories. We will talk to and understand these special and inspiring women, who will be participating in the next wave of the Go Red campaign.


My job is to make these ladies feel comfortable, pretty and confident ... inspired, strong and ready to tell their stories about heart disease to the audition camera. To understand my job in NY with Go Red, just think of me as Go Redís answer to Carson Kressley, famous from the Bravo channel TV show Queer Eye for the Straight Guy and this seasonís Lifetime full-figured womenís show How to Look Good Naked.


I really feel passionate about the womenís heart disease problem and its solution. Ladies, I truly believe itís time to stomp this thing out.


I have always been amazed at the strength of women with life threatening health conditions. I remember my client, Sherri, who was in and out of the hospital, and yet so positive and brave. This beautiful woman had me shave off all of her hair, down to the scalp, and fit her with a fabulous wig. Smiling and laughing all the way. After her months of treatment, she said, "What do I want with real hair? This wig is so amazingly beautiful and so much easier, why bother?" To this day her strength, energy and attitude, through months of pain and feeling terrible, continue to make me smile.


Listening to what makes women feel beautiful, confident and ready to fight is the key. Everyone has a bad day, but these women are fighting for their lives. And with a smile on their face. Amazing! That is the kind of energy that I love to be around, and that I love to help engender in all women.


I hope that all of you will take the time to kiss all the women in your lives, and to make sure that their hearts stay healthy. Remember, heart disease is the #1 killer among women.


With Valentineís Day just around the corner, I have an inspired idea. I would love to see as many women as possible, dressed in red, in front of blu by len (Olas Altas 513) on February 15th at 1 in the afternoon. And their male escorts, too, dressed in red, showing support for the hearts they love.


You may ask why the 15th and not on Valentineís Day. Because on February 14th, your hearts will be busy with romance ... and so you can think of February 15th as our Vallarta Womenís Heart Appreciation Day ... and thank all womenís hearts for both their love and their health!


Use your heads and your hearts. Wear your red shirts and blouses. I know you all have them. There just might be a camera there to see Vallarta celebrating our Womenís Heart Appreciation Day and our awareness of women, their heart health and the importance of their lives to us all.


Come on out in red, and letís ensure that The Tribune will want to put all our smiling faces right on the cover. What a joyous picture that will be.


In the meantime, log on to www.goredforwomen.org to take the Go Red Heart Checkup. Itís even available in Spanish. If your primary home is in the U.S., select your state and zip code. If itís not, you can select "other" for the state and then enter zip code 48380 for PV. Please read through all parts of the website before completing and submitting the heart checkup.


See you on February 15th. Arise, My Women. Letís turn blu red!
---

Given that Len's very first word was "more," and the second one was "pretty" it is no wonder that he now not only owns and runs the #1 salon and spa in Puerto Vallarta, blu by Len, but also writes a beauty advice column, Use Your Head. Whatever you hair may or may not need, Len will know exactly what to do or where to go to find the answer - just send him an email at len(at)blubylen.com.
Tell a Friend
ē
Site Map
ē
Print this Page
ē
Email Us
ē
Top