Health & Beauty | February 2008
Healing Magic at Lazaro Cardenas Plaza

JOY! - PVNN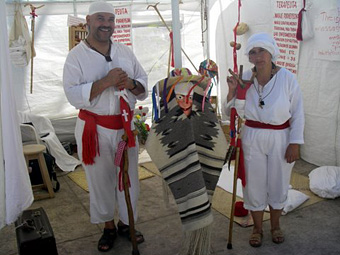 One of the stalls I am most drawn to is the Purhepecha where Esther and husband Martin work their healing magic.

Puerto Vallarta - My life for the last week has revolved almost totally around the health fair at Lazaro Cardenas Plaza. It is rich with fascinating people and different cultures, there are so many wonderful stories here my head is whirling with them. I can't stay away.


One of the stalls I am most drawn to is the Purhepecha where Esther and husband Martin work their healing magic. I've had two treatments with them so far and intend to squeeze in a couple more before the fair ends. Their work is amazing and they are among the happiest, most good humored folk I've ever met.


Like most of her clients I am fascinated with the extraordinary accuracy of Esther's diagnostic abilities. "How do you do it?" I asked her. "When I dance on the people" she tells me "I feel their emotions, I know what is wrong with them, I become them."


I am aghast "That's gotta be scary sometimes!" she gives me her pixie grin "Yes, some people find it scary." I'll bet, I muse thinking about her very telling answer, This astonishing woman earns more of my respect every time I see her.


"How does the healing happen?" I ask, and Martin answers "Through God. People feel the peace here, they walk away healed from that peace whether they believe or not."


It's true, their stall radiates peace and light, healing and laughter, which is in itself a great healing even without the massage.


The Purhepecha tribe is famous for the Dance of the Old Men, which is the reason for the costumes on either side of their stall. Today they showed me the dance and I realized that this is what Esther is doing when she walks on people as part of the massage. Seems there is more to this dance than meets the eye, which is good because it's not the most impressive dance you'll ever see.


Another level of their work was uncovered when Esther told me that she and Martin have spent the last eight years traveling the country doing this work because they are the sole support of ten pueblitos; - little villages.


The lives of no less than 500 –that's FIVE HUNDRED children rest on their shoulders. Without them these kids would have no clothes to wear, no toys to play with, no food in the brutal winter months.


The Purhepechas live deep in the Sierra's, three or four hours into the mountains. No-body answers their cries for help because no-one hears them, they are too far away. Esther's eyes fill with tears as she talks about the desperate conditions in her tribe and how the children are suffering.


I promise her I will broadcast her voice, and the voices of the children, which is why you are reading this now. If you have ANY spare clothes or toys or anything at all that your kids haven't used in a while PLEASE consider dropping it off to Esther and Martin at the fair, or if you read this after Feb 17th, I'll take anything you want to donate to the children in my home and find a way to send it on.


"How do you manage to stay so happy with such a huge responsibility?" I ask them. "It is our soul's work" they tell me "We do it together as a couple."


I am humbled, I had a job supporting just one child. Can you imagine providing for 500?! No wonder God makes sure the healings are so impressive!


Do yourself, and five hundred children a favour, go get a healing from Esther and Martin, and instead of giving them the $200 pesos they ask for, pay them what you think it was worth.
---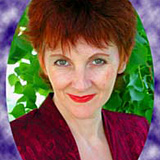 JOY! Is an internationally acclaimed life transformation coach, famous for her unreasonable success in helping people move through their challenges with her unorthodox approach and emPOWERment tools. For more information, visit her website ExperienceJoy.com or call 044-322-129-1128.
Click HERE for more articles by JOY!
Tell a Friend
•
Site Map
•
Print this Page
•
Email Us
•
Top