Health & Beauty | February 2008
Inspired, Regenerated and Re-energized... Now On With The Show

Len - PVNN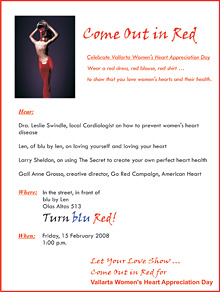 Click image to enlarge

On February 15th, designated Women's Heart Appreciation Day in Puerto Vallarta, there will be a rally in the street in front of salon blu by Len, with everyone wearing something red, to raise awareness of women's heart disease and heart health.

Picture it: Thursday January 31, 2008, my trip to NYC began at ten in the morning concluding that day at midnight at the W Hotel on Times Square. With the warm breezes and sun behind me, I found myself in the middle of the universe with no gloves and no scarf and oddly enough, energy to spare. There is something about a dream that keeps your juices flowing though you know you should rest. Rest? I'm in Times Square NYC at midnight, rest could come later.


As many of you know, the focus of February is Women's Heart Health. As most of you also know, I was honored to be given the opportunity to participate at Ground Zero. The American Heart Assoc. along with a slew of sponsors and volunteers came together on Friday February 1, 2008 for the kick off of what promises to be an amazing month of stories, courage, strength and resolve. To try and explain the energy that was present on the 2nd floor of the Shops at Columbus, (The Time Warner Center,) continues to be unexplainable. Even for me. Imagine me speechless.


The weather was horrendous and the skies were grey and gloomy on Friday morning. Upon meeting the marvelous team from Edelman Advertising for the first time at 8 am that morning, we were off to an experience that I don't think anyone could have planned for. The second I entered the colossal mall at the tip of Central Park, I could feel the energy in the air. Blue being my favorite color, I was run over by a sea of RED: everywhere.


This was not going to be any ordinary day. Arriving on the second floor there were cameras, lights, tables and free stuff everywhere. Just like any other casting call right? Wrong. These stories and the women who told them were not actors showing up to audition for the latest reality series: this was their real life and they had something to say: a feeling, a story, a hope. Inspired.


So there I was at 9 am wondering what the heck I was here for. I know how I feel when I am around a room full of powerful women: Regenerated. Believe it or not it is not always about hair or me for that matter. I'm not sure whether or not regenerated is the right word, but it's what I felt. Pure power from the volunteers to the pro's to the women ready to talk - and talk they did.


With the weather being less than cooperative, I was amazed at the turn out. Everyone had a red nose and that whole wind blown look to there winterized faces. My job was to talk to them. That's it? I was so in my element and so ready to listen. Then they told me I could have some fun with hair and make-up, eight minutes max per women. How fun is my job at this point? Way too OTTF. (over the top fun.) it turns out I was there to do exactly what I do every day, have fun.


This experience has brought me to a higher level of understanding of just what women's heart disease is all about and how many women and those around them it affects. It affects everyone. So now I find myself with another reason to raise awareness and bring to Puerto Vallarta the same energy and strength that these powerful women have shown to me. What better reason to throw an event.


As many of you may remember from my last column, I had invited all the women of Vallarta to my salon on Friday February 15, 2008 for a little photo shoot. The only requirement was for everyone to wear red. This simple event has now grown a life of it's own, as most events at 'blu' do. It is time to celebrate and remember with all of our hearts what women all over the world need and deserve to know about their health and their lives.


Wednesday February 13, 2008 at Banana Cantinas popular Charity Night will start off our campaign. With auction items from Art 2 Go, Elements, and beautiful jewelry and raffle prizes from all over, I invite you to join us for an evening of great food, lots of laughter and just good plain old fun. All proceeds from this event will go towards the local Women's heart Appreciation Day.


Valentine's Day we want you all to remember to fill your hearts with love as is customary that day. Then on the 15th of February at 1 pm in the afternoon, I invite all of Vallarta's women, and those who love them to come to my salon in a sea of red. Leslie Swindle MD, Larry Sheldon, Gailanne Grosso and myself wish to raise our awareness and love our hearts. It will be quite the afternoon I promise you that.


Use Your Heads and come by both events to support the women who made our lives popular. Those too, who we want around for a long, long, time.
---

Given that Len's very first word was "more," and the second one was "pretty" it is no wonder that he now not only owns and runs the #1 salon and spa in Puerto Vallarta, blu by Len, but also writes a bi-weekly beauty column, Use Your Head. Whatever you hair may or may not need, Len will know exactly what to do or where to go to find the answer - just send him an email at len(at)blubylen.com.
Tell a Friend
•
Site Map
•
Print this Page
•
Email Us
•
Top