News from Around Banderas Bay | February 2008
Joaquin Borges Returns to Puerto Vallarta

PVNN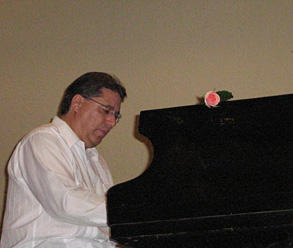 Acclaimed Mexican pianist Joaquin Borges will perform at the Westin Resort and Spa in Puerto Vallarta at 8 pm on March 7th to benefit the Esperanza y Alegria foundation.

Esperanza y Alegria, a group of Puerto Vallarta women who run a support group for Cancer survivors, recently announced that a second piano concert by acclaimed Mexican pianist Joaquin Borges will be performed at 8 pm on Friday, March 7th at the Westin Resort and Spa.


Dinner-concert tickets are $450 pesos per person, and include a three-course dinner and two glasses of wine.


The proceeds will go to Esperanza y Alegria, a local association that promotes, educates and informs the citizens of the State of Jalisco about the early detection of breast cancer in women and men. Their intention is to get this information out to as many people as possible.


Joaquin Borges is a great performer, composer and musical director. His work has been recognized in Europe and Latin American where he has earned various prizes and honors.


In addition to this special piano concert, a sculpture created by Rodo Padilla will be raffled off during this event. Rodo is a ceramic stoneware artisan-sculptor and his pieces have created a big demand among collectors.


Esperanza's entire committee consisting of Aurora Carretero, Teresa Calzada, Marcela Lares de Nieto, Elsa Guadarrama and Sol Perez, gave testimony of hope for cancer survivors at the press conference.


This group, which started in October of 2006, organizes meetings twice a month, gives emotional support to victims and families, and gets volunteers and sponsors to help raise funds.


As a part of their regular activities, they are giving lectures to employees at various hotels, including Canto del Sol, CasaMagana Marriott, Marival, Villa Premier, Hacienda Buenaventura and The Westin.


Breast cancer is the second most common type of cancer and the fifth most common cancer causing death. Because breast tissue is identical in both males and females, breast cancer also occurs in men.


For more information and to purchase tickets, email to esperanza-alegria(at)hotmail.com or call 224-9812. You can also find them at Lans Plaza Caracol.
Tell a Friend
•
Site Map
•
Print this Page
•
Email Us
•
Top