News from Around Banderas Bay | February 2008
Ninety-Nine Bottles of Beer on the Wall...

Sue Fornoff - PVNN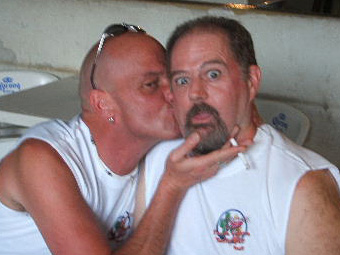 What happens in Vallarta, stays in Vallarta - until someone puts it on BanderasNews...

Tired of the same old bar scene? Have you seen enough sunburned tourists enjoying Jello shots? Wondering where to find some authentic local dives? Well, the Puerto Vallarta Tacky Bar Tour may be just what you're looking for!


"An evening you'll never forget (no matter how hard you try)" is the motto of the Tacky Bar Tour - and hostess/guide Joanna Love tries to make sure that every participant on the tour has an unforgettable evening.


On a recent Friday evening, the tour group met at the appointed spot on the South Side of Puerto Vallarta and quickly went to the first "tacky bar." Everyone changed into their official tour T-shirt and quickly settled down to get acquainted and enjoy the first (of many) rounds of drinks.


"You never know who will be along," said Love. "It's a lot of fun because the groups can vary so much."


That night, there were full-time local residents and vacationers in the group. One local couple brought some relatives who were visiting from Wyoming as well as their next door neighbor. A tourist from Toronto came with a woman friend who lives in Puerto Vallarta and one who hopes to move here soon.


At the first bar, everyone enjoyed their first drinks compliments of the tour. On the "would I go in there on my own?" scale, the first bar was a qualified "yes." Ground level, pretty open, it is a place you might venture into for a beer. Tackiness rating - a good introduction for the tour, not too tacky, not too fancy.


After a couple beers, Love rounded up the group and headed to the next bar. About a four block walk, this was the furthest away on the cantina crawl. Along the way Love noticed a few new bars which she said she'd have to come back and check out.


"We have good rapport with the bars on the tour," said Love. "They know me and help look out for our guests. We don't discourage mingling between tour guests and bar patrons, but the bartenders help me make sure no one is hassled."


The second bar was one that the tour guests agreed they would not have found on their own, and even if they saw it, would not have gone in. Up a small dingy stairway, the bar itself was high on the tackiness scale. When it had to be explained to the bartender how to make a Margarita, it was clear this was the kind of bar the group was hoping to experience.


Pretty soon it was on to the third bar. This one, too, was one unlikely to be visited by tourists. It, too, was up a narrow and dim stairway. Because of the exceptionally friendly and beautiful waitress, Lupita, this bar was a favorite. By now, most group members were feeling pretty good and were laughing, dancing and just having a great time getting to know each other. The tackiest thing about this place was some of the sports posters on the wall.


In between dances and ordering rounds of beer, Love explained the history of the Tacky Bar Tour. "I came down here from Calgary four and a half years ago and like many others, didn't want to go back to all that cold weather. So I stayed!"


"I've bartended at several local places and frankly got tired of the low pay. One night I wandered into a local bar and couldn't get over how different it was than the tourist track. I knew others would be interested in experiencing the same thing so I got to thinking about how I could share it with people and make a few pesos."


The story got interrupted so the tour could move on.


The fourth bar was one that shouted "tacky." From the peeling paint, the crooked pictures on the wall and the vending machine which sells one cigarette at a time, this bar ought to be in the movies. The group kept the jukebox playing and the waitress running. The snacks of cold hot-dogs and cucumbers with lime and chile were a new taste treat for most.


After settling in, Love told the group, "This is the second season for the Tacky Bar Tour. As more people hear about it, I've been pretty busy. We're also thinking of some variations on the theme, like a gay bar tour, a ladies night and possibly a Pitillal bar tour."


When Love gave the word they were moving on to the final bar, some were disappointed to have to go.


Along the way to the last bar for the night, one tour guest stopped off to join some local kids jumping rope in the street. The kids cheered for him, and luckily he didn't get hurt while skipping.


All the bars are within easy walking (or crawling) distance of each other on the South Side of Puerto Vallarta.


The last bar was pretty busy with regular patrons. They seemed to take the presence of the tour in stride, even wanting to dance with some of the guests. The pool table was a big hit, too. More of a local hangout than a dive, tour group members felt pretty much at home here. Some said they'd bring other friends there.


As the evening drew to a close, tour guests were discussing where they were going next. All had a good time on the tour and few were ready to call it a night.


When asked if he enjoyed the tour, Les, a resident of Puerto Vallarta, summed it up by saying, "Why haven't I done this before? Would I recommend it to others? Definitely!"


If you'd like to explore another side of the Puerto Vallarta club scene, call 044-322-117-6116 in Puerto Vallarta or visit TackyBarTour.com to reserve your Tacky Bar Tour. Custom tours can be planned for your group.
Tell a Friend
•
Site Map
•
Print this Page
•
Email Us
•
Top