Entertainment | Restaurants & Dining | February 2008
The Next Tequila

David Kiley - BusinessWeek
go to original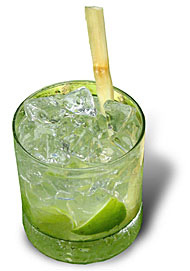 As the premium spirits market heats up, makers of Brazil's national drink, cachaça, are hoping it will be the next big thing.

Makers of cachaça, the Brazilian liquor fermented and distilled directly from freshly pressed sugar cane, are hopeful they can turn the spirit, still unknown to most non-Latin drinkers, into the next tequila. True, coming from sugar cane, cachaça is closer to rum, but walk into any trendy bar in New York, Miami, or Los Angeles and you can see tequila is the hip drink to beat rather than that old-world libation.


Cachaça (pronounced "ka-sha-sa") is to Brazil what whisky is to Scotland - a national drink integral to the country's identity. The finished product - sometimes known as "aguardente" (burning water) or "engasga gato" (cat choker) - in the bottle varies from 76 proof to 96 proof. How is it different from rum? Rum is made from either molasses or sugar cane juice aged in oak barrels. There are two types of cachaça - aged and not aged. Most of the aged stuff stays in Brazil. In the U.S., the un-aged variety is what most bars carry. Few drink the un-aged straight or even on the rocks. Most prefer to mix it, as with rum.


The largest importer of cachaça is Germany, but producers are eyeing the U.S. Already the drink is beginning to catch on, and not just in Brazilian restaurants. In 2006 more than 65,000 nine-liter cases of cachaça were sold in the U.S., a 63% increase from the year before, according to Adams Beverage Group, a distilled-spirits tracker in Norwalk, Conn. In comparison, though, more than 9 million cases of tequila are sold in the U.S. every year.


Likes the New York Brew


The signature drink for cachaça is a caipirinha, which is made of half a lime, quartered, and two teaspoons of granulated sugar muddled together, two ounces of cachaça, a splash of club soda, and ice. The cocktail is extremely refreshing and potent, although it doesn't have quite the kick of tequila. Caipirinhas are really designed to be sipped periodically over the course of several hours, preferably on the beach somewhere. For a variation suggested by the Cabana Cachaça Web site, I added a splash of pomegranate juice to the delight of my guests and myself.


There are thousands of brands of cachaça made in Brazil by small local distillers on up to regional giants such as Cachaça 51, the country's best-selling brand. In the U.S., however, Pitu, the product of a 75-year-old family business from the northeastern Brazilian state of Pernambuco, is the top seller. I preferred Cabana Cachaça, a less than two-year-old New York brand founded by former investment banker Matti Anttila, which goes through a double distillation process. To my palate, it was smoother than Pitu, a fact that came through even when it was used in a mixed drink. I drank both straight, as well, and over some ice, and Cabana was my choice each time as I went through the tasting process, blindfolded, with a friend.


I thought the "Cabanatini" - adding Vermouth and either an olive or lemon twist as one would for a martini - was less successful. I confess, though, to not much liking martinis. There is something very distinctively South American or Caribbean about the undertones of cachaça. I found tinkering with fruit produced the most successful concoctions. For example, I poured a generous shot of Cabana Cachaça into a cocktail shaker with a teaspoon of Rose's lime juice and a splash of fresh passion-fruit juice. I made the same drink again but added muddled fresh mint. In still another experiment, I added Cabana to a glass with muddled cilantro and lime and crushed ice.


A Drink of the (Beautiful) People


Another drink making the rounds at bars is the Brazilian Wax, concocted especially for Fashion Week this year. Take equal parts of Cabana Cachaça and pineapple juice in a rocks glass and equal splashes of club soda and Triple-Sec. Add a slice of lime.


Tequila has several advantages over cachaça, for now, the greatest being proximity. Mexico and the U.S. share thousands of miles of border, and there is a large Mexican community in the U.S. that has helped to popularize its culture, especially in terms of food and drink. Brazil, on the other hand, is a 14-hour (or more) flight from New York.


Like tequila, cachaça is, at its root, a drink of the people. Only in recent years have its producers begun to market premium versions. But it is easy to see the opportunities - and the potential for profit. While a bottle of cachaça can sell for a little over a dollar in Rio, top-shelf product like Cabana Cachaça retails for around $35 for a 750-milliliter bottle.


There are dozens of Brazilian bars and restaurants in New York alone. For the best mixology - and jazz - try, yes, Cachaça at 35 W. 8th St., near Sixth Avenue. Buzina Pop, 1022 Lexington Ave., at 73rd Street, is also a spot where the food is as good as the drinks. Carne Vale, at 46 Avenue B, near 4th St., is a little off the beaten track for business travelers but worth the cab ride for its grilled meats and good drinks.


If you find yourself in Washington, D.C., try Fogo de Chão Restaurant at 1101 Pennsylvania Ave., NW, for top Brazilian fare and cachaça cocktails. Fogo de Chão also has a Chicago location at 661 N. LaSalle St. In San Francisco, I like Bossa Nova at 139 Eighth St.


Of course, if you should find yourself in Brazil for either business or pleasure, you can walk into any bar and order one. The only drawback: You really can't order just one.

Kiley is a senior correspondent in BusinessWeek's Detroit bureau.
Tell a Friend
•
Site Map
•
Print this Page
•
Email Us
•
Top