News from Around Banderas Bay | March 2008
Fantastic! Incredible! Exceptional! Superb! Premium!

Polly G. Vicars - PVNN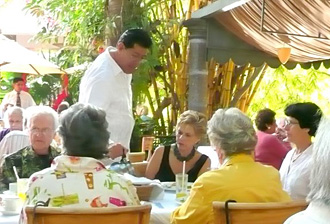 Le Bistro owner, Humberto Esparza serves the crowd.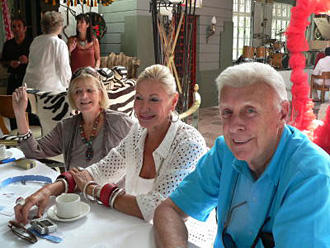 Loyal Becas supporters Jack Lerian and Lorna Honecker with Becas Ball Co-Chairman Elinor Prawer.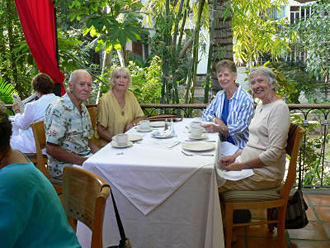 Becas members Lanaya Dix and Ozzie Badal with loyal supporters Ingé and Willy.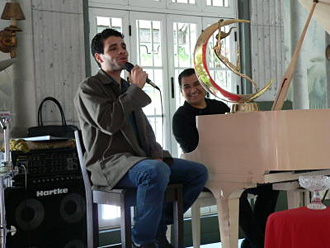 Singer Eduardo López and Pianist Salvador Aldrete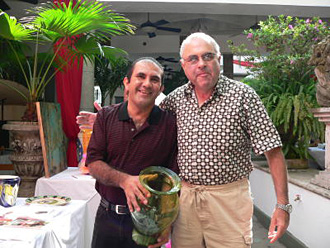 Cheo Rangel and Richard Bendix - Doing Their Usual Good Jobs for Becas.

After each Beca's Breakfast when I sit down to my computer to share the happening, I first try to come up with a title that invokes for you my feelings about the event. But I am running out of superlatives!


The generous owners and chefs of Vitea, Bernhard Guth and Ulf Henriksson, the very respected La Hacienda's owner Miguel Meza, the renowned owner and vocalist of La Palapa, Alberto Perez, and the celebrated proprietor extraordinary of Le Bistro, Humberto Esparza have all truly shown this community all the superlatives above.


Breakfasts for up to 150 guests, lots of courteous and friendly waiters, delicious menus to please the most finicky eaters, ambiance unequaled in any other part of this world and a fifty-fifty split with Becas Vallarta, A.C. in proceeds of the ticket sales with the restaurant owners even standing for the tips!


The fourth and latest breakfast on February 26th at Le Bistro was once again a sold-out event. Humberto (not my Humberto, but Le Bistro's Humberto) had decorated the beautiful river-side restaurant in red hearts symbolizing love and friendship that epitomize the month of February.


Loyal Becas Supporters Jose (Cheo) Rangel and Sergio Valle manned the door to take tickets, greet and welcome each person coming through the door. Long time Becas member Margaret Tolton, situated near the door, was also there to meet, greet and sell tickets to the upcoming March 6th, Becas Ball.


Tables, beautifully set with white linen and gleaming cutlery, were spaced throughout the charming restaurant. Members, supporters, and out of town guests soon filled the room and each was served freshly squeezed orange juice, coffee, toast, a hot breakfast of either the traditional Chilaquiles or Eggs Mexicana and delicious sweet rolls served by Señor Humberto himself.


When you go to a Becas Breakfast you expect pleasing ambiance and excellent food and you haven't been disappointed. And this time, Humberto went the extra mile and engaged Salvador Aldrete, his talented pianist, to play his unique arrangements for us. And we were surprised and delighted with the addition of the melodious voice of a young waiter/vocalist (and muy guapo) newly in Vallarta from Argentina, Eduardo Lopez. What a treat for all as we ate, chatted and bought raffle tickets to have such beautiful and harmonious music filling the restaurant! Especial thanks to these talented musicians who are available for private parties and can be contacted through Le Bistro.


All during breakfast Husband's and my special friends Carl Johnson of Chicago and soon to be Puerto Vallarta, Vickie Jensen of Vancouver and Puerto Vallarta, Myra McLean of Sechelt, Canada and the world, hawked raffle tickets, "Only forty pesos each or three for a hundred" to the enthusiastic supporters, most of whom had scouted the prize table and had seen something they wanted to win. This "terrible threesome" broke the record of raffle tickets sold, previously held by Lenny Ambrose of Walnut Creek, California and Puerto Vallarta. I know he is protesting that it is hardly fair to pit him against three, but all's fair in love and Becas!


The dashing Richard Bendix cruised the area letting someone from each table draw a raffle winner while the ever helpful Cheo brought the ticket to me to announce the winning number, loudly if not perfectly, in English and Spanish.


Lucky guests won prizes donated by the following loyal and generous patrons who never seem to turn us down when we ask for prizes: Alfarería Traditional, bANANAcANtiNA, Boca Bento, Café Cathedral, Casa Isabel, Cassandra Shaw, El Brujo, El Arrayán, Great Style, Ingé Lokos, Kit Kat, La Palapa, La Piazetta, Lucy's, Mama Dolores Diner, Marisco's Tinos, Muffin Man, Mundo de Cristal, Mundo de Pewter, Picnic, Steve Fischer, Vasquez Talavera and Xocodiva. Thank you all who donated and who bought tickets!


All those words in my title may be adequate to portray the Becas Breakfasts, but not the restaurant owners, the donors and the loyal Becas Supporters who year after year buy whatever ticket we are selling to support our "all those superlatives above" foundation, which continues to change the lives of so many Vallarta girls, boys and families. See all of you at Boca Bento on Tuesday, April 1st! You know how to get tickets... Call me at 223-1371!
---

Polly G. Vicars and her husband of 55 years, Hubert (a.k.a. "Husband") retired to Puerto Vallarta in 1988 and soon became active members of several charitable organizations. Polly is the author of "Tales of Retirement in Paradise: Life in Puerto Vallarta, Mexico" [a sell-out!] and "More Tales of Retirement in Puerto Vallarta and Around the World." Proceeds from the sale of her books go to the America-Mexico Foundation, a scholarship foundation that is their passion.

Click HERE for more articles by Polly Vicars.
Tell a Friend
•
Site Map
•
Print this Page
•
Email Us
•
Top