News from Around Banderas Bay | March 2008
Help Huicholes Save the World this Easter

JOY! - PVNN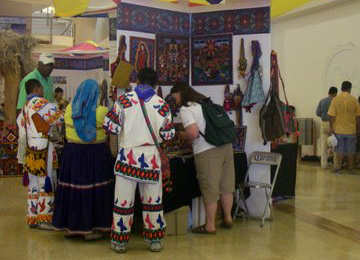 50 Wixariti from the community of Tateikie shared their culture and did their best to explain the meaning of their art and music, dance and rituals to the few people who turned up to their exhibition in Plaza Caracol in the first two weeks of March.

Puerto Vallarta - The Huichol Indians have their own unique language, and much of that language is symbolic. Candles represent the way the world is sustained, and some of their Shamans have been having visions of candles falling over – the world falling apart.


The Huicholes take this very personally, their lives are dedicated to keeping the world together, to listening to Mother Nature, to helping and healing Her through sacrifice and ritual.


Some of the Huicholes believe that it is time to come down from their homes 7600' high in the mountains, and offer healing to us directly: To share their knowledge and wisdom with us through their art and culture, to let us witness some of their ceremonies in the hopes of igniting the flame of awareness within us.


So 50 Wixariti from the community of Tateikie (Our Mother) shared their culture and did their best to explain the meaning of their art and music, dance and rituals to the few people who turned up to their exhibition in Plaza Caracol in the first two weeks of March.


It's a huge and very controversial sacrifice. Imagine what it must be like for them coming all the way down the Sierra Madre Occidental to spend two weeks sitting under florescent lights in a shopping mall next to McDonalds, offering their art and sharing sacred rituals with whoever happens to pass by.


I'm amazed they could function at all in such an environment. They are a very reserved tribe who has lived pretty much in isolation for more than 500 years.


They don't feel they have a choice. In addition to the Shamans visions, their culture is becoming extinct and their people are dying. Their lives are very short as it is, their living conditions are extremely precarious, they don't even have basic things like purified water, and their land is very poor. They need to sell their art to survive.


They believe the only way they will be able to continue holding the world together is to share their knowledge and healing directly with us. It is time for us all to hold our candles upright.


I agree with them. Though sometimes I despair of ever getting through, there are things that give me hope. I had two very different experiences today that exemplify the fears and the hopes of the Huicholes who traveled to Vallarta.


The first was the comment of a wealthy woman who considers herself spiritual. "I'm not buying from them; they aren't willing to drop their prices."


The second was a man who had very little money or experience in anything spiritual. He had tears in his eyes and was completely overwhelmed by the sacred nature of the art, He bought a bracelet and gave more than the asking price, grateful to give what he could.


That man's flame burns higher because of the Huicholes willingness to share their light, and now the whole world is a little bit brighter.


"The darkness is too powerful, what light we can bring won't make a difference." I was told by friend who has fallen into fear.


Let's examine that for a moment.


Isn't it true that all of the darkness in the world can't extinguish even one tiny candle flame? In fact darkness is what makes it possible to see the light.


Isn't it also true that many, MANY candles can be lit, and relit from a single flame, and that enough single candles brought together become a mighty blaze that darkness flees from?


It only takes one flame to ignite a fire that can change the world, or at least part of it.


On the way home from the exhibition I came across the XocoDiva Goddesses finishing dinner at Mama Dolores. I shared what I had learned of the Huicholes, including the fact that they are in desperate need of absolutely everything from blankets and buckets to rice and beans.


"Show us the list of what they need" they said, looked it over, and without a moment's hesitation started organizing: "We can arrange for them to have everything on this list and more. Charlotte will put it all in a truck and get it from Canada to the States when she goes in May. All you need to do is figure out how to get it across the border into Mexico without paying duty."


I picked my jaw up off the ground long enough to say "No problem." Though I currently have no idea of how to make that happen, ten minutes prior to this conversation I didn't know how the Huicholes would get their wish list filled either.


What I DO know is that someone reading this knows someone who knows how to get these goods across duty free. Is it you who will help light the way on this step of the journey?


Easter is a time of honouring sacrifice, a time of hope and new life. We all have the opportunity to help the Huicholes offer healing to our troubled world by bringing them what they need to continue their sacred work. We have the chance to help preserve an ancient culture that has the answers to many of our questions about healing – no one knows more about plants and their properties than the Huicholes, all we have to do is ask the questions and learn how to listen.


Let's start by showing them they are not alone, and that their sacrifices are worth something. There are many ways of supporting them. Contact Susana Valadez at HuicholCenter.org or Juan at Tateikie.com for more information.


In the words of Angelica Valadez "We have to help them, what if their prayers really are holding the world together?"


And in the words of a sweet little song I learned in Sunday School:

This little light of mine, I'm going to let it shine.
Let it shine, let it shine, let it shine.
The light that shines is the light of love,
It lights the darkness from above,
It shines on me and it shines on you and it shows what the power of love can do.
I'm going to shine my light both here and there
I'm going to shine my light both far and near
Let it shine, let it shine, let it shine.

Thank you for holding your candle high and letting its light shine on the Huicholes this Easter.
---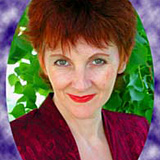 JOY! Is an internationally acclaimed life transformation coach, famous for her unreasonable success in helping people move through their challenges with her unorthodox approach and emPOWERment tools. For more information, visit her website ExperienceJoy.com or call 044-322-129-1128.
Click HERE for more articles by JOY!
Tell a Friend
•
Site Map
•
Print this Page
•
Email Us
•
Top