News from Around Banderas Bay | March 2008
Huichol Festival Continues Through March 15

JOY! - PVNN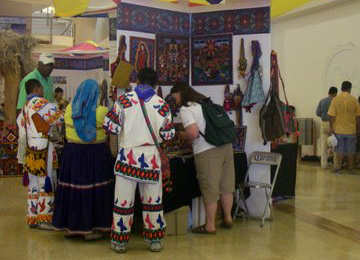 Catch a glimpse of the rich ancesteral customs and cultures of the Huichol Indians at Plaza Caracol through March 15th.
If your craving for McDonald's happened to lead you into Plaza Caracol last Saturday night around 6 pm, you may have wondered if you'd somehow entered the Twilight Zone...

In North America people are watching their elected hopefuls spend billions of dollars to convince voters to let them govern.


In South America an ancient tribe of Huichol Indians magically descend from the High Sierras to land in a mall in modern day Puerto Vallarta. They show citizens how they conduct a change of government. The process has been the same for centuries.


The normally large open space at the rear of the Plaza near Gigante is filled with outlandishly dressed Huichol Indians. Many of the men are wearing strange hats, some feathered, some with fruit dangling from them, others sporting assorted vegetables.


They are all performing some kind of ceremony in which a small group sits in a row reluctantly accepting the enthusiastic acknowledgment of the rest of the tribe as they file past to the music of two bare basic violins.


Half a dozen young men in white costumes, some with elaborate embroidery, dance in spirals of three, shaking maracas. Weaving around them is a man in a mask; he cavorts happily about using his staff like a hobby horse.


The less than delighted ones are the newly elected officials. For the next year the responsibility for the well-being of their entire tribe rests on their shoulders. They didn't get a say about this, the community voted them in.


Now for example, whomever has just been voted policeman knows that, for the next 12 months he could be awoken at any hour to deal with various problems in his tribe. This could mean having to run out the door at 2 am, and keep running, for two days until he gets to where he needs to be – a place that is inevitably accessible only by foot. Chances are he won't have any food on the journey, or anything to drink. He will literally walk the shoes off his feet and have to keep on going till he's there. It's his job.


And the kicker... there is NO pay, the new authorities actually have to pay for everything that might be needed from their own pockets. They are there to serve – the community, the children, humanity.


Have you guessed yet that the cheerful fellow skipping about in the mask is the old governor leaving his post after a year?


Oh yeah, it's a different world alright.


In North America the people work hard to buy things, get what they need, maybe have some fun.


In South America the Huicholes also work hard: They are keeping the world together with their prayers, that's pretty much everyone's full time job.


While some North Americans plan for their vacation, these South Americans plan for their annual pilgrimage to gather the sacred peyote that is central to their lives and their religion.


The problem is that this precious plant isn't so available to them anymore. Westerners have heard about its magical properties and are swooping in to the ancestral grounds and tearing it from the earth, roots and all, destroying any chance of it re-growing. They don't understand, or even care, about harvesting it respectfully, ensuring its continuation or using it shamanically; they are looking to get high.


The Huicholes now encounter highways and fences when trying to reach the five holy places on their pilgrimage trail. They can't get through. The government is creating more and more restrictions; they have tight limits on the deer they can hunt, they can no longer make the appropriate offerings to the spiritual guardians of each holy place.


Their culture is dying after remaining untouched for centuries, when the Spaniards came they fled into the mountains to continue their simple, life praying for the world, praying for us. No one knew anything about these people.


Now, in this weird and wonderful way, here they are in the middle of a shopping center, allowing anyone who wishes it, to witness their ancient traditions, to interact with them and buy their sacred art.


Their beaded art is my favourite. I can sit for hours and watch them create their fabulous jewelry and sculptures. Each tiny bead is placed with a prayer, a blessing. This is the real gift of the art, the pieces themselves just carry the blessings, it's why they glow the way they do.


Their art reflects their relationship with nature, the visions of their shamans, their view of the world: We see a brown deer; they see a messenger of the Gods covered in rich symbology. We see an eagle; they see a Goddess of healing who flies high and carries the wisdom of all she sees in her feathers.


Imagine what it must be like for these people to travel for so many miles away from their simple lives in a mountain village, to spend two weeks sitting under fluorescent lights being gawked at. Or worse, having so few people turn up that it wasn't worth them making this extraordinary journey to help their hungry families.


Two Huicholes died and their chief shaman is in jail for driving without a license after a car accident trying to get here. They are dying trying to show us a different way to live. They are dying because we no longer know of a different way to live. They are dying because too few people care whether or not they live.


I caught myself thinking how odd they look as they dance around in their funny hats, the embodiment of antiquity surrounded by all the trappings of modern man. Then I wondered how we look to them.


With embarrassment I watched a woman shove her camera into the face of a nursing Mother, flash off a photograph and stride off in search of her next shot. They come to give, and we take without even asking, without offering anything in return.


I listened to their music, which sounded a bit like country and western to my untrained ears, and watched the big screens behind the musicians showing scenes of their lives in the Sierras, giving us glimpses into their homes and way of living. And as I looked around the mall I didn't wonder why they pray so hard for the rest of the world, I was simply grateful that they do, we need all the prayers we can get.


Until March 15th you will have the opportunity to meet these generous people who devote their lives to helping humanity in their own inimitable way.


There will be traditional Huichol music performed every night at 6 pm and on March 15th at 6 pm they will present for us their Fiesta del Peyote. Don't miss it, there are so few real indigenous tribes left in the world, a chance to see something like a genuine Huichol ceremony just doesn't come along every day!


And please, have the good manners not to walk into the middle of the ceremony to take photos! These people deserve respect, and so do their rituals, you wouldn't march up to the pulpit in the middle of a sermon to get a better photo of the priest. You need permission to take photos, and you need to respect people if they say "no."


Try experiencing a Huichol tradition instead of photographing it, and show up with love and generosity, looking for what you can give and how you can help. They would be so grateful to receive donations of just about anything, they have so very little of material worth.


Do yourself and your loved ones a favour; do all of your gift shopping while you are here, their work is ridiculously cheap and unequaled in quality and uniqueness. While Huichol art is available for sale all round town, what you experience when you buy from these mountain folk is a great deal more than the thrill of a great bargain, or even the satisfaction of taking home the blessings in an art piece created by a an endangered tribe.


It's the knowledge that you are doing something to help them survive, that you care, are interested, that there is hope and help for them.
---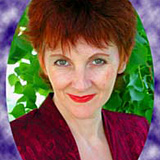 JOY! Is an internationally acclaimed life transformation coach, famous for her unreasonable success in helping people move through their challenges with her unorthodox approach and emPOWERment tools. For more information, visit her website ExperienceJoy.com or call 044-322-129-1128.
Click HERE for more articles by JOY!
Tell a Friend
•
Site Map
•
Print this Page
•
Email Us
•
Top