News from Around Banderas Bay | March 2008
XV Annual Sidral Aga International Sports Classic In Puerto Vallarta May 16-18, 2008

Bob Cohen - PVNN

What began 15 years ago with a $300 budget and just six basketball teams playing on a dirt floor has become an international sports event for Puerto Vallarta. Howard Kelsey of Vancouver and a recently inducted member of the British Columbia Sports Hall of Fame was the founder of the popular annual event that will once again be based at the beautiful Sheraton Buganvillas Resort. Sra. Gemma Garciarce, owner of the Sheraton resort will again be Kelsey's co-chair. The International Sports Classic has reached its 15th year in Puerto Vallarta and will be held from May 16th - 18th.


This year's competition has grown even more than last year and promises to delight sports fans and players and increase the multi cultural bond between Mexico, Canada and the United States. Last years attendance for participants reached 1,500 for the Sports Classic and 2,000 are expected to compete this year. Puerto Vallarta once again is proud to be the host city and happily embraces everyone that attends.


The highlight event has always been basketball and this year adds a new twist; the addition of a seniors championship for those over 45. There are also youth basketball competitions. Many of the U.S. and Canadian stars qualify and many will play in the open tournament as well as the new seniors event. The featured player and sports celebrity is the always smiling Jerome Kersey, an ex-NBA star for 17 years and the owner of an NBA championship ring. Other international stars are Lars Hansen, Greg Wiltjer, Ron Putzi, Berry Randle, Jeff Moore, Bob Hieltjes, Dan Meahger and Howard Kelsey. All have played Olympic and/or professional ball. The men's open division will have 16 teams competing until the final two meet for the championship game Sunday late afternoon.


Professional women's beach volleyball has been growing in size and competition will be a hotly contested event and ensures the best of competition. Eight teams of two from the United States and all over Mexico will compete Saturday and Sunday with the final match played on Sunday at 4 PM at the Flamingos beach, next to the Canto Del Sol Resort.


For the third year the 6th Copa Vallarta has joined in the Classic and with a record 110 teams entered, all the kids will utilize every available soccer field in Vallarta. The opening ceremonies should not be missed as they portray the pride that Mexico has for their most popular sport.


The always popular aerobic marathon will be held at Los Arcos on the Malecon Saturday morning at 8 AM and over 100 participants are expected. The winner should be crowned after 3 - 3 ½ hours in the hot sun. Younger competitors will try to dethrone veteran three time winner Laura Famoso, now 41. Her three wins have been consecutive.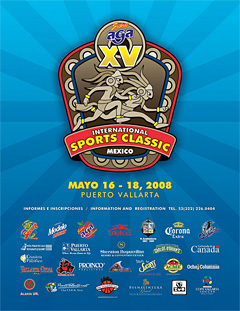 Click image to enlarge

The 15th annual International Sports Classic will be held at the beautiful Sheraton Buganvillas Resort from May 16th-18th.

Tennis has been ongoing at both the Sheraton and Canto Del Sol resorts with Pro-Am, "A", "B", "C", and Kids divisions. Due to the large draw, the tennis tournament will begin on Tuesday; before the actual kickoff of the Classic. The tennis finals will be held at Canto Del Sol on Sunday. This year promises to showcase much of the younger talent from the Puerto Vallarta area, especially kids 13-16 years old that have been playing just a couple of years. These kids started as "C" players and practice, lessons and training has elevated many of their games to the "A" level. Guys the age of this writer can only improve slowly, but youngsters that I easily defeated two years ago now send me to an early exit from most tournaments.


There will be runs this year to suit the casual runner or walker to the most competitive runners. The 5K run that starts at the Sports Stadium across from the Sheraton and will be run at 8 AM on Sunday.


Bowling was added last year and will again have their competition at the Collage on Friday and Saturday.


A highlight is the opening welcome cocktail party at the beautiful Sheraton poolside oceanfront. As the sun is setting, 400 dignitaries, athletes, sponsors, press among others will be enjoying food and beverages.


I would be remiss in not talking about the nightly socials that last well into the mornings at Carlos O'Brian's and The Zoo. The players will be there and still play a full schedule of basketball games in our Municipal Gym, where temperatures on the court soar well over 100 degrees.


As the nature of Howard Kelsey, he keeps moving forward with his visions and picking up supporters along the way. He has done this in his athletic career and his business career and credits the Mexican people in teaching him to ignore some traditional North American ways of conducting business and embracing lessons he has learned during his years here. Keep it up Howard; we will continue to support you if you keep coming back!

Click HERE to see an interview done with Howard a few years ago that speaks of his past, both athletically and his projects.

For more information, contact Veronica Alarcon, the Event Coordinator at the Sheraton Buganvillas Resort: (322) 226 0404, extension 6038.

Thanks to Todd Kozinka for providing us with the segment of footage of last year's event. If you are interested in the full DVD, Todd can be contacted at todd(at)hoop-hype.net or at his website Hoop-Hype.net. Todd will be at the Sports Classic again this year.
Tell a Friend
•
Site Map
•
Print this Page
•
Email Us
•
Top