News Around the Republic of Mexico | March 2008
US Leader of Tijuana Drug Cartel Arrested in Mexico

Agence France-Presse
go to original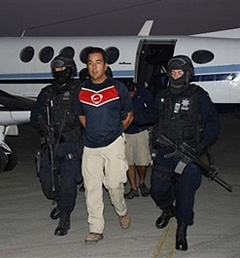 In this undated handout photo from Mexico's Public Safety Department, U.S. citizen Gustavo Rivera Martinez, 46, center, is shown escorted by Mexican police. Mexican authorities announced Wednesday, March 12, 2008, that they have captured Rivera, reputed to be a top member of the Tijuana-based Arellano-Felix drug cartel, and say they will send him back to the United States immediately. (AP/Mexico's Public Safety Department)

Mexico City - American Gustavo Rivera Martinez, considered by US drug and crime units as a main financial manager of the Tijuana drug cartel, was detained by police in the Mexican state of Baja California, authorities said Wednesday.


Rivera Martinez, who was arrested with three accomplices, "concentrated his operations in drug trafficking and money laundering" and had been wanted by both the US Drug Enforcement Agency (DEA) and Federal Bureau of Investigation (FBI), Mexican Interior Secretary Juan Camilo Mourino told a press conference.


"This individual is one of the criminals most sought after by the DEA and the FBI, who offered a reward of up to two million dollars," Mourino said.


The official said Rivera Martinez, 46, would be expelled "immediately" from Mexico to the United States.


The Tijuana cartel, one of the four large drug mafias operating in Mexico, is run by the Arellano-Felix brothers and controls the drug traffic bound for the US state of California.


It has been blamed for the murder and torture of police officers, informants and rivals, and the US Department of Justice said the cartel has imported and distributed hundreds of tons of cocaine and marijuana in the United States.


In 2003 the United States issued indictments for Rivera Martinez and 11 others in the cartel hierarchy after a decade-long cross-border investigation.


The indictment said the Tijuana operation received multi-tonne shipments of cocaine by sea and air from other traffickers, including Colombia's rebel Revolutionary Armed Forces of Colombia (FARC), and then arranged to smuggle the drugs into the United States.


Its leader Francisco Javier Arellano-Felix was sentenced last November to life without the possibility of parole after pleading guilty to running a criminal enterprise and conspiracy to launder money.


His brother Francisco Rafael Arellano-Felix was freed last week from a US jail, following a reduction of his sentence for good behavior, and deported to Mexico.
Tell a Friend
•
Site Map
•
Print this Page
•
Email Us
•
Top