Entertainment | Restaurants & Dining | March 2008
Sol Rose Presents Meatloaf and Melodies

PVNN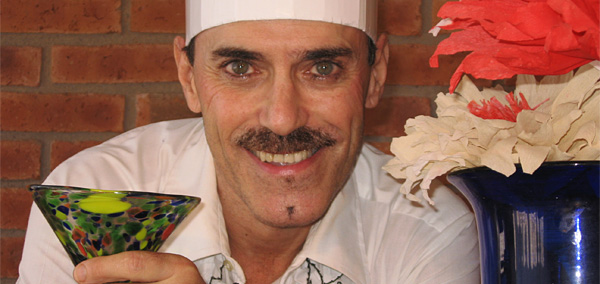 Cafe Bohemio restaurant owner Sol Rose is not only one of Vallarta's zaniest characters, but also a talented chef who's more than willing to sing for his supper.

Born out of more than a few glasses of wine, Meatloaf and Melodies is the brainchild of Broadway entertainer Sol Rose and Puerto Vallarta's Video Diva, Laura Gelezunas, who got together and decided to create a program combining everyone's talents and experiences.






Check out our newest video feature, Meatloaf & Melodies.

Sol owns the popular Puerto Vallarta restaurant, Café Bohemio, and developed all the recipes for his menu. He also performs at the Santa Barbara Theatre during high season. Before Laura moved to Vallarta to open Video Diva Productions, a full-service digital video and multimedia marketing company, she spent over ten years in television as a meteorologist and reporter. She also had her own cooking segment during the morning news.


"I have been thinking and dreaming of this," says Sol, "Singing and cooking are my two passions and to be able to combine them into a show is a dream come true." The first episode of Meatloaf & Melodies features, of course, the famous Meatloaf Bohemio. This is one of the most popular items on the restaurant's menu, and now Sol is sharing his famous recipe, so you can make it at home!

Meatloaf Bohemio
serves 12
Ingredients:

3 lbs. Premium Ground Chuck
1 cup Catsup
1/2 cup Worcestershire Sauce
1/4 cup Soy Sauce
1/2 tsp. Coarse Black Pepper
1/2 package Onion Soup Mix
1/4 cup Grated Parmesan Cheese
8 oz can Roasted Red Bell Pepper in Olive Oil
1/2 cup Fresh Green Bell Pepper - chopped
6 Pitted Green Olives - chopped
1 Large Red Onion - chopped
2 tsp. Minced Garlic from jar
1/4 cup Tomato Puree
1 cup Italian-style Seasoned Bread Crumbs
2 Large Eggs
3 Large Red Ripe Roma Tomatoes - chopped
*1/8 cup Catsup mixed with 1/4 tsp. Mild Yellow Curry Powder
*1 Tomato - sliced into wheels

Instructions:

Pre-heat oven to 300 degrees F


Mix all of the ingredients above except the last two in a large bowl. Mix well to distribute all the ingredients.


Mold the meat mixture in a large Pyrex baking dish or a ceramic loaf pan large enough to hold any drippings.


Smear top with the catsup and curry mixture and decorate top with tomato wheels.


Bake for approximately 1 hour


Let cool for 10 minutes - cut into slices

Tips:

Leftovers can be wrapped in plastic wrap and frozen for up to 8 weeks.


When re-heating, make a small catsup-curry mixture, smear on frozen slice, top with a tomato wheel and heat in microwave for 1 minute.

Variations:

You can give your meatloaf a gourmet flare by adding 1/4 cup of Merlot or Sherry wine - also you can divide the meatloaf in half when forming mold and layer with strips of Prosciutto Italian ham, cover with the other half of the meat mixture and sprinkle some extra parmesan cheese on top of the loaf and substitute sun dried tomatoes for the fresh tomato wheels.


Voila! You have a gourmet meatloaf that goes great with a twiced-baked potato or garlic mashed potatoes, some al dente carrots and green beans and a lovely glass of Merlot wine from Chile - Enjoy!
Tell a Friend
•
Site Map
•
Print this Page
•
Email Us
•
Top