Entertainment | Restaurants & Dining | March 2008
A Shot or a Sip: Viva Tequila

Sonya Padgett - Las Vegas Review-Journal
go to original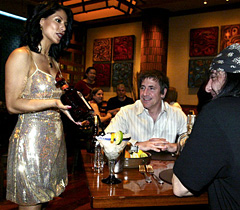 "Tequila goddess" Monica Royce explains the ingredients for her $99 goddess elixer margarita to Isla Mexican restaurant patrons. (Ralph Fountain)

Las Vegas - Wearing an angelic smile and a devilishly red dress that clings to her perfect figure, Monica Royce introduces herself to a couple dining in Isla Mexican restaurant in Treasure Island.


"Hello, my name is Monica, and I'll be your tequila goddess," she says over the Tuesday dinner rush din. Pause. An exchange of confused expressions.


"Our what?" the couple asks.


They didn't hear wrong; the couple's response is one Royce, Isla's "tequila goddess," gets often. Another response, less frequent but a little more shocking: "Is that your stripper name?"


Oh, there's so much hell to pay as a goddess. Royce takes it in stride.


After all, she gets paid to look good and sell tequila and sometimes drink it, too.


Despite her title, the goddess job is less about tequila and more about entertaining diners, says Ben Chatham, general manager of Isla. On Fridays and Saturdays - and occasional weekdays - Royce can be found in the restaurant, gliding among tables with a bottle of Paradiso or the restaurant's tequila of the month, offering guests a complimentary taste. She pours all tequilas and mixes her $99 goddess elixir margarita table side. It's apparent, from the looks on diners' faces, that Royce's presence imbues them with the south-of-the-border spirit.


"The name itself isn't what it's about," Chatham says. "It's about the girl and our guests ... having a good time. It's almost like she's a concierge, to help make sure the people are having fun."


But before you go thinking this Las Vegas native and petite brunette with the sparkling brown eyes is just another pretty face and hot body, think again. Yes, Maxim magazine is interested in profiling her, but Royce also can rattle off the qualities of Isla's 100-plus tequilas, from the after-dinner smoothness of El Tosero Paradiso to the sharp bite of Patron Grand Platinum.


In a couple of months, Royce will go on a restaurant-sponsored trip to Agave, Mexico, to tour distilleries and farms and get a firsthand account of how agave is grown and then turned into tequila.


Isla takes tequila seriously, Chatham says.


It has long been a misunderstood spirit that the tequila goddess helps to dispel. Not all are made for shooting; some are as smooth as cognac and can be sipped in a similar fashion, Royce says.


"Just like with wine, tequilas are complex and flavorful. They can be served with food or after dinner," she says.


Royce, the fourth woman to have the title, has been Isla's tequila goddess since she answered an ad in May. She says she was perplexed by the description. It sounded too good to be true.


"I never thought there were jobs like this," says Royce, who has worked as a bartender since she was 21. She declined to give her age, saying only that she's in her 30s. "When they were going over the description, I said, 'Is this really a job?' "


Tequila is the sort of spirit that people bond over, as most anyone who has had tequila has a story about it. Royce gets to hear them all.


Aside from the obvious - pouring tequilas - what are the qualities of a good tequila goddess?


"You can't be shy," says Royce, a former lingerie model. You also have to love tequila.


"When I was 21, my favorite drink was tequila sunrise," she says. "Plus, what woman wouldn't want to be a goddess?"

Contact reporter Sonya Padgett at spadgett(at)reviewjournal.com
Tell a Friend
•
Site Map
•
Print this Page
•
Email Us
•
Top