News from Around Banderas Bay | April 2008
Just Monkey Business and Then Some

Laura Gelezunas - PVNN

Nestled between the Sierra Madres jungles and the sheltered waters of Banderas Bay, Puerto Vallarta Mexico's wealth of natural resources and ecological attractions make it an ideal place for outdoor recreation and adventure.


And it's not just about the beach, Puerto Vallarta also offers magnificent jungles. On the Las Caletas day trip, offered by Vallarta Adventures Tour Company, you can get up close and personal with some tropical delights.


A girl and a spider monkey get acquainted as he crawls over her arms, shoulders and head. She squeals with delight as he poses for the cameras. He doesn't weigh more than two pounds.


"It was really, really cool, it jumped on my arm and stuff," says Brittany Bovard, Monkey Lover, "He was lying down and jumping around, the interaction was really fun and the monkey seemed happy and that's pretty cool."


Mango is one of four spider monkeys that love to show off in front of visitors to Las Caletas in one of his many humorous poses. They are housed in a private section, where they receive top-notch care.


"We want people to get close to the animals and interact with them, it just gives them a thrill and a chance they may never have again," says Victor Ponce, Vet and Trainer, "We don't show or display the animals in cages and this makes an impact on our visitors."


The playful primates are not alone in winning the attention of visitors.


On the beach, two young ducks roam around nipping at people's toes looking for a snack. A pair was rescued, possibly left behind a migrating flock, but now call Las Caletas their new home. They are learning not to be too shy and are carefully monitored by Victor, who is also teaching them some basic commands.


Some of the larger birds, like the macaws, pay a visit to the beach and fly around. One macaw even participates in wedding ceremonies by delivering the rings. Unlike many birds at eco parks around the world, who have their wings clipped, the macaws and tropical birds at Las Caletas are completely free to fly around and enjoy the natural tropical environment. This secluded beach area is their home.


"You can hold them, have them perch on your arm, see them flying, and feed them if you want to," says Victor, "We encourage everyone to ask questions about all the animals and birds, their biology, their care and their habits, and we are well-prepared to answer all your inquiries."


The animals receive a specific diet and are on a feeding schedule. Victor takes great pride in his mealworm farm. The stacks of drawers in the feeding station office represent different life stages of the insects and the ducks just love them. All of the animals eat a carefully measured and weighed diet to keep them slim, trim and healthy. Fat macaws won't fly.


This interactive animal program also includes swimming with a sea lion in the open ocean and getting acquainted with a barn owl. These encounters are just part of the activity-filled day at Las Caletas.


Only accessible by sea, Las Caletas is Vallarta Adventures' exclusive tropical beach hideaway where you can enjoy an extraordinary day of sun, fun, and adventure on your Puerto Vallarta vacation.


For more information or to make your reservations, visit Vallarta-Adventures.com.
---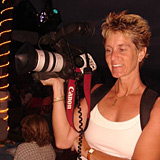 After having spent 10 years in the world of US broadcast news, Laura Gelezunas decided to unleash her skills on Puerto Vallarta by opening Video Diva Productions, a full-service, professional digital video company. Whether you're interested in a sales video, WEBmercial, music video, feature story, documentary, or corporate event video coverage, she has the experience, equipment and talent to coordinate a professional production. For more information, visit her website at VideoDivaProductions.com.
Tell a Friend
•
Site Map
•
Print this Page
•
Email Us
•
Top