News from Around Banderas Bay | April 2008
1st Festival de Salsa Fiesta Latina Puerto Vallarta 2008

PVNN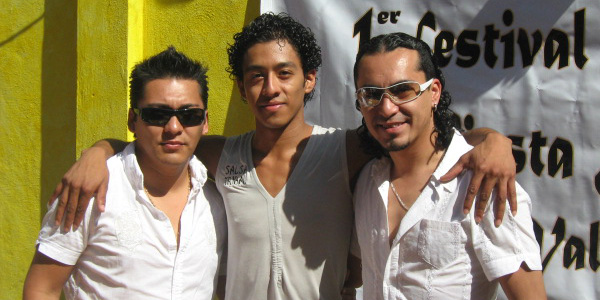 Mexico will soon host the 1st annual Salsa Festival "Fiesta Latina" on May 4th at Sr. Frog's.

The multicultural destination of Puerto Vallarta, Mexico will soon host the 1st annual Salsa Festival "Fiesta Latina." Scheduled to start at 7 pm on May 4th at Sr. Frog's, Venustiano Carranza #218 in the Romantic Zone, this "Latin Party" is just one of the many cultural events scheduled this May.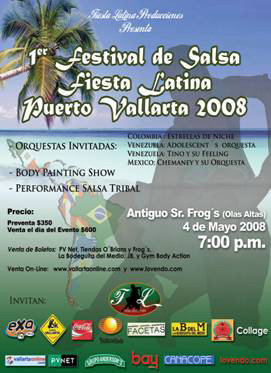 Four famous and Internationally recognized salsa orchestras, Adolescent's Orquesta from Venezuela; Estrellas de Niche from Cali, Colombia; Chemaney and his Orchesta from México and Tino and His Feeling, whose vocalist is from Venezuela and the rest of the orchestra are talented Mexican musicians.


There will also be spectacular dance performances by local entertainers, bringing the total to over 70 artists to be performing on stage. This is the first time this musical genere will be represented as part of the Puerto Vallarta cultural schedule in its anniversary month of May.


The First Salsa Festival Fiesta Latina is the brainchild of two young business women; one from La Habana, Cuba and the other from Caracas, Venezuela both of whom have been residents of Puerto Vallarta for several years. Brought together by their mutual love for latin music, they combined their ideas to form their company Fiesta Latina Producciones.


After a couple of month designing the project, their dream came true. They are counting on the support of government officials and on the commitment of talented local representatives of the Latin culture like musicians, dancers, designers and an endless list of artists to help them keep the dream alive.


Fiesta Latina Producciones is looking to combine the different Latin communities from different countries that live in Puerto Vallarta, not only the Cubans and Venezuelans, but also the communities that are growing like Argentinian, Colombian, Chilean and Dominicans, among others.


They are hoping that this event will not only make a huge impact in the Puerto Vallarta community, but will also become a permanent part of the city's traditional Anniversary Celebration, which draws approximately 10,000 people, including locals and visitors, to Puerto Vallarta each May.


For more information, send an email to Puerto Vallarta Tourism Public Relations Coordinator, Nora Ocegueda at nora(at)visitpuertovallarta.com.
---
1er Festival de Salsa Fiesta Latina Puerto Vallarta 2008
PVNN


El próximo 4 de Mayo de 2008, el polifacético destino de Puerto Vallarta será sede del 1er. Festival de Salsa Fiesta Latina el cual se llevará a cabo en el Antiguo Sr. Frogs de Olas Altas a partir de las 7 pm.


Cuatro orquestas internacionalmente famosas de salsa como lo son Adolescent's Orquesta de Venezuela, Estrellas de Niche de Cali, Colombia, Chemaney y su Orquesta de México, Tino y su Feeling cuyo vocalista es venezolano y el resto de la orquesta talentosos mexicanos y el espectacular cuerpo de baile Salsa Tribal como representantes locales; todos ellos sumando un total de más de 70 artistas en escena, pasan a formar parte de la cartera cultural de Puerto Vallarta en el mes de mayo donde también se celebra un aniversario más de este bello Puerto, dando así por primera vez oportunidad a este género musical de formar parte del programa cultural.


El Primer Festival de Salsa Fiesta Latina nace de la idea de dos jóvenes empresarias, una nativa de la isla de Cuba y la otra de Caracas, Venezuela, ambas residentes desde hace algunos años de un paraíso llamado Puerto Vallarta y unidas por el amor a la música latina.


Ambas fusionan sus ideas, se asocian formando Fiesta Latina Producciones y deciden, después de unos meses diseñando el proyecto, llevarlo a cabo. Para ello cuentan con el apoyo de distintas oficinas gubernamentales así como también de talentosos representantes de la cultura latina tanto músicos como cantantes, bailarines, diseñadores y un sin fin de artistas más.


Fiesta Latina Producciones con este evento busca estrechar lazos entre las distintas comunidades latinas de diferentes países que se encuentran en Puerto Vallarta, cabe destacar además de la cubana y la venezolana, comunidades que crecen cada vez más como la argentina, colombiana, chilena, dominicana, entre otras.


Esto sin tomar en cuenta el impacto que este evento representará para la sociedad Vallartense ya que la principal intención del mismo es llevar a cabo este Festival año tras año y hacer de esto una tradición cultural más de la zona, buscando involucrar a las diversas comunidades que radican tanto en esta área como en toda la República Mexicana, sin omitir la ganancia que representará para la industria turística ya que el evento movilizará alrededor de 10 mil personas tanto locales como visitantes nacionales e internacionales.


Que mejor punto de inicio que Puerto Vallarta, destino turístico por excelencia y el preferido del turismo internacional para aprender de nuestra cultura y nuestro sentir latino.


Para mayor información sobre el festival favor de contactar Nora Ocegueda, Coordinador de Relaciones Públicas Destino, Fideicomiso de Turismo Puerto Vallarta a nora(at)visitpuertovallarta.com.
Tell a Friend
•
Site Map
•
Print this Page
•
Email Us
•
Top