Entertainment | Restaurants & Dining | April 2008
Southern Cooking in Puerto Vallarta

Gary R. Beck - PVNN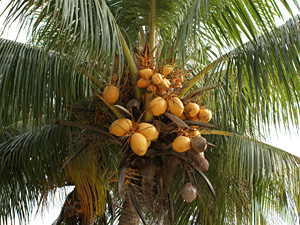 Coconuts, a new restaurant located at L. Cardenas #302 on the South Side of Vallarta, serves honest-to-goodness down home Southern Cooking.

Surprise! Southern United States cuisine has appeared in Puerto Vallarta. John Cole and Michael Burns with kitchen management by Seth offer down home, honest-to-goodness Southern Cooking at Coconuts, a new restaurant located at L. Cardenas #302 on the corner of Constitucion on the South Side of Vallarta.


Though only several months old, the small, modern, colorful, and air conditioned corner restaurant was humming with happy diners and helpful staff and owners. Smiles abound and rightfully so. Heavy wooden tables and chairs are covered in light tan accented by simple cut flowers.


For those unfamiliar with this region, famous dishes include Fried Chicken, Meatloaf, Southern Fried Steak, BBQ Pork Ribs, Pork Chops, Collard Greens, Cornbread, Black-Eyed Peas, Creamed Spinach, Macaroni and Cheese.


Every night one entr้e is featured as an all-you-can-eat special, but for the life of me with the regular portions we were served recently I do not understand how anyone could ask for a second helping!


Our family stateside enjoyed many of these creations over the years but it is difficult to find better versions. The Chicken Fried Steak was top notch. It appeared to be one pound on a half pound of wonderful real mashed potatoes. The traditional cream beef gravy was slathered all over the portion.


The Double Cut Pork Chop was lightly seasoned with salt and pepper then grilled and served over the same potatoes. You may opt for roast potatoes. The meat was enormous, tender and flavorful.


Two other side dishes tasted were the creamy macaroni and cheese, with just the right amount of cheese and firm pasta and a large bowl of creamed spinach appropriately mellow and seemed to have delicate seasonings as black pepper and onion.


We were informed of a dessert which caught my ear, a Pecan-Coconut Pie. Next time, when I save half the food for the casa later! Right now we are counting the days before returning and bringing more friends to this new addition to an area already brimming with fine dining.
---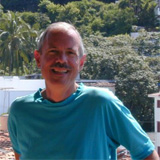 After 20 years in the San Francisco restaurant business, Gary R. Beck turned his attentions to cooking, dining out, creating recipes and exploring Puerto Vallarta's rich array of eateries. Famous for his restaurant guide, available online at CafePress.com or Lulu.com, Gary also writes restaurant reviews for Puerto Vallarta newspapers, Bay Area magazines, and now, a feature column for BanderasNews.com. Contact Gary at garyrbeck1(at)yahoo.com.
Click HERE for more articles by Gary R. Beck.
Tell a Friend
•
Site Map
•
Print this Page
•
Email Us
•
Top